Violent Military Coup Attempt Against Venezuelan President Maduro
Overnight Clashes Follow Venezuelan Officers' Failed Attempt To Lead Anti-Maduro Coup
ZeroHedge.com
Venezuela remains on edge after in the pre-dawn hours of Monday morning a small group of soldiers attempted to launch a military coup against the Maduro regime, but failed, resulting in the arrests of 25 members of the Venezuelan National Guard who temporarily gained control of a police station located a short distance from the presidential palace in Caracas, and the apprehension of two others at another location, in total 27 detained — all of which sparked riots in local neighborhoods, some of which appear to have continued throughout the night.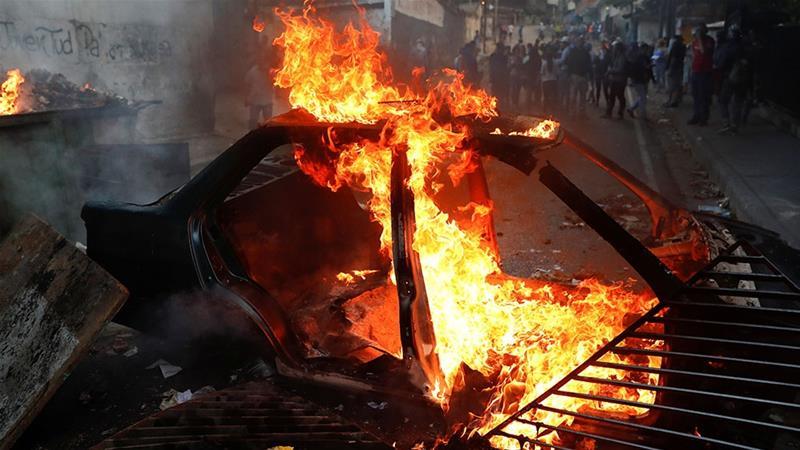 Following the mutiny and subsequent successful government crackdown, which further involved the rebellious unit briefly kidnapping several officials and stealing weaponry in the Cotiza neighborhood, pockets of anti-Maduro protests were sparked in the capital city demanding the release of the detained soldiers, whose actions the government condemned as "treasonous" and "motivated by the dark interests of the extreme right," according to a statement announced on state TV. Maduro's right-hand man, Diosdado Cabello, also boasted on Twitter while speaking of the rebels: "They were neutralized, surrendered and captured in record time."
Hours prior to the crackdown on the coup attempt, a series of videos were published to social media showing what are purported to be the coup leaders standing in darkness with a spokesman demanding that Venezuelans rise up to support the coup. In one video a man who identified himself as Luis Bandres said, "You all asked that we take to the streets to defend the constitution. Here we are. Here we have the troops, it's today when the people come out to support us."
And in another video a heavily armed man appeals to the public with "You wanted us to light the fuse, so we did. We need your support." This appears to have driven at least some in the vicinity of where the military rebellion was launched to the streets, angry at what's being called President Nicolas Maduro's "illegitimate" election to a second six-year term, as the AP reports:
At daybreak in the adjacent neighborhood of Cotiza, a group of shirtless young men, some with their faces covered, built a barricade across the street with a burning car, heavy sewer grates and a large chunk of concrete.

An angry group of women shouted that they have lived for too long without running water and tear gas fired by security forces choked their children.

"Freedom! Freedom!" they chanted. "Maduro has to go!"

"We must defend our homeland," Maria Fernanda Rodriguez, a 36-year-old manicurist, told The Associated Press, her eyes welling from the tear gas.
International reports suggest some of these initial protests were snuffed out by riot police, but sporadic clashes continued in some places through the evening.
Military officials arrested for weapons theft#Venezuela #Cotiza #Caracas pic.twitter.com/CiUEZxrwef

— Ruptly (@Ruptly) January 21, 2019
But the socialist country, currently suffering from what's being widely described as "inflation approaching 2 million percent" and a shortage of everything from food to medicine to diapers and baby formula, remains on edge as opposition leaders are now calling for mass protests in the coming days in the wake of the defeated attempt at triggering a broader military revolt.
Continue reading at: https://www.zerohedge.com/news/2019-01-22/venezuelan-soldiers-attempt-lead-anti-maduro-coup-clashes-follow-arrests