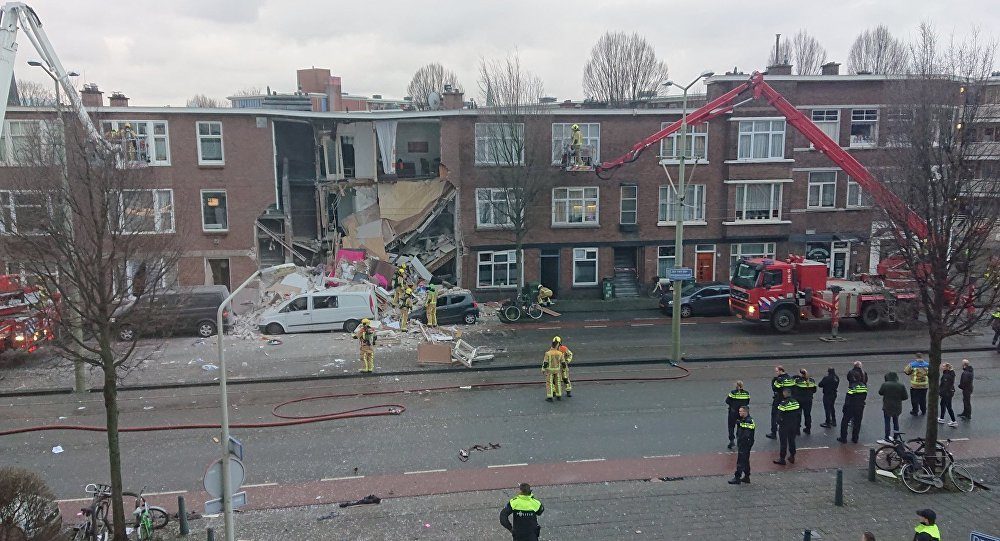 GLADIO: Are bombings of key targets being disguised as gas explosions worldwide?
HAGUE EXPLOSION: Netherlands blast causes houses to COLLAPSE – emergency services on scene
AN EXPLOSION in The Hague has forced the front of a building to collapse as emergency services desperately search for people feared to be trapped under the rubble.
By LAURA MOWAT
EXPRESS
The Dutch city's fire brigade said that three people have been saved from the rubble leaving one person trapped. Nine people were injured when the explosion rocked the residential area of The Hague. RTL News have said a blast has caused the "houses to collapse" and people could be trapped underneath. Mayor of The Hague Pauline Krikke said the blast had "an enormous impact".
Emergency services have been at the scene of the explosion (Image: TWITTER)
She said: "The next few hours will hopefully bring more clarity".
Emergency services are at the scene and the city's aviation police have claimed it could have been a gas explosion.
The explosion occurred in the Jan van der Heijdenstraat area of The Hague and several homes are reported to have been destroyed.
The Non-governmental International News Agency tweeted: "A gas explosion caused the frontal part of a building to collapsed in the Hague, Netherlands. Reports say that several people are wounded."
Emergency services have rushed to the scene of the incident (Image: TWITTER)