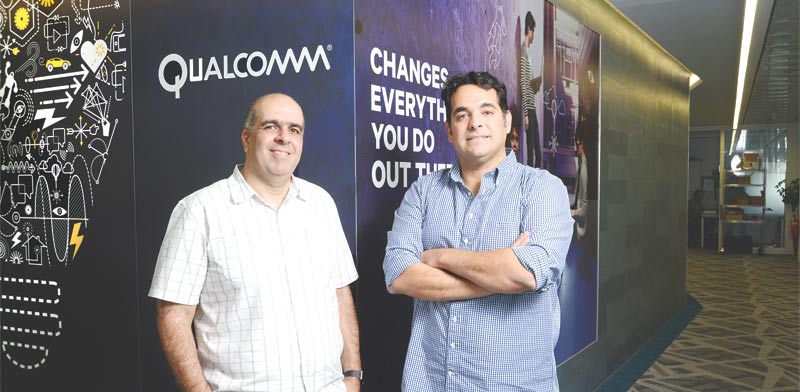 5G mobile revolution designed in Israel
Gad Perez
GLOBES
Qualcomm Israel's Assaf Touboul and Ronen Sheashua tell "Globes" about the unheard-of download speeds and greener networks coming soon.
Qualcomm Israel VP technology Assaf Touboul starts the conversation with an unequivocal statement: "Qualcomm's first 5G cellular was developed in Israel in Hod Hasharon, and will be launched in 2019." The pride he feels at this enormous achievement is unmistakable.

Touboul founded Ra'anana-based DesignArt, acquired by Qualcomm in 2012. Qualcomm Israel VP engineering Ronen Sheashua worked with him, and they are continuing to develop what they began at DesignArt – advanced developments for future generations of mobile communications.

Qualcomm needs no introduction. It is a leading global developer of chips and processors for mobile communications networks. Its development center in Hod Hasharon is leading the most advanced technology – the DNA of mobile communications.

Touboul: "Qualcomm is developing chips, and the first generation of 5G is being developed here.

"Globes": Explain yourself.

"5G is an umbrella of various technologies that covers many spheres. The first and most common is the Internet of Things (IoT) – connecting a great many devices to the Internet, such as refrigerators, lighting, garbage cans, and cameras. We aren't focusing on this so much. We're more interested in developing the ability to achieve very high bandwidth speeds with very low latency."

What does that mean?

"A capacity of about 50 times what there is now on 4G, with shorter latencies (response times, G.P.) than there are today. What this actually does is facilitate very dynamic interactivity with the Internet.

"This means that processing, which currently takes place on the device, will take place on the cloud or the Internet in the future. Processing for the use of apps will take place on the cloud, not the device. Due to the high speed made possible by 5G, however, the user will not feel the difference at all; he will still feel that processing is taking place within his device. This provides opportunities for a great many new apps in augmented reality, for example, which require many capacities, and also in autonomous cars."

What other possibilities does 5G mobile provide?

"It can only be imagined. It's revolution, not evolution. A mobile device will run much more quickly for the user, and the experience will feel completely different. It also means that new operators will be able to enter and play on new fields, because we're talking about completely new frequency ranges that will be operated in 5G above 6 gigahertz and in the 28-39 gigahertz range."

Sheashua: "Because the frequency is higher, the technology changes and takes the form of a beam between the device and the site. This enables the operator to provide services efficiently in crowded places, such as stadiums and airports, for example, where there's a severe problem of interference. The high frequency operates like a laser beam between the cellular towers and the device."

As people who came from DesignArt, what is your part in the project?

Touboul: "Qualcomm acquired the company because it found the sector very attractive. Activity here has greatly expanded, and we have managed to bring the first development of the 5G modem to the site here in Israel. With the demand and highly developed capabilities, we have managed to create the first generation of the introduction to 5G."

Sheashua: "You could call it a pre-standard device."

When you say "early standard," you are referring to a 5G launch even before 2020, the target date for the global standards institutes.

"We're working on the early standard. Had you spoken to me a year ago, I would have told you that 5G would be deployed in 2020 at the earliest. Today, I'm telling you that 5G will be deployed in 2019. Why? Because everything was speeded up by a year – the operators, the network manufactures, and the technology developers, i.e. us, have accelerated deployment. Verizon and KT Corporation (formerly Korea Telecom, G.P.) have pushed the pre-standard forward. This was seen all over the world, and the standards institutes were unwilling to let anyone get there before them, so they hurried to complete the standard as quickly as possible, and brought it forward by a year, to 2019. What they actually did was to split the standard into two, with everything pertaining to faster speeds and surfing being brought forward by a year, while in everything pertaining to IoT apps, the standard will be completed in 2020."

Do you also have an interest in having the standard completed sooner?

Touboul "We're developing all the time at a very fast pace. This is the dynamics of an Israeli startup. We brought out dynamic to a large group, and we made the timetable significantly shorter than what had originally been planned."

Why will the standard relating to IoT be delayed?

Sheashua: "It looks like 4G will take care of everything having to do with IoT. The apps there don't require the low latency needed in 5G apps."

Touboul: "The big step forward in IoT will be in masses of devices connected to the Internet. In 2015, there were 10 billion devices. The number grew to 12 billion in 2016, and it will only get bigger. 4G networks can cope with a scale like that. 5G is actually designed to cope with integration of areas and connected devices. Think of a base station with tens of thousands of devices connected to it, including streetlights, sensors, cameras, and so forth. Dealing with the standards for this has great technological significance."

You said that a revolution was involved.

Touboul: "There's something very correct about this. First of all, it brings a lot more spectrum into the game. Now that we're developing 28 gigahertz and 39 gigahertz, and there's a lot of spectrum there, it gives the operators a lot of breathing room. The second thing is the low latency we mentioned. Everyone's talking about capacity, but the low latency is just as important, and just as complicated."

In the not-too-distant future, we'll see many more cell towers here in Israel. What does that mean to you?

Sheashua: "It's good for us, because instead of one large site with strong broadcasting, there will be many cells with weak broadcasting. As soon as you've got a cell like that with a modem in the room, capacity goes down, and there's less radiation from the phone."

It looks like it won't be easy to do in Israel.

Touboul: "There are solutions like this here in Israel, too, which will increase – a modem that is actually a miniature cellular station inside the house and connected to the Internet. It's the integration of WiFi with cellular, and we spotted it already in 4G. This is a small base station that provides service at home, and it's the chip we made, on which we compressed an entire base station."

It can be in a home, but also on an electrical pole or a bus station.

Sheashua: "Yes. With T-Mobile, we worked in cooperation, and that's what they did. They gave them a home base station in order to solve the problem of coverage, which is a difficult thing in the US. So you have landline Internet, and connect it to the Internet in the back, and all the distribution is within the home."

In other words, there will be a variety of small sites.

Touboul: "Correct. One of the biggest emphases is green base stations – for example, preventing the base stations from broadcasting in the middle of the night if it is unnecessary. All the technology has brought up the question of low capacities and green technologies."

"A good user experience in Israel"

As someone who knows the US market well, what is it like to experience the networks in the US, as opposed to Israel?

Sheashua: "The networks in Israel are excellent, but it's because we're a small country, and the result is that coverage is much better than in the US. The user experience here is better."

Touboul: "The leading countries in 5G are South Korea and the US. South Korea is an example of a country that operates between developers and networks in an interesting way, and it also comes from above the networks. There will be 5G there in 2018 – I mean pre-5G that will provide the user with 5 Gbps (for the sake of comparison, the current effective speeds in Israel are 40-50 Mbps, G.P.).

People will get an effective speed of 5 Gbps in 2018? It sounds like science fiction.
RELATED ARTICLES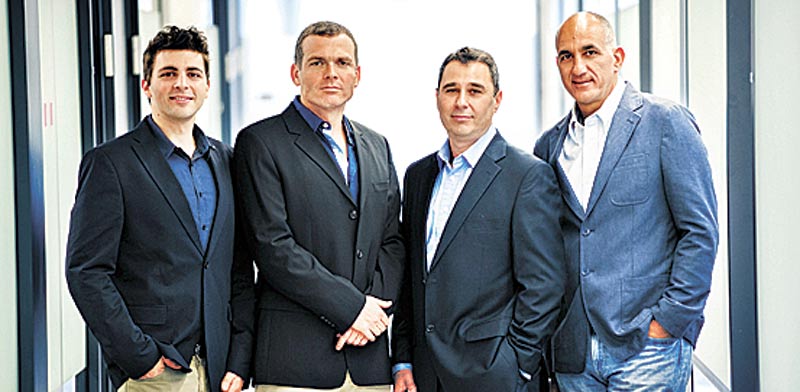 Microsoft, Qualcomm invest in Team8
Check Point uncovers Qualcomm chips security flaws
Sheashua: "Yes, because there's no interference, and the signal does not spread on high frequencies, the user experience there will be the best possible. It's a really substantial change. The goal is to have a skier put a camera on his helmet, so that you can see a live broadcast of his skiing, without compression. This will happen at the next Winter Olympics.
"There's nothing to do with such speeds now, but there's another aspect that must be taken into account – battery consumption will decrease."
Decrease?
"Yes, because you'll get what you need immediately, so it will be possible to give many users higher speeds when they need them."
As developers, how do you think our lives will change?
Touboul: "It's a little hard to predict. I think there will be new standards. There will be various kinds of Google glasses connected only to the Internet, but all the processing will take place in one location. I assume that the quality of screens will constantly improve, and augmented reality will expand. The autonomous vehicle will spread, and the information it collects will be important for managing all the traffic in the area. In addition, we personally feel that we're doing something very special here, and we're preserving our technological uniqueness in a big company. We're hiring a lot of people. We feel pride as Israelis that with great effort, we succeeded in bringing the center of gravity in mobile communications here, and it will take place here.
Published by Globes [online], Israel Business News – www.globes-online.com – on October 3, 2017
© Copyright of Globes Publisher Itonut (1983) Ltd. 2017
___
https://en.globes.co.il/en/article-5g-mobile-revolution-designed-in-israel-1001207153