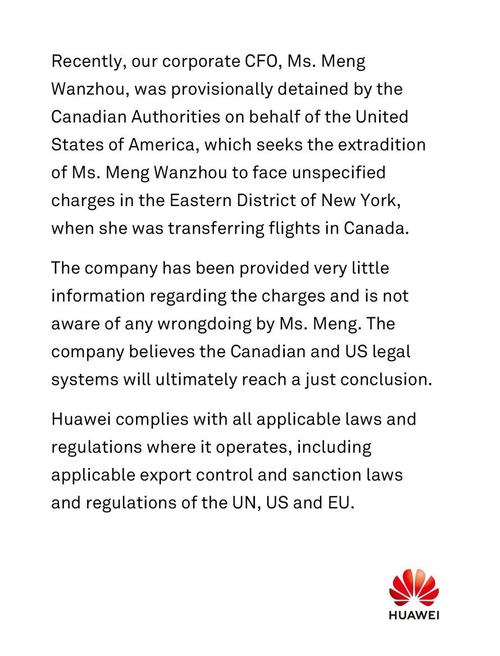 VERY BAD MOVE! Now the DOJ Kicks the Tiger after Repeatedly Poking the Bear
TMR Editor's Note:  The $64,000 question regarding the highly concerning news report posted below about the Chinese VIP arrest by Canada for the U.S. is this:
Does Trump support these dangerous shenanigans or are  Deep State operatives in the DOJ intent on sabotaging his recent trade discussions with China's President Xi Jinping?
The real problem with such a stupid move like this patently false arrest is that: World Wars Always Begin With Trades Wars (Updated)
It's crucial for every American to understand the following geopolitical reality at this critical point of human history:
"Those sanctions by the Trump administration are themselves violations of international law. These patently criminal sanctions by the U.S. were issued, and are only being enforced, on behalf of the APARTHEID state of Israel."

(Source: BREAKING: CFO and Vice Chair of Chinese Telecom Giant Arrested "on suspicions that she violated US sanctions against Iran"
Therefore, what must be determined — before it's too late — is whether this HUGE international incident is part of a much larger globalist scheme to jigger the whole world.
---
---
Make no mistake about it: Deep State is in very deep doo-doo.  The NWO globalists know in their bones that arrests and prosecutions are coming for all the big enchiladas like Soros and Obama,  Hillary and Bill, Podesta and Podesta, Brennan and Clapper, Hayden and Morrell, Schiff and Feinstein, Pelosi and Waters, Wasserman Schultz and Schumer, Comey and Mueller, Lynch and Holder, McCabe and Strozk, Ohr and Page, Steele and Simpson, and  et al.
They also know they'll be facing severe justice at Gitmo. MILITARY TRIBUNALS: Why They Are Absolutely Necessary
The Millennium Report
December 6, 2018
---
China Outraged At Arrest Of Huawei CFO, Warns It Will "Take All Measures"
ZeroHedge.com
So much for a trade war truce between China and the US, or a stock market Christmas rally for that matter.
Shortly after the news hit that Huawei CFO Wanzhou Meng — also deputy chairwoman and the daughter of Huawei's founder — was arrested on December 1, or right around the time Trump and Xi were having dinner in Buenos Aires last Saturday, and faces extradition to the U.S. as a result of a DOJ investigation into whether the Chinese telecom giant sold gear to Iran despite sanctions on exports to the region, China immediately lodged a formal protest publishing a statement at its embassy in Canada, and demanding the U.S. and its neighbor "rectify wrongdoings" and free Meng, warning it would "closely follow the development of the issue" and will "take all measures" to protect the legitimate rights and interests of Chinese citizens.
Full statement below:
Remarks of the Spokesperson of the Chinese Embassy in Canada on the issue of a Chinese citizen arrested by the Canadian side

At the request of the US side, the Canadian side arrested a Chinese citizen not violating any American or Canadian law. The Chinese side firmly opposes and strongly protests over such kind of actions which seriously harmed the human rights of the victim. The Chinese side has lodged stern representations with the US and Canadian side, and urged them to immediately correct the wrongdoing and restore the personal freedom of Ms. Meng Wanzhou.

We will closely follow the development of the issue and take all measures to resolutely protect the legitimate rights and interests of Chinese citizens.
Meng's arrest will immediately heighten tensions between Washington and Beijing just days after the world's two largest economies agreed on a truce in their growing trade conflict. It will, or at least should, also prompt any US execs currently in China to think long and hard if that's where they want to be, say, tomorrow when Xi decides to retaliate in kind.
Meng's father Ren Zhengfei, a former army engineer who's regularly named among China's top business executives, has won acclaim at home for turning an electronics reseller into the world's second-largest smartphone maker and a major producer of networking gear.
As Bloomberg notes, the CFO's arrest will be regarded back home as an attack on China's foremost corporate champions. While Alibaba and Tencent dominate headlines thanks to flashy growth and high-profile billionaire founders, Ren's company is by far China's most global technology company, with operations spanning Africa, Europe and Asia.
"Tencent and Alibaba may be domestic champions and huge platforms in of their own rights, but Huawei has become a global powerhouse," said Neil Campling, an analyst at Mirabaud Securities Ltd. It is "5G standards that are at the heart of the wider IP debate and why the U.S. and her allies are now doing everything they can to cut to the heart of the Chinese technology IP revolution."
At the same time, Huawei's technological ambitions have also gotten the company in hot water with the US: its massive push into future mobile communications has raised hackles in the U.S. and become a focal point for American attempts to contain China's ascendance.
Going back to the arrest, the U.S. Justice Department declined to comment about the circumstances involving the CFO, although the biggest question on everyone's mind right now is whether Trump was aware of the pending arrest at the time of his dinner with the Chinese president, and why exactly he had greenlighted the move which would certainly result in another diplomatic scandal, promptly crushing and goodwill that was generated at the G-20 dinner.
Meanwhile, in a statement, Huawei said the arrest was made on behalf of the U.S. so Meng could be extradited to "face unspecified charges" in the Eastern District of New York.
"The company has been provided very little information regarding the charges and is not aware of any wrongdoing by Ms. Meng," Huawei said. "The company believes the Canadian and U.S. legal systems will ultimately reach a just conclusion. Huawei complies with all applicable laws and regulations where it operates, including applicable export control and sanction laws and regulations of the UN, U.S. and EU."
Tensions between the Chinese telecom giant and U.S. authorities escalated in 2016, when the US voiced concerns for the first time that Huawei and others could install back doors in their equipment that would let them monitor users in the U.S. Huawei has denied those allegations. The Pentagon stopped offering Huawei's devices on U.S. military bases citing security concerns. Best Buy Co., one of the largest electronics retailers in the U.S., also recently stopped selling Huawei products.
In August, U.S. President Donald Trump signed a bill banning the government's use of Huawei technology based on the security concerns. The same month, Australia banned the use of Huawei's equipment for new faster 5G wireless networks in the country and New Zealand last week did the same, citing national security concerns. Similar moves are under consideration in the U.K. The U.S., which believes Huawei's equipment can be used for spying, is contacting key allies including Germany, Italy and Japan, to get them to persuade companies in their countries to avoid using equipment from Huawei, the Wall Street Journal reported last week.
In 2016, the Commerce Department sought information regarding whether Huawei was possibly sending U.S. technology to Syria and North Korea as well as Iran.
The U.S. previously banned ZTE Corp., a Huawei competitor, for violating a sanctions settlement over transactions with Iran and North Korea.
The cynics out there may claim that the US response is merely in place to delay the development of the company which in the third quarter overtook Apple as the No. 2 global smartphone maker, shipping more than 52.2 million units according to Gartner Inc.
"This is what you call playing hard ball," said Michael Every, head of Asia financial markets research at Rabobank in Hong Kong. "China is already asking for her release, as can be expected, but if the charges are serious, don't expect the US to blink."
The biggest question is what will China do next. One look at futures, which flash crashed earlier when the news of the CFO's arrest first hit, suggests that whatever it is, Beijing will probably not be happy.
___
https://www.zerohedge.com/news/2018-12-05/china-outraged-arrest-huawei-cfo-warns-it-will-take-all-measures