MSM reports that Russia has fired at Ukraine ships and captured three vessels in Crimea waters. Provocation for war by Western powers?
TMR Editor's Note: Like so many MSM reports about Russia, it's very difficult to determine if the article posted below is true. Anything coming from the British press is highly suspect, especially where it concerns Russia.
Therefore, TMR recommend discernment whenever we re-present news reports with MSM sources.  The mainstream media routinely publishes so much fake news these days that it takes a super sleuth to discriminate between fact and fiction.  Nevertheless, what the MSM does disseminate reflects their most important agenda(s).  That's why we post specific MSM articles from time to time.
In the case below, it appears that the British and American governments have ordered the Ukrainians to provoke Russia around Crimea.  There are multiple reasons why such an obvious distraction was carried out in such a dramatic way.
The Western powers would like nothing more than a war with Russia during these turbulent times of revelations.  It's clear that the power elite have the most to lose with so much truth being exposed—EVERYWHERE.  Hence, war has always been a primary way to distract the populace from government corruption and corporate criminality.
Those who control the Global Economic and Financial System are, right now ,extremely desperate to stimulate the worldwide economy that never really recovered from the 2008 Great Recession.  The New World Order globalists know that the perpetual war economy must be periodically jumpstarted via regional or world wars.
In light of these realities, the Zio-Anglo-Amercian Axis has been itching for a war with Russia.  The Mideast regional war in Syria is just one example of their secret objective to start the hot phase of World War III.  The world has been witnessing the cold phase of WW3 for several years. See: World Wars Always Begin With Trades Wars (Updated)
---
---
The Millennium Report
November 25, 2018
---
Russia 'fires at Ukraine ships and captures three vessels' amid rising tensions off Crimea
The Ukrainian president calls for emergency session of his war cabinet after accusing Russia of capturing three of its ships.
Ukraine Russia has opened fire on its ships in the Black Sea and captured three vessels.
Two sailors have been wounded after two artillery boats were hit in the strikes, the Ukrainian navy said.
Ukrainian president Petro Poroshenko has called an emergency session of his war cabinet after a day of rising tensions off the coast of Crimea.
A statement from Ukraine's ambassador to the UK said Russian special forces had captured three ships in an "act of aggression".
"According to the Ukrainian navy, Russia opened fire at small-sized 'Berdiansk' and 'Nikopol' armoured artillery boats," the statement said.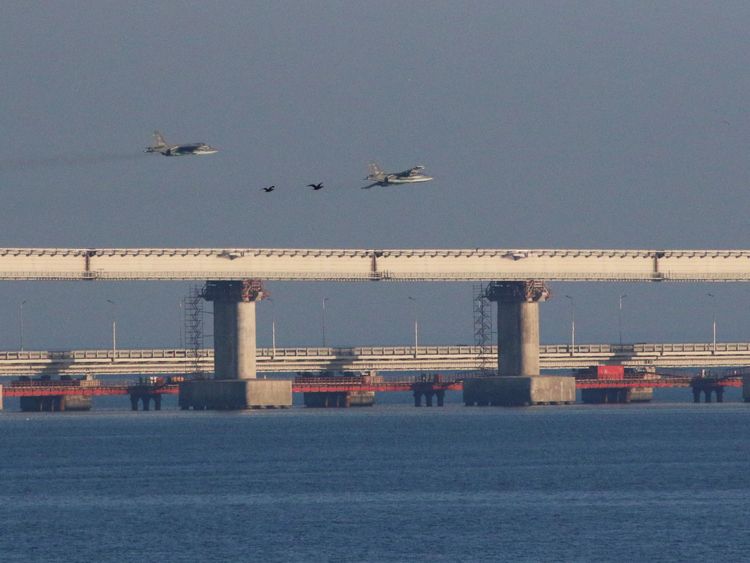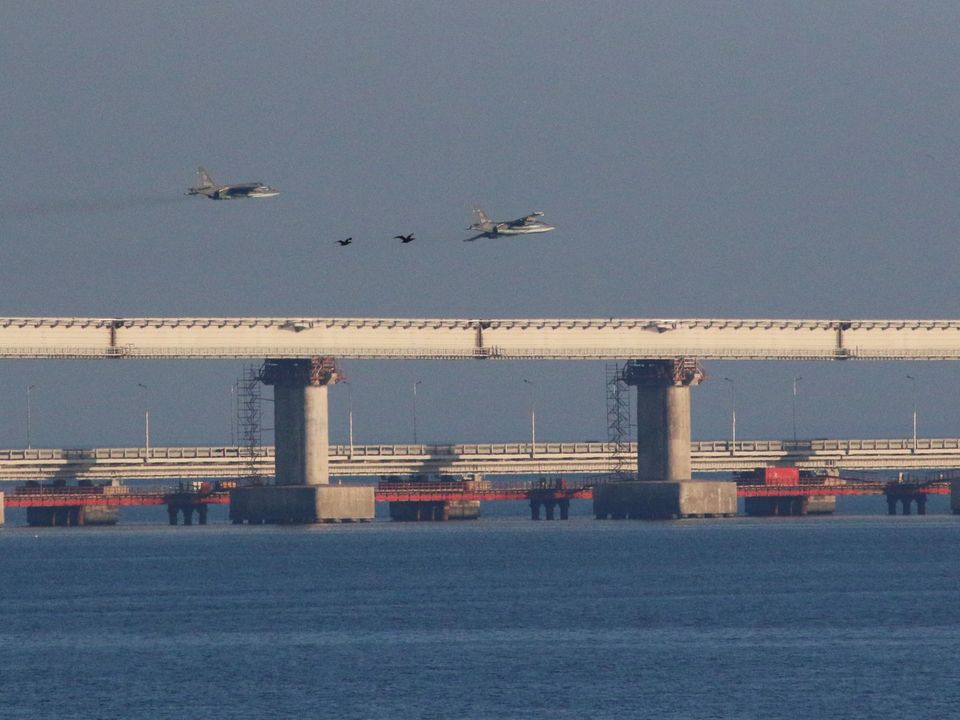 "The 'Yany Kapu' tugboat also lost ability to move following the Russian assault.
"Two Ukrainian crew members have been wounded. Russian special forces have captured all three Ukrainian ships."
Ukrainian foreign ministry spokeswoman Mariana Betsa said: "Today's dangerous events in the Azov Sea testify that a new front of Russian aggression is open."
"Ukraine is calling now for an emergency meeting of the United Nations Security Council."
In response, Russia's Federal Security Service (FSB) said it had "irrefutable evidence that Kiev prepared and orchestrated provocations… in the Black Sea".
"These materials will soon be made public," the FSB said.
Earlier on Sunday, Ukraine accused a Russian coastguard vessel, named the Don, of ramming one of its tugboats, damaging its engine, hull and side railing.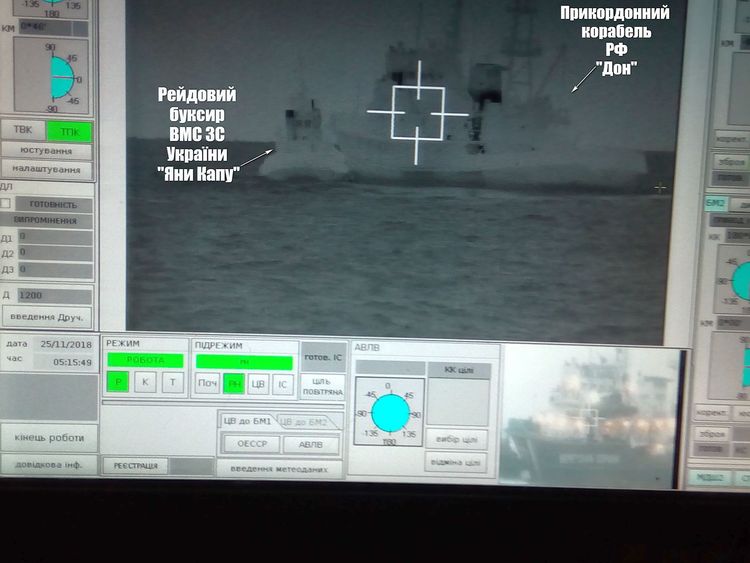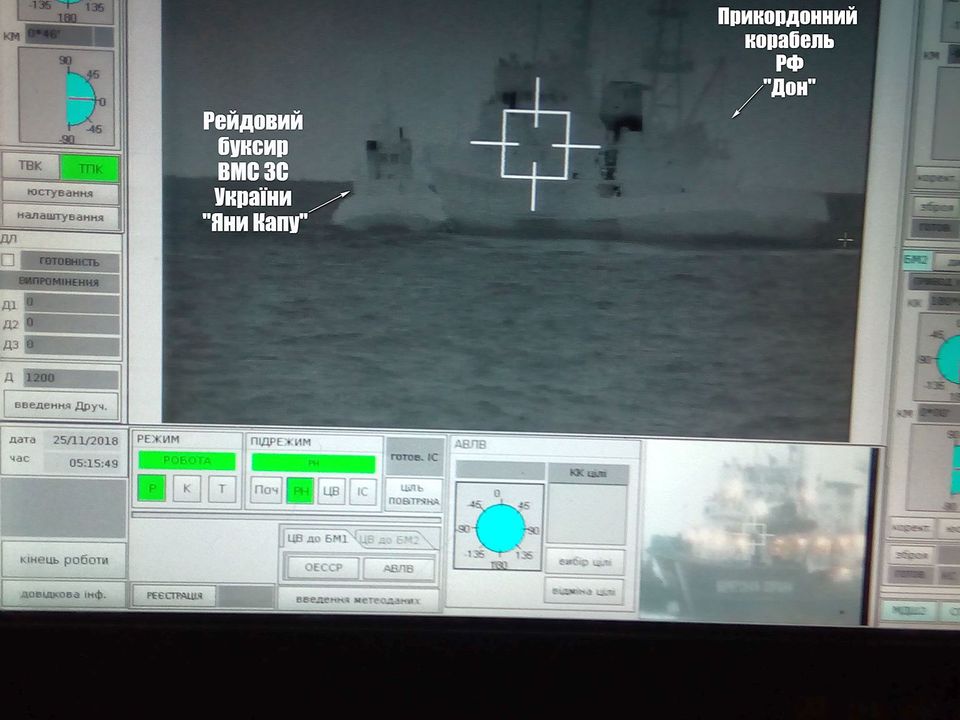 The incident allegedly took place as three Ukrainian navy boats – including two small warships – headed for the port of Mariupol in the Sea of Azov, an area of heightened tensions between the countries.
Russia – which claims the waters off Crimea after annexing the peninsula in 2014 – accused Ukraine of illegally entering the area and deliberately provoking a conflict.
It placed a huge cargo ship beneath the Russian-controlled Kerch Strait Bridge to block Ukrainian boats from access to the sea.
"Their goal is clear – to create a conflict situation in the region," Russia's FSB said in a statement.
But the Ukrainian navy said Russia had been informed in advance about the planned journey.
"Russian coastguard vessels… carried out openly aggressive actions against Ukrainian navy ships," its statement said.
A 2003 treaty designates the Kerch Strait and Sea of Azov as shared territorial waters but Russia has been asserting greater control over the area since 2015.
In September, the Ukrainian navy accused Russian border guards of "acts of provocation" against its ships taking the same route.
Ukraine has increased the number of navy ships and border guard patrols in the Sea of Azov, which is reached via the Kerch Strait between Crimea and Russia.
Kiev says its naval build-up is due to Russia stepping up controls in the area this year and carrying out lengthy checks on commercial shipping.
Mariupol is close to the region of eastern Ukraine controlled by Russian-backed separatists in a conflict that has caused at least 10,000 deaths since 2014
___
https://news.sky.com/story/russia-fires-at-ukraine-ships-in-black-sea-11563775