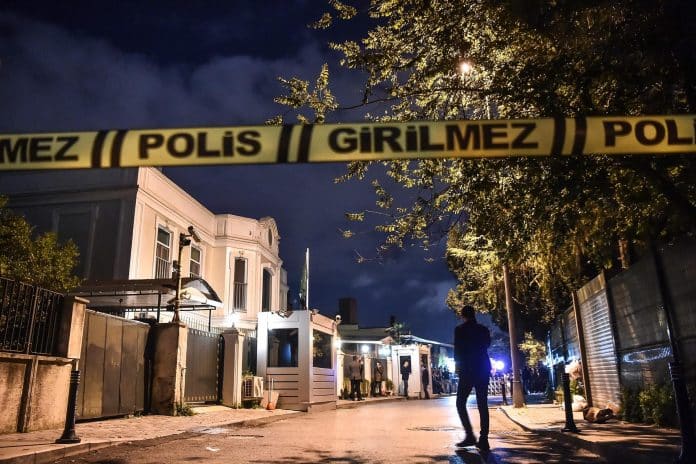 Saudi journalist Khashoggi decapitated after fingers cut off (updated)
US Still in Denial
By Ian Greenhalgh
Veterans Today
Sputnik/Moscow: Earlier in the day, US Secretary of State Mike Pompeo and Crown Prince Mohammed bin Salman held talks on the alleged murder of a Saudi journalist inside the Saudi diplomatic facility in Turkey.
Commenting on the case, Pompeo noted that Washington takes the disappearance of Jamal Khashoggi "seriously," also stressing that Turkish President Tayyip Erdogan had made clear that Saudi officials were cooperating in the investigation into the missing journalist.
According to the official, the US must be mindful in order to preserve good ties with Saudi Arabia as it considers any measures once the facts on the case are determined.

"If a country engages in activity that is unlawful, it's unacceptable. No one is going to defend activity of that nature. They need to simply say what happened," he added.
__________
Hurriyet
Saudi journalist Khashoggi decapitated after fingers cut off
Saudi journalist Jamal Khashoggi was decapitated on Oct. 2 inside his country's consulate in Istanbul after torture during which his fingers were cut off, according to media reports citing an audio recording of the brutal execution.
Daily Yeni Şafak reported Oct. 17 that Saudi Arabia Consul Mohammad Utaybi's voice could be heard in one of the recordings of Khashoggi's "interrogation."
After Utaybi told the interrogators to "do it somewhere else outside or I will be in trouble," he was told to "shut up if you want to live when you are back in Arabia."
Utaybi returned to Saudi Arabia on Oct. 16 before Turkish police searched his residence in Istanbul.
Body dissected in seven minutes
Qatar-based Al Jazeera reported the dissection of Khashoggi's body inside the consulate took seven minutes. It was conducted by Saudi forensics expert Salah Muhammad al-Tubaigy, who was reportedly heard in the recordings while advising the interrogators to "listen to music" while he dissected the body.
According to Turkish police, al-Tubaigy was one of the 15 Saudis who had arrived in Istanbul on two planes and entered the consulate while Khashoggi was inside. The group, which left Turkey on the same day, also included Saudi intelligence officers and Royal Guards.
The New York Times confirmed the identities of nine people in the group on Oct. 16, adding that at least four of them were previously part of Saudi Crown Prince Mohammed bin Salman's entourage on foreign trips.
A team of Turkish police spent more than nine hours in the consulate on Oct. 15 and Oct. 16 and the Associated Press reported that they found "certain evidence" about the killing of the prominent Saudi dissident.
Some materials at the Saudi consulate have been painted over, Turkey's President Tayyip Erdoğan said on Oct. 16.
Turkish officials would not comment on the disposal method for the body, pending investigation and a planned search of the consul's residence.
___
http://www.veteranstoday.com/2018/10/17/saudi-journalist-khashoggi-decapitated-after-fingers-cut-off/