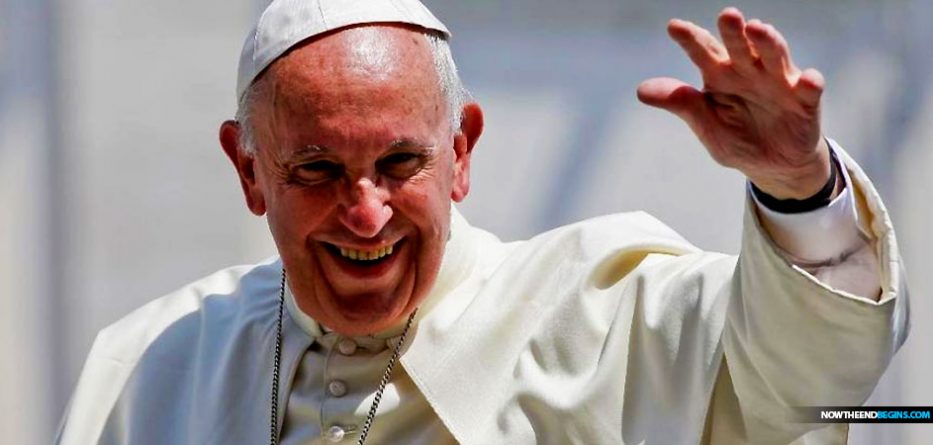 Did the pope let loose a Freudian slip by saying "I am the devil."
POPE FRANCIS IN POLAND TELLS WORLD FAMOUS PHOTOGRAPHER 'I AM THE DEVIL' THEN LAUGHS IT OFF
Greeting journalists Saturday en route to Lithuania, Pope Francis was given a book about the former pope by Polish photographer Grzegorz Galazka. Receiving the large book with a beaming John Paul on the cover, Francis quipped: "Pope John Paul II was a saint, I am the devil."
by Geoffrey Grider
Now The End Begins
Pope Francis has acknowledged that his reputation pales a bit compared to St. John Paul II — at least as far as Poles are concerned.
Pope Francis made a very interesting 'joke' today while in Poland meeting and greeting his worshippers. He was talking with a famous photographer who had done a book on Pope John Paul II, and he made an incredible comparison between himself and John Paul.
"For thou hast said in thine heart, I will ascend into heaven, I will exalt my throne above the stars of God: I will sit also upon the mount of the congregation, in the sides of the north: I will ascend above the heights of the clouds; I will be like the most High." Isaiah 14:13,14 (KJV)
His exacts words were 'Pope John Paul II was a saint, I am the devil." Let that sink in for a moment. The man who claims to be the 'vicar of Christ', the physical embodiment of Jesus Christ on this earth, said that he was not 'a devil' but said that he was THE Devil. Is that funny to you?
FROM SALT LAKE TRIBUNE: Greeting journalists Saturday en route to Lithuania, Pope Francis was given a book about the former pope by Polish photographer Grzegorz Galazka. Receiving the large book with a beaming John Paul on the cover, Francis quipped: "Pope John Paul II was a saint, I am the devil."
Laughing, Galazka immediately corrected him: "No, you are both saints! You are both saints!"
Francis' quip appeared to acknowledge that he has his detractors, particularly among conservative Catholics who long for the more doctrinaire papacies of John Paul and Emeritus Pope Benedict XVI.
The criticism of Pope Francis by conservatives has grown more vocal recently amid the church's sex abuse scandals and the distress over his opening to letting divorced and civilly remarried Catholics receive Communion. READ MORE
Isn't the Devil the arch-enemy of God, isn't the Devil the most disgusting creature in existence? The Bible tells us that the Devil is a liar, a murderer, someone in whom there is NO truth of any kind. Why on EARTH would anyone ever say that they were the Devil, much less someone who claims he is God's hand picked representative?
"Ye are of your father the devil, and the lusts of your father ye will do. He was a murderer from the beginning, and abode not in the truth, because there is no truth in him. When he speaketh a lie, he speaketh of his own: for he is a liar, and the father of it." John 8:44 (KJV)
JUST A JOKE, YOU SAY? JUST A LITTLE VATICAN HUMOR, EH? WELL, MAYBE SO BUT CONSIDER THE FOLLOWING.
So when Francis declared quite plainly today that he was "the Devil", it may just be the truest thing he has ever said. But please don't take my word for it, click on the links I gave you in the bullet point list and decide for yourselves.
___
http://www.nowtheendbegins.com/pope-francis-in-poland-tells-world-famous-photographer-i-am-the-devil-then-laughs-it-off/