This is really why the European Union was formed!
So the UK, US and Brussels could exploit the inevitable EU  HERD MENTALITY which is easily enforced by financial terrorism and economic  sabotage
Great Britain has implemented yet another fantastical psyop against Russia.
Their transparent charade has elicited no real investigation by the European Union or the United States.
Instead, the US, along with most of Europe, have reflexively concurred with the false and unfounded accusations leveled against the Kremlin.
This is really why the European Union was really formed—so that each EU member nation could be easily compelled and/or coerced to tow the line.  Especially where it concerns war.
Those do who break ranks will surely become the victims of some sort of financial terrorism and economic sabotage (or worse) conducted by the UK, US or Brussels.
The Millennium Report
March 27, 2018
---
Spy poisoning: Russia accuses US of 'expulsion blackmail'
BBC
Russia has accused Washington of pressuring nations to carry out a mass expulsion of its diplomats in response to a nerve agent attack in the UK.
Foreign Minister Sergei Lavrov accused the US of "colossal blackmail" and said there were "few independent countries" left in modern Europe.
The expulsion of about 100 Russians by more than 20 nations is thought to be the largest in history.
Russian ex-spy Sergei Skripal and his daughter were poisoned on 4 March.
Investigators believe a military-grade nerve agent was used.
EU leaders agreed with the UK last week that it was highly likely Russia was behind the poisoning in Salisbury, southern England. Russia has denied any involvement.
What is Russia's response?
Mr Lavrov said it was inevitable that there would be a response to the mass expulsion. "Certainly, we will not tolerate such impudence," he said.
He singled out the US for blame.
"When one or two diplomats are being expelled from this or that country, all the while whispering apologies in our ear, we know for sure that this is a result of colossal pressure, colossal blackmail, which unfortunately is Washington's main tool now on the international area," he said.
"It is hard to escape a conclusion that we were right when we stressed several times that there remain few independent countries in the modern world, modern Europe."
Russia's foreign ministry is said to be drawing up a number of possible retaliatory measures for President Vladimir Putin to consider.
One Russian senator, Vladimir Dzhabarov, was quoted as saying there would be a "tit-for-tat" response to the US decision to expel 48 envoys at the Russian embassy in Washington and 12 more at the UN in New York.
Russia's embassy in the US tweeted its response to the closure of the Russian consulate in Seattle.
US administration?? ordered the closure of the Russian Consulate in Seattle @GK_Seattle??. What US Consulate General would you close in @Russia, if it was up to you to decide

— Russia in USA ?? (@RusEmbUSA) March 26, 2018
Mr Lavrov's deputy, Sergei Ryabkov, earlier said a tough response was needed but stressed Moscow would not abandon strategic stability talks with Washington.

Who is expelling diplomats?
The UK announced it was expelling 23 Russian diplomats earlier this month.
Various countries announced they were making the same move in solidarity on Monday.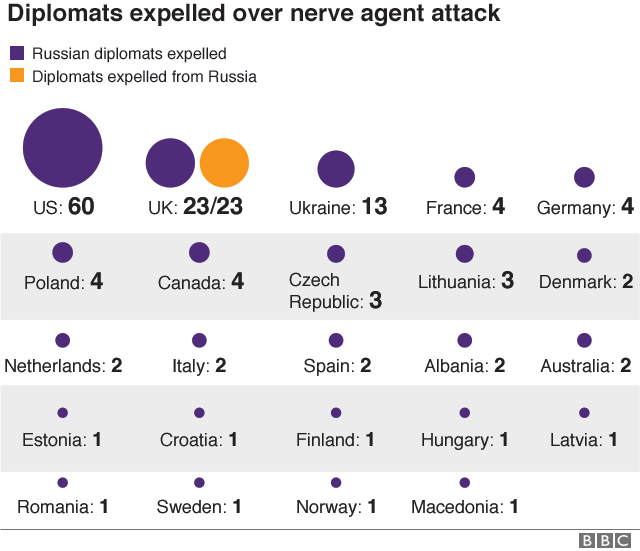 Iceland has also announced it is suspending high-level dialogue with Russian authorities, and its leaders will not attend the World Cup, which starts in Russia in June.

Boris Johnson on widespread expulsions of Russian diplomats
The UK said earlier this month it would not send ministers or members of the Royal Family to the football tournament.
Australia's Foreign Minister Julie Bishop mooted the possibility of boycotting the World Cup altogether.
UK Foreign Secretary Boris Johnson has praised the "extraordinary international response" by the UK's allies.
In an interview with the BBC, he said "Russian behaviour needs to change" and "the world has had enough" but he rejected suggestions that a new Cold War was dawning and stressed again that the UK had no quarrel with the Russian people.
Who is not expelling Russians?
EU countries that have said they have no intention of expelling diplomats include Austria, Greece and Portugal, although all have said they support the UK and condemn the poisoning.
Austria's Chancellor Sebastian Kurz tweeted that while he backed the EU, "as a neutral country we will not expel any diplomats", preferring to "act as a bridge-builder between East and West".
Ö steht hinter d klaren Erklärung d Europäischen Rates u d Entscheidung,d #EU-Botschafter aus #Moskau zurückzurufen.Als neutrales Land werden wir aber keine Diplomaten ausweisen. Vielmehr wollen wir Brückenbauer zwischen Ost u West sein&Gesprächskanäle nach #Russland offenhalten.

— Sebastian Kurz (@sebastiankurz) March 26, 2018
New Zealand's Prime Minister Jacinda Ardern said it did not have any undeclared Russian intelligence officers, but added: "If we did, we would expel them."
Why the expulsions?
Australia joined the US and EU nations late on Monday, by announcing it was throwing out two Russian diplomats suspected of being "undeclared intelligence officers".
PM Malcolm Turnbull cited interference in elections and threats to "the sovereignty of our partners" for the move, and said "the brazen attack in Salisbury was an attack on all of us".
President of the European Council Donald Tusk said the EU states had decided to expel Russian diplomats as a direct result of a meeting, held last week, about the Salisbury poisoning. He did not rule out further measures.
The US state department said in a statement the attack "on our ally, the United Kingdom put countless innocent lives at risk" and was an "outrageous violation of the Chemical Weapons Convention and breach of international law".
Remarkable show of solidarity
By Jonathan Marcus, BBC diplomatic correspondent
This is building into the most serious diplomatic crisis between Russia and the West since Moscow's seizure of Crimea.
Whatever the denials, Britain's allies have clearly accepted its view that the use of a military-grade nerve agent in Salisbury was "highly likely" the work of the Russian state.
The collective expulsions from the US and EU member states is a remarkable show of solidarity with Britain, even more so because it comes at a time when UK-EU relations are strained due to the Brexit negotiations.
European Council President Donald Tusk's note that there could be "additional measures" is a signal to Moscow as it considers how it will respond.
It is a significant diplomatic victory for Prime Minister Theresa May – concerted action has now followed the strong rhetorical support from its allies. It also marks a significant toughening of the Trump administration's stance towards Moscow.