PEDOGATE BOMBSHELL: How the FBI Protected an 'Olympic' Pedophile
Over Two Dozen Teen Gymnasts Molested By Dr. Larry Nassar While FBI Sat On Case
ZeroHedge.com
After FBI offices in three cities were told in July of 2015 that sports doctor Lawrence "Larry" Nassar had been molesting elite gymnasts, the agency advised officials with the US Gymnastics team "not to discuss the case with anyone," before sitting on their hands for over a year – while dozens of girls continued to fall victim to the once-respected Doctor.
Nasser routinely gave his teenage victims highly inappropriate massages under the guise of providing legimiate therapy, with some as young as 12.
Jane Doe is an Olympic medalist who claims she was sexually assaulted by Nassar from 1994 to 2000, from when she was 12 or 13 until she was 18. She is also suing USA Gymnastics and three of its past presidents, according to the Indianapolis Star. The lawsuit claims the organization was warned about Nassar and did not adequately address concerns about him.

In the lawsuit she accuses Nassar of "groping and fondling" her "vagina and anus."

The lawsuit claims Nassar began "grooming" her in 1994 "under the guise of care, athletic training, osteopathy and kinesiology to normalize intimate, inappropriate and sexually abusive contact."

She accuses Nassar of fondling and groping her "feet, ankles, thighs, buttocks, hips, waist, breast, arms, shoulders and neck" while claiming it was part of the treatment. –Heavy (July, 2016)
The New York Times identified "at least 27 girls and women who say Dr. Nassar molested them between July 2015, when he first fell under F.B.I. scrutiny, and September 2016, when he was exposed by an Indianapolis Star investigation."
The New York Times has identified at least 27 girls and women who say that Dr. Nassar molested them between July 2015, when he first fell under FBI scrutiny, and September 2016, when he was exposed by an @IndyStar investigation https://t.co/2tlBffRjBE

— The New York Times (@nytimes) February 3, 2018
 The three alleged victims then at the center of the F.B.I.'s inquiry were world-class athletes; two were Olympic gold medalists. Nearly a year passed before agents interviewed two of the young women.
---
The silence at times drove the victims and their families to distraction, including Gina Nichols, the mother of the gymnast initially known as "Athlete A": Maggie Nichols, who was not contacted by the F.B.I. for nearly 11 months after the information she provided sparked the federal inquiry.
"I never got a phone call from the police or the F.B.I." during that time, Gina Nichols, a registered nurse, said. "Not one person. Not one. Not one. Not one." –NYT
The FBI declined to comment on the investigation, aside from a 112-word statement that said "the safety and well-being of our youth is a top priority for the F.B.I.," while adding that the many allegations against Dr. Nassar "transcended jurisdictions" – an apparent excuse for the agency's lack of action on the case.
Many girls and young women still seeing Dr. Nassar received no warning of the sexual assault allegations.

Among them was Emma Ann Miller, now 15. She had about a dozen sessions with Dr. Nassar between the summers of 2015 and 2016, her lawyer said. https://t.co/2tlBffRjBE pic.twitter.com/ZzDkMscPwD

— The New York Times (@nytimes) February 3, 2018
Nasser has been sentenced to 40-175 years in Michigan prison – which follows a previous 60-year sentence for child pornography charges. 156 victims testified against him in open court during his sentencing hearing, while he also faces lawsuits from over 100 women who have accused him of sexual abuse.
How the FBI became involved: 
After the mother of one of Nasser's victims, Gina Nichols, told U.S.A. Gymnastics president Steve Penny about her daughter's molestation – telling him police had to be called immediately, Penny advised her to keep quiet: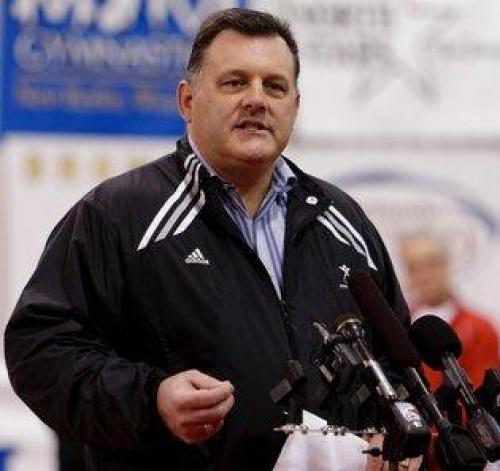 Gina Nichols, Maggie's mother, recalled telling Steve Penny, then the president of U.S.A. Gymnastics, that the police had to be called immediately. But he insisted that she not tell anyone, she said. The organization would take care of alerting law enforcement.

Weeks of silence passed, Gina Nichols said, interrupted occasionally by admonitions from Mr. Penny to keep quiet about the matter — although the United States Olympic Committee has said that U.S.A. Gymnastics reported that one of its physicians had been accused of abusing athletes "and was in the process of contacting the appropriate law enforcement authorities." –NYT
U.S.A. Gymnastics would eventually hire a specialist in workplace harassment, who recommended that Dr. Nassar be reported to law enforcement following her investigation.
On Monday, July 17 2015, officials from the US Gymnastics organization contacted the Indianapolis FBI field office. After meeting with agents the next day who assured them they had come to the right place, the gymnastics officials handed the FBI the contact information for three gymnasts: Ms. Nichols, Ms. Raisman, and McKayla Maroney – a retired Olympic gold medalist who had become a minor celebrity.
Video evidence of Dr. Nasser demonstrating his technique were also handed to agents:
They also turned over copies of videos of Dr. Nassar demonstrating his technique as he chatted clinically about pulled hamstrings, buttocks and trigger points. Reporters for The New York Times have seen the videos, which show him kneading the legs of girls before his ungloved hands begin to work under a towel, between the girls' legs.

"It's not a fun place to dig," Dr. Nassar says to the camera.

"Do the hand-shaky thing," he adds later, demonstrating how he shakes his hand vigorously when it is deep between a girl's legs.
Part of the FBI's bungling of the Nasser case may stem from jurisdictional issues; although the agency received the complain in Indianapolis, the alleged sexual abuse by Dr. Nassar had taken place in Texas and Michigan, while one of the victims lived in California.
When we consulted with the U.S. attorney, we knew right away that we would not have venue," said Indianapolis FBI agent W. Jay Abbott, who added "It was never really our case."
Asked why federal law enforcement officials did not notify people — other gymnasts, parents, coaches — that a potential child molester was in their midst, Mr. Abbott said, "That's where things can get tricky."

"There is a duty to warn those who might be harmed in the future," he said. "But everyone is still trying to ascertain whether a crime has been committed. And everybody has rights here" — a reference to both the alleged victims and the person being accused.
An internal debate also took place within the FBI as to whether or not Nasser's techniques were a legitimate medical procedure. 
After not hearing back from the FBI for some time, Mr. Penny and another U.S.A. gymnastics official visited the FBI's Los Angeles bureau.
"As time passed, concern about a perceived lack of development prompted Board Chair Paul Parilla and C.E.O. Steve Penny to report the matter a second time to a different F.B.I. office," U.S.A. Gymnastics said in a statement to The Times on Friday.
So – after two complaints to the FBI over a case that would eventually include three FBI field offices – one of which recommended not saying anything about Nassar – at least 40 victims were molested over the course of the next 14 months.
One father to three of Nasser's victims, Randall Margraves, attempted to attack Nassar last Friday in a Michigan courtroom. It took three uniformed deputies and a plain-clothes officer to detain him.
"Let me at that son of a bitch" Margraves shouted in court.
Margraves apologized, telling the court "I feel very remorseful… this cannot be a lawless society, I know that. I lost control but I regained control later in a holding cell," he said.
___
http://www.zerohedge.com/news/2018-02-04/over-two-dozen-teen-gymnasts-molested-larry-nassar-while-fbi-sat-case