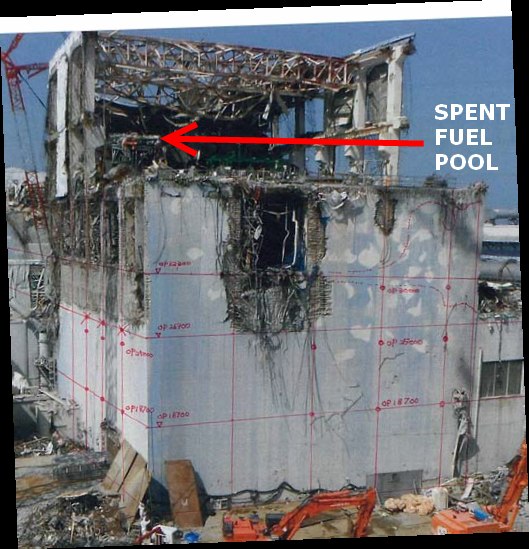 FUKUSHIMA NUCLEAR DISASTER:  Much Worse Than Even The Worst Case Scenario Reported
Fukushima Bldg 4 Declassified FOIA Document 100 Percent Spent Fuel Pool Fuel Burned Up, SFP #4 Pictures/Video Of Burned Up Fuel, Fires, Melt Out, Blown Out Panels To Ground Floor, No Hydrogen Explosion Caused This Damage, TEPCO Lied
agreenroadjournal.com
Fukushima Bldg 4 Declassified FOIA Document, 100 Percent Spent Fuel Pool Fuel Burned Up, SFP #4 Pictures/Video Of Burned Up Fuel, Fires, Melt Out, Blown Out Panels To Ground Floor, No Hydrogen Explosion Caused This Damage, TEPCO Lied
DECLASSIFIED GOVERNMENT REPORT SHOWS 100 PERCENT OF UNIT FOUR SPENT FUEL POOL WAS LOST TO ENVIRONMENT
The nuclear industry, various governments, and nuclear regulators, all claim that only about 2 grams of nuclear fuel got out at Fukushima. What happens when there is proof of multiple reactor melt downs, melt outs, and a complete spent fuel pool content burn up?
Got HUNDREDS OF TONS OF NUCLEAR FUEL RELEASED?
FOIA – Page (8) "100% of unit 4 Spent Fuel pool was released into the atmosphere." 86-pgs.
3/11 Fukushima Daiichi Mega Nuclear Disaster Is Equal To 5 To 50 Plus Chernobyl Disasters
http://www.agreenroadjournal.com/2013/09/fukushima-daiichi-equals-50-plus.html
One Hot Particle of Radioactive PLUTONIUM 239, Calculation Of Radiation Damage In Lung, Damage Caused By Hot Particle Is The Equivalent Of Machine Gun Firing Constantly Into Just One Spot In Lungs, Without Stopping
http://www.agreenroadjournal.com/2014/08/one-hot-particle-of-plutonium-239.html
TEPCO LIED ABOUT THE MULTIPLE MELT DOWNS AND IT TOOK THEM MONTHS TO ADMIT THAT ANYTHING REALLY BAD HAPPENED, LONG AFTER THE JAPANESE CITIZENS HAD BEEN EXPOSED TO 10,000 COUNTS PER SECOND RADIATION, BUT NO ONE WAS WARNED OF THIS
These nuclear 'experts' are so adept at lying, deception and cover ups, who knows what is really going on? TEPCO did not admit that multiple melt downs had happened for several months AFTER they happened. TEPCO knew about the meltdowns within hours, but then did not tell anyone about them.
rogerthatJune 21, 2016 FIVE YEARS AND THREE MONTHS LATER:
AP June 21, 2016, 8:28 AM
Fukushima meltdown apology: "It was a cover-up"
TOKYO — The utility that ran the Fukushima nuclear plant acknowledged Tuesday its delayed disclosure of the meltdowns at three reactorswas tantamount to a cover-up and apologized for it. …
"I would say it was a cover-up," (Tepco president Naomi) Hirose told a news conference. "It's extremely regrettable." …
http://www.cbsnews.com/news/fukushima-tepco-power-japan-nuclear-meltdown-apologizes-cover-up/
The Fukushima mega nuclear disaster is STILL a HUGE COVER UP, WAY LARGER than what they are admitting to here and now.
A LIE was exposed, within A BIGGER LIE, and they are still not admitting the truth.
99% of what REALLY happened is still being COVERED UP AND DENIED.
This admission is meaningless and WORTHLESS. For more in depth information about this initial lie and cover up, click on…
Timeline of the Fukushima Daiichi Nuclear Disaster Events, Explosions, Venting – 3 Month Delay In Announcing Meltdowns, Greenpeace Measured 10,000 Counts PER SECOND Radiation After Meltdowns
http://agreenroad.blogspot.com/2014/06/timeline-of-fukushima-evacuations-10.html
So if TEPCO can get away with something as BIG as that lie and not suffer any consequences, what is stopping them from covering up even WORSE things and BIGGER things? No one is being held accountable.
No one has been charged with any crime. No one has gone to jail for outright fraud, deception and cover up that is documented and factual. If a criminal can get away scott free with a major genocidal crime like this, then they will become even more brazen and do even more of the same, wouldn't you agree?
What is the rest of the story of the Fukushima mega nuclear disaster, 99% of which is still being covered up and denied.
THE SUPPOSED NUCLEAR SAFETY AND REGULATOR AGENCIES DID NOTHING BUT STAND AROUND AND ACT LIKE LAP DOGS, WAGGING THEIR TAILS AT ANYTHING THAT TEPCO DID
The IAEA and other nuclear regulators in Japan are supposed to be safety inspectors and nuclear regulators. Instead. they are nothing more than a marketing arm of the nuclear agency. They are incapable of doing any real oversight, much less reporting about what is really going on at Fukushima or anywhere else.
And WHO seems to have never even gone anywhere near the Fukushima mega nuclear disaster site, much less do any report on it. WHO is basically a lap dog of the  IAEA since signing an agreement that the marketing agency was in charge of all of this.
(WHO) World Health Organization Censored, Secretly Controlled By IAEA With Pro Nuclear Industry Control Agreement
http://agreenroad.blogspot.com/2014/05/who-is-iaea-what-does-iaea-do-who-funds.html
The nuclear regulatory agencies plus most mass media in Japan are also seemingly useless and worthless. The Japanese government seems to just want to not spend any money on anything and pretend anything bad away, while doing little or nothing. They sure do not want to talk about reality.
Going Naked, Car Recalls, Car Insurance, Nuclear Power And Nuclear Waste, What They Don't Have In Common; Legal Immunity Reason For Lawsuits? No Insurance For Nuclear Radiation
http://agreenroad.blogspot.com/2014/06/car-recalls-car-insurance-nuclear-power.html
TEPCO LIED BY SAYING BUILDING 4 BLEW UP FROM HYDROGEN GASES COMING FROM BUILDING 3, BECA– USE NOTHING MELTED DOWN OR OUT IN BUILDING 4, DATA AND EVIDENCE SHOWS THE OPPOSITE
Let's start with something simple, like the TEPCO claims about Building #4. TEPCO claims that Fukushima Daichi Building #4 never blew up. They say that all of the damage in the video below for building #4 came through a pipe connecting building #3 with #4. They say this pipe caused a transfer of some of the explosive gases from #3 to create all of this damage.. What do you think?
Does this video look like a transfer of explosive gases coming from the reactor next door? There are no photographs or videos of Building #4 exploding, but that does not mean it never happened. Obviously building #4 blew up, but the fact that it happened 18 hours AFTER building number 2 blew up confirms the deception and ruse that TEPCO is trying to pull on people.
If a pipe really did transfer this much explosive force, enough to blow out concrete panels and rip them from concrete reinforcing rods, while blowing off the whole roof and bulging out the concrete walls on the loading door, and cracking the wall at the base of the building where the whole building is connected to the foundation, then the pipe itself would have split open and explode out of the ground, BEFORE that amount of instantaneous force could have reached building #4.
The vent pipes connecting building 3 and 4 are not that heavy duty, and are nowhere near as strong as 6-13 thick steel reinforced concrete walls.
Notice that the WHOLE SIDE OF THE BUILDING IS BLOWN OUT ON THIS SIDE OF BUILDING 4.You will not see pictures of this anywhere else, because hydrogen gas cannot do this kind of damage.
Here is a picture of a major crack in the base of the south wall of Fukushima reactor 4 and black stuff pouring out of building (corium?)
If the building #3 did not cause the #4 building to explode, then WHAT on Earth did that amount of damage to 6-13 foot thick concrete rebar reinforced walls and foundation? This huge of an explosion had to be either the reactor exploding, which was supposedly empty, or the spent fuel pool, or hydrogen gas, correct? But the problems start from there. If either one or both of them exploded like #3 did, then we have major problems with believing anything is left inside of spent fuel pool #4.
Three Mile Island melted down and had a hydrogen explosion. That hydrogen explosion damaged almost nothing. It blew out a door, and that was about it. Here we have catastrophic damage that almost brought the whole building down, from the foundation, basement, and all the way on up to the top floor.
DATA AND PICTURE EVIDENCE SHOWS BUILDING 4 IS STILL STANDING AFTER BUILDING 3 BLEW UP, CONFIRMING THE TEPCO LIE
Below is the evidence containing photograph that provides absolute proof that TEPCO is lying once again.. This is a satellite photo that shows Building #4 intact and will all walls are still there, while the #1 and 3 Buildings are in ruins after having exploded.. (#4 is the square building to the right). You will have to hunt very long to find a photo like this, because the web has been 'scrubbed' clean of all of this kind of evidence, which does not fit the fairytales that TEPCO is telling in the land beyond OZ.
Source/credit;  Ray Masala
The above satellite picture clearly shows EVIDENCE and DATA that building 3 has blown up and building 4 is still standing at the right side of the picture.
DEBUNKING THE TEPCO CLAIM THAT THE BUILDING 3 EXPLOSION CA– USED BUILDING 4 TO EXPLODE AT THE SAME TIME
Notice that in the following drone aircraft shots of Fukushima taken shortly after buildings exploded, that the vent pipe connecting building 3 to building 4 is broken off and does not even connect the two buildings. So how can the building 3 explosion have anything to do with the building 4 explosion, which happened 18 hours later? There goes the TEPCO theory that these vent pipes somehow transferred the explosion and caused building 4 to blow up immediately, at the same time that building 3 blew up.
And what is the big black hole in the building roof right in front of building 3? What massive object flew up and then back down through that roof from the HUGE explosion at building #3? Notice also that the very thick and HUGE steel reinforced COLUMNS on building 3 were toppled over and/or disappeared completely. What kind of explosion would that take?
HYDROGEN GAS EXPLOSIONS COULD NOT HAVE CA– USED ALL OF THIS DAMAGE AT BUILDING 3 OR 4
For those who want to dive in deep, click on…..
How And Why Hydrogen Gas Explosions Could Not Have Caused The Extreme Amounts Of Damage Caused To 2-4 Meters, or 6-13 Feet Thick Concrete Rebar Reinforced Walls At Fukushima Daichi
So now let's get back to discovering and ferreting out the truth. An explosion coming from either a spent fuel pool (#4 reactor is empty, remember) more than likely does not just leave all of the racks in place, neatly tied up with a bow.
A major explosion like this would cause damage to the pool at the very least. One potential way this could have happened is via the FOIA documents which say that the pool was 'emptied' of water due to a crack, and that all of the fuel inside melted down.
WHY IS THE YELLOW DOME THAT SITS ON TOP OF REACTOR ALL THE WAY ON THE OTHER SIDE OF THE BUILDING?
How did the dome sitting on top of the reactor move to the other side of the building? How did this 6-13 foot thick concrete wall blast proof building explode from an empty reactor, and a spent fuel pool that according to TEPCO never ran out of water, and so it could not have caused this explosion by itself because it takes uncovered MELTING FUEL RODS to generate sufficient hydrogen to cause an explosion?
Why is the hydrogen explosion story potentially a lie as well? And before we leave this picture, take a look at the outside walls. Look closely at the lower left hand corner, which is blown out completely, while all of the other walls are still intact. This is more evidence, correct?
Without being a demolitions expert, couldn't the location in the lower left hand corner of the building be the source of the explosion? What was in that corner? The answer; an equipment pool. 
After Three Mile Island had a hydrogen explosion, (which did not explode the containment building), vents were added to all nuclear power plants to get rid of hydrogen gas so that this could not happen again, in any future nuclear accident. The vents were allegedly added at Fukushima as well, so that theoretically at least, no building at Fukushima could have had any hydrogen explosions, despite reactors and spent fuel pools melting down. So if we eliminate a hydrogen explosion at #4, what is left?
How did 6-13 foot thick concrete walls get blown out all the way down to ground level? How did an 6-13 foot thick foundation and walls get cracked up and panels get blown out to the point where the whole building almost came down?
TEPCO LIED AND SAID THAT NO FUEL POOL RAN OUT OF WATER, CAUGHT ON FIRE, MELTED OUT OR EXPLODED IN ANY BUILDING, AND CERTAINLY NOT IN BUILDING 4
Now on to the next lie.. The first lie was that #4 building never really exploded. In the next lie, TEPCO claims that Spent Fuel Pool #4 never really dried out, caught on fire, and that nothing really melted down inside of it, and all of the fuel contents are still in there. This makes the official TEPCO calculations line up so that Fukushima is only 10% of Chernobyl, remember?
According to TEPCO, the building never blew up by itself, and no fires or meltdowns happened in the SFP#4 or in any of the other spent fuel pools. According to TEPCO, the fuel pools are all still there, and all of the spent fuel is still inside of SFP#4, 3, 2, and 1. The SFP in #4 is in good enough shape to take out and move all of the fuel inside of it, with a simple pulling arm. That is their claim.
Arnie Gunderson goes into great detail about how the spent fuel pools 1, 2, 3 and 4 were all damaged, contrary to what TEPCO claims. TEPCO claims no spent fuel was damaged and all of it is in good shape, ready to pull and do whatever they want to do with it.
BLACK SMOKE POURING OUT OF BUILDING 4 ON 5/21/11
What follows is a video of black smoke or steam pouring out of #4 building on 5/21/2011, nearly two months after the initial melt downs. 
Video; http://www.youtube.com/watch?v=xhswD7lzjSg 4 min.
Another expert also goes into great detail about how multiple scientists in different locations analyzed what came out of Fukushima. Except for TEPCO and their 'allies', multiple scientists outside of TEPCO determined with great scientific accuracy that the spent fuel pools DID dry out and catch on fire, multiple times. For more on this, click on the following link..
Now on to another lie.. #4 equipment fuel pool dried out, caught on fire and melted through and out
FUKUSHIMA;  EVIDENCE AND DATA PROOF OF FIRES AND MELTED FUEL RODS IN SPENT FUEL POOL #4
The following picture provides absolute proof of a fire and melted fuel rods in spent fuel pool #4. This pool is no different than any other spent fuel pool on site, so the same loss of water in this pool would be the same as any other pool on site. Loss of water leads to overheated fuel rods, which then catch on fire and melt down.
The plates at the top of the fuel rod bundles are supposed to be solid, with no holes. The holes and burnt looking steel handles indicate a FIRE and meltdown in spent fuel pool number 4, but then that also means all of the other spent fuel pools at buildings 1, 2, 3, 5 and 6 did the same thing. As you can see, this is official TEPCO provided video, so there is no fakery going on here. 


Video; http://youtu.be/fAIMNQeG7gU 4 min.
This is direct EVIDENCE AND DATA of a fuel pool FIRE, and according to other reports, it went on for NINE HOURS. How much radiation was released from BURNING SPENT FUEL RODS FROM THE BUILDING #4 SPENT FUEL POOL? 
CONFIRMATION OF FIRE AND MELTED FUEL RODS, YET TEPCO CLAIMS THEY HAD NO PROBLEMS WITH REMOVING ALL INTACT FUEL RODS, AND THEY WERE ALL IN PERFECT CONDITION?
Source/credit Troy Livingston
Troy Livingston
 fuel pool reactor 4 see the red circle, looks like the nuclear fuel has melted in that spot. These fuel racks hold 60 fuel assemblies
Christina Consolo
When you isolate the sections, look how damaged those racks are, holy shit, especially in the middle. 
MORE EVIDENCE/DATA; PICTURE OF MELTED CORIUM POURING OUT OF SIDE OF BUILDING 4 AND STEEL REINFORCED WALL PANELS BLOWN OUT ALL THE WAY TO THE GROUND, NOT JUST TOP FLOORS
One source has pictures to prove this and more than one source reported that #4 spent fuel pool cracked, dried out and failed completely, including the NRC, via FOIA documents. Below is the picture that seems to show that melted fuel is pouring out of the blown out BOTTOM of the #4 building..
Where did this melted fuel come from? And why aren't there any public pictures of this anywhere? All of the pictures available on the Internet or mass media news only show the top of building 4 blow out panels gone. They NEVER show this side of the building. Why not?
Source; http://govtslaves.info/deadly-report-fukushima-4/
Another potential answer, according to Starbird, is that the "
explosion in the North end of R4 wasn't hydrogen. The FOIA docs say it occurred after a 9 hour fire! This explosion was caused by hot fuel stored in the shallow equipment pool. That fuel later poured out of the north wall of R4 as lava and be seen in the photos in this report.
" 
http://govtslaves.info/deadly-report-fukushima-4/
This story might make more sense than anything else, because it also accounts for the missing plutonium fuel rods, which could have burned and then exploded in the shallow equipment pool, near that corner where we saw the most damage. That would also explain why so many lies were created to cover this all up.
TEPCO does not want the world to know how dangerous plutonium fuel rods are, much less that two bundles of them exploded, (on in reactor #3, and then many more tons of it in the shallow equipment pool and burning in the spent fuel pool of #4. 
We have now pulled apart and disproved MULTIPLE lies that TEPCO is foisting on a gullible public and a mass media press that fails to fact check even these simple facts. How many other lies is TEPCO still engaged in? Can TEPCO or the Japanese government be believed at all? Where are the investigative journalists, like 60 Minutes? The mass media is complicit in this great deception, and possibly guilty of being part of this coverup and lies.
Now let's dive deeper and further into this spent fuel removal process. TEPCO says that all new fuel assemblies have been removed, when any 5th grader can see that this is an obvious lie. What happened to all of the missing fuel bundles? Where did they go? What happened to all of that plutonium fuel?
What will be the next lie and coverup? The Fukushima story is much wilder than any TV prime time drama or detective story. This story should be on the nightly news, or it should be a reality TV show, where people can vote on whether what is being shown is a lie or the truth and try and figure out what the truth really is.
Bottom line, the video at the very beginning of this article has much more possibility of being true, when we compare it to what TEPCO is claiming in their wild eyed, fairytale theories and garbage in computer models, with no actual independent third party evidence.
If they can get an independent outside third party nuclear engineer team in there, maybe that would help. If Chris Busby goes in there and reports that the spent fuel is all there and undamaged in spent fuel pool #4, great. If that happened, that would be something to hang a hat on.
But at this point TEPCO has lost so much credibility that one has look at everything TEPCO says, photographs or videotapes and then photoshops, with a great deal of suspicious, distrust and outright disbelief, just because they have lied so much in the past and they continue to lie even today.
TEPCO CAUGHT PHOTOSHOPPING AND COVERING UP SIDE OF BUILDING 4, WHAT ARE THEY TRYING TO HIDE?
One thing we can count on, is that the truth is often, mostly or ALWAYS very far away from what TEPCO initially reports. Here is just another link to a picture showing another attempt at photoshopping building #4, and this is not the first time either…
At the very least, we have credible reports that the spent fuel now being pulled out as of Dec. 2013, is bent into a shape like a banana. Spent fuel does not get bent into the shape of a banana without great amounts of heat and melting. Isn't it odd that they stopped talking about the fuel being removed, and no mass media press is releasing pictures of what they are pulling out? Do these assemblies even have fuel rods inside of them, or are they just pulling out empty metal containers?
Where is the verification by outside investigative journalists not tied to the nuclear industry? Who is protecting the public interest? Who is watching out for the global village and the billions of people globally who keep breathing in the hot particles from Fukushima even to this day?
Where is the reporting about the massive amounts of plutonium that came out of Fukushima? Where is the reporting about the underground coriums and the constant flow of high level radiation into the Pacific? Where is the reporting about the barges going into and out of the Fukushima harbor, loaded with who knows what? Where is the reporting about the 'evaporative' fuel ponds, and the amount of radiation released from those 'ponds'?
TEPCO 'DUMPING' RADIOACTIVE WATER, AFTER TREATMENT, BUT WHAT IS LEFT IN THE WATER AFTER THEY 'TREAT' IT? NO ONE CAN REMOVE ALL 2,000 RADIOACTIVE ELEMENTS THAT COME FROM A MELT DOWN
Where is the reporting about the specific levels of radiation in the dumped radioactive waste water coming directly from their water 'filtering' operations; at 12:16 into this next video? Then look at the huge amount of water streaming from the canal out of Fukushima at 13:35. They say that they are 'checking' this water before releasing it.. But who is checking the radiation levels, before they dump this into the ocean, via the green line?
FOIA Proof That TEPCO Has Been Regularly Dumping Highly Radioactive Water Into The Pacific
http://agreenroad.blogspot.com/2013/07/foia-proof-that-tepco-has-been.html
TEPCO FALSELY CLAIMS DECOMISSIONING AND COLD SHUTDOWN, WHEN BOTH OF THESE THINGS ARE LIES AND DECEPTIONS; THERE IS NO COLD SHUTDOWN OR DECOMMISSIONING A MELTED OUT REACTOR AND FISSIONING UNDERGROUND CORIUM 100 TON LAVA BLOBS
Fukushima Daichi; Is It REALLY In 'Cold Shutdown' And Is It Being Decommissioned? What Is The Rest Of The Story? Buildings Sink More Than 2 Feet
http://agreenroad.blogspot.com/2012/03/fukushima-is-it-really-in-cold-shutdown.html
Video tour of Fukushima nuclear power plant before accident; where it is, overview, 9.0 earthquake all power lost to plant, (station blackout), all workers evacuated to to shelter uphill tsunami height 10 meters high, water knocked out pumps and generators, diesel generator 6B survived. Seismic Isolated Building served as Emergency Response Center, completed in Sept 2010. Cover installed on building 1, but not 3 or 4. Why not? All fuel from building 4 went into common spent fuel pool, shown below.
TEPCO Video; http://www.youtube.com/watch?v=fwwb1d8EQBU 20 min
MORE TEPCO LIES; NO RADIATION BEING FOUND IN OCEAN, COLD SHUTDOWN AND NORMAL DECOMMISSIONING FOR ALL FUKUSHIMA BUILDINGS AND SPENT FUEL POOLS, DESPITE MULTIPLE MELT DOWNS AND MELT OUTS, PLUS CRITICALITY EXPLOSIONS
In the pro nuclear propaganda video above, TEPCO makes the claim that no radiation is being found in the ocean outside of the Fukushima plant, and that it is in cold shutdown and it is being decommissioned, just like any other normally shutdown nuclear plant. Who is confirming this claim, made as of Sept. 2013? A few months before this, there were stories of wildly increasing radiation levels and all of this going into the ocean, plus high levels of radiation being found in the fish and in ocean water.
Fukushima Compared To Hiroshima, Chernobyl and 2,400 Open Air Nuclear Bomb Tests, Background Ocean Radiation Levels Pre/Post Atomic Age, Peak Ocean Radiation Level 180,000,000 Bq/m³
Just a few months after this out of control emergency with everything going downhill fast, all of a sudden, with no changes in anything, everything is back to normal and 'safe'.
Fukushima – Growing Alarm, Things Going Downhill Fast; 2 BILLION Bq/Liter Cesium 137 Radioactive Water Going Into Ocean
http://agreenroad.blogspot.com/2013/07/fukushima-growing-alarm-things-going.html
2015 – Fukushima Getting Worse And Worse, Iodine 131, Cesium, Strontium Levels Spiking Up
The radiation emergency completely disappeared, fish are safe to eat, the ocean is radiation free, and everyone is happy, according to the TEPCO happy news channel. There was no Fukushima nuclear accident, and the radiation released amounted to no more than 10 percent of Chernobyl. Do you believe any of this happy talk, PR spin?
Worst Case Scenario Around The Fukushima Mega Nuclear Disaster, Vs Best Case Scenario Presented By Nuclear Industry
http://agreenroad.blogspot.com/2015/10/worst-case-scenario-around-fukushima.html
Because no outside investigative media and no neutral independent nuclear engineers are allowed free reign at Fukushima, truth is NOT happening yet, amongst any of the present players in this deception and lie riddled nuclear shell game.
TEPCO; Fukushima Lies Movie, Mass Media Lies To Public, TEPCO Lies To Government, Nuclear Industry Lies To Everyone, Executives To Be Indicted, Yakuza In Control Of Nuclear Plants
The world knows about 1% of what is really going on at Fukushima Daichi and in the nuclear industry in general because they rely on the mass media, which is complicit and part of the cover up around Fukushima, due to lack of any investigative reporting around it. They report what they are told to report by the huge nuclear monopoly, because if they don't, they lose advertising income.
TEPCO CANNOT GET THE COUNT RIGHT FOR REMOVING FUEL RODS FROM SFP#4, SOMEONE CANNOT DO BASIC MATH; MAYBE THE RADIATION IS FRYING THEIR BRAINS?
Thanks to Anne on Enenews; There were 204 new fuel assemblies in SFP #4 according to Canadian Nuclear Safety Commission, CNSC Fukushima Task Force Report, INFO-0824, October 2011, p. 6:
Table 2.2 shows the inventory of fuel assemblies in the spent fuel pools in units 1 to 4. Table 2.2 Spent Fuel Pool Inventories (fuel assemblies) Oct. 2011
Bldg# – Fuel in reactor – Spent fuel in pool –   New fuel in pool
#1         400                              292                                100
#2         548                              587                                  28
#3         548                              514                                  52
#4           0                              1,331                               204
TEPCO proudly announced that they had finished taking out all 22 new fuel assemblies last week and and that another 2 new fuel assemblies were removed last July. That is all well and good. We can all agree that 24 total fuel assemblies were removed from SFP #4 at Fukushima Daichi.
We just have a teensy weensy problem here… According to the inventory above, spent fuel pool #4 should have contained 204 new fuel assemblies, not just 24.
204
– 24 removed by Nov. 2013
——
180 left to go, correct? There should still be another 180 MOX plutonium fuel assemblies in the #4 spent fuel pool, if indeed this is what the videos are showing.
ROBOTS WERE ALL BURNED TO A CRISP, BUT NOT BEFORE THEY GOT ALL OF THE BURNED FUEL OUT OF SFP 4, WHICH WAS TOO HOT FOR HUMAN WORKERS TO GET NEAR?
However, the good news is that the robots, built by Toshiba, were able to remove 1,535 spent fuel-rod assemblies from the reactor 4 building before they went kaput, but the radiation levels were lower there, making it easy to perform the job. But Reactor 3 has been a different story. The radiation levels are much higher and the sensitive electronics and wires inside the robots couldn't handle it.
http://www.techworm.net/2016/03/robots-sent-fukushima-nuclear-power-plant-died.html
RADIATION LEVELS SO HIGH IT FRIES ROBOTS VERY QUICKLY, BUT SOMEHOW PEOPLE CAN JUST STAND AROUND AND WORK 12 HOURS PER DAY, ANYWHERE INSIDE ALL OF THESE HIGHLY RADIATION CONTAMINATED BLOWN OUT MELTED DOWN REACTOR BUILDINGS
Robots sent to Fukushima nuclear power plant have died
Dr. Michio Kaku, Flashpoints Daily News Magazine interview: Humans cannot come close to certain parts of the reactor site and even robots get fried."It will take years to invent a new generation of robots" able to withstand the radiation. The workers are like Samurai warriors, they're like suicide workers. They know they are getting huge amounts of radiation going to the site. They can only go in, seconds to minutes, at a time doing work and then the next batch has to come in.
Why would all of the robots die AFTER they pulled all of the melted fuel out of a SFP 4? Why is the burned up melted fuel in SFP #4 any less radioactive than what is in SFP #3, which also burned and got toasted? This makes absolutely NO SENSE. At Chernobyl, sky high radiation levels burned robots up, and they could not do the work, so humans were sent in instead. The same thing happened at Fukushima, and is still happening today.
Sky high radiation levels burned up the robots, so they sent in humans to do the dirty work, and sacrifice themselves. The PR pictures and video given to the world, shows a bunch of TEPCO workers just standing around as the burned up fuel is pulled out of SFP 4 in perfect condition and with no problems at all, while these supposed robots are being burned alive from super high radiation levels. Right, and if you believe this fairy tale, there is some extremely cheap moon property for sale right now; better get it before it's gone.
Mafia, War Criminals And Nuclear Industry Connections In Japan, USA, Europe, Using Homeless, Disadvantaged, Plus Foreign Workers For Toxic Radiation Fallout Decontamination – 'Nuclear Ginza'
http://agreenroad.blogspot.com/2012/10/documentary-movie-nuclear-ginza.html
4,000 Missing TEPCO Nuclear Plant Workers – Presumed To Be Dead, Fukushima Radiation Caused Death Toll Is Rising Fast
http://agreenroad.blogspot.com/2013/10/200-or-more-missing-tepco-nuclear-plant.html
MAYBE TEPCO IS COUNTING FUEL RODS BEING TAKEN OUT OF DAINI PLANT, NOT DAICHI?
Maybe this is Daini we are looking at, not Daichi? Maybe this is another nuclear plant somewhere else entirely?
TEPCO is claiming that ALL of the new fuel assemblies were removed from SPF#4. So what happened to the other 180 fresh fuel assemblies containing MOX plutonium fuel? Did terrorists steal them while no one was looking? Did the Japanese mafia that supplies all of the workers on site steal them and sell them on the black market? Did the military take them? Are we even talking about the same spent fuel pool, or is this just another smoke and mirrors lie conjured up by the great magicians at TEPCO in the land of nuclear OZ?
99 PERCENT OF WHAT HAPPENED AT FUKUSHIMA HAS BEEN HIDDEN OR DENIED
99% of what happened or what is NOW happening at Fukushima is still hidden away, in deep dark secret closets that NO ONE is allowed to talk about. Now add in the new state secrets bill that was just passed. This state secrets bill will more than likely just shove the existing closely held secrets deeper into the closet, when what is needed is an airing out and more truth telling.
Keep your family safe out there. It may help to invest in a good quality pancake style Geiger Counter, because as we have learned from Chernobyl, Three Mile Island, and now Fukushima, the public is the LAST to know when dangerous radiation is coming their way. The only person protecting you and your family is YOU, and quite possibly the neighbor, but only if they have a Geiger Counter and you are on good terms with them.
Tokyo, Japan Should Be Evacuated Says Dr Mita MD, Most Of Japan Radiation Contaminated After The Fukushima Mega Nuclear Disaster; via @AGreenRoad
Without a radiation detector, or access to a citizen radiation monitoring network, odds are you will find out nothing until months after getting dosed with high radiation levels. And if someone in government does tell you to move, it will more than likely be that they will tell you to go right into the worst part of the radiation plume, as happened with the Fukushima mega disaster.
WHAT CAN YOU DO?
Making Radiation Visible Project; Radiation In Food/Water/Products, Geiger Counters, Dosimeters, Radiation Readings, Test Labs, Conversions, Global Detector Network
http://agreenroad.blogspot.com/p/low-level-nuclear-radiation-in-food-and.html
Activist Teach In; 200 Plus Things Anyone Can Do To Make A Positive Difference, Shift Paradigms, And Assist In The Birth Of A New Sustainable Way Of Living On Planet Earth, From Bottom Up
http://agreenroad.blogspot.com/2015/07/activist-teach-in-10-things-anyone-can.html
___
http://www.agreenroadjournal.com/2016/05/fukushima-bldg-4-evidencedata-of-wrong.html