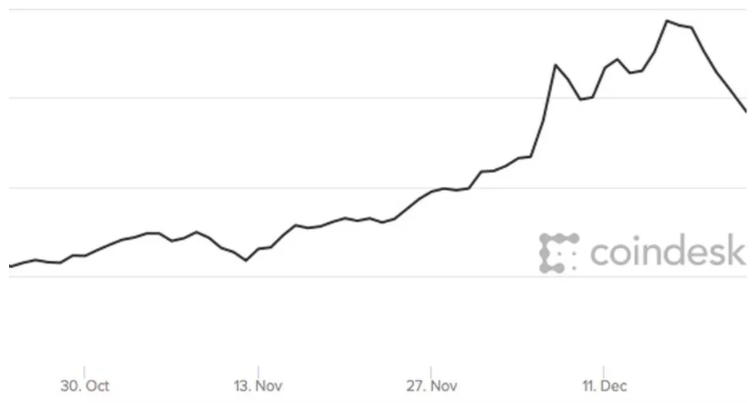 Bitcoin plummets in highly volatile trading
Cryptocurrency slumps 21 percent before recovering slightly
By Thuy Ong
The Verge
Bitcoin has slumped as much as 21 percent today, as investors also fled from other cryptocurrencies, notes Bloomberg. Bitcoin opened at $15,561, and tumbled to a low of $12,504 before recovering slightly to trade at $13,942 at the time of publication. Ethereum plunged 18 percent, according to CoinMarketCap mirroring Bitcoin's tumble. Bitcoin has rocketed to dizzying heights after starting the year with a value of less than $800, though the asset remains extremely volatile.
"A frenzied demand for coins with limited supply has now led to unsophisticated investors holding the bag at the top," Stephen Innes, head of trading for Asia-Pacific at Oanda Corp told Bloomberg. Some people have reportedly mortgaged their homes in order to buy into the decentralized asset, which is also seen by some as an alternative safe haven to gold. Innes added that the recent tumble in price is a result of investors having "a reality check."
Cryptocurrencies and Bitcoin have exploded in popularity this year. Companies that sell juice, e-cigarettes, and sports bras have even rebranded themselves, with some adding "blockchain" to their names to leverage the buzz (resulting in a stock price boost as a result).
Bitcoin touched an all-time high of $19,783 on December 17 according to data fromCoinDesk, passing the $15,000 mark on December 7. It's slumped over the past few days, though is still up over 1,100 percent this year. All of the top 20 digital coins also reached all-time highs this past week, but have suffered declines since.
___
http://www.theverge.com/2017/12/22/16809678/bitcoin-slumps-investors-cryptocurrencies