COUP IN ZIMBABWE: The C.I.A. & MI6 Bribe Army To Remove President Robert Mugabe
BBC
The military has taken control in Zimbabwe but said President Robert Mugabe, in power since 1980, was safe.
After seizing state TV, an army spokesman announced it was targeting people close to Mr Mugabe.
South Africa's President Jacob Zuma later said he had spoken to Mr Mugabewho had indicated that he "was confined to his home but said that he was fine".
The move may be a bid to replace Mr Mugabe with his sacked deputy, Emmerson Mnangagwa, BBC correspondents say.
The dismissal of Mr Mnangagwa last week had left Mr Mugabe's wife Grace as the president's likely successor.
Heavy gun and artillery fire could be heard in northern parts of the capital Harare early on Wednesday.
A statement read out by a general on air denied it was a coup. There was no immediate word from the president himself.
Mr Mugabe, 93, has dominated the impoverished country's political scene since independence from the UK.
Mr Zuma earlier said he hoped events in Zimbabwe would not lead to "unconstitutional changes of government".
Messages appeared on a Twitter account purportedly run by the ruling Zanu-PF party saying Mr Mugabe had been detained. But there has been no confirmation by the army.
The UK Foreign Office advised Britons "currently in Harare to remain safely at home or in their accommodation until the situation becomes clearer", while the US embassy in Harare advised US citizens in Zimbabwe to "shelter in place" until further notice.
Due to ongoing uncertainty in Zimbabwe, the U.S. Embassy in Harare will be minimally staffed and closed to the public on November 15.  Embassy personnel will continue to monitor the situation closely. @StateDept

— U.S. Embassy Harare (@usembassyharare) November 15, 2017
China, Zimbabwe's biggest trading partner, says it is closely watching the situation and hopes that the relevant parties can properly handle their internal affairs.
How did the military justify its move?
Troops in armoured vehicles have been out in the streets of the capital Harare since Tuesday.
After soldiers overran the headquarters of the ZBC broadcaster, Maj Gen Sibusiso Moyo went on air to say the military wished to "assure the nation that his Excellency the president… and his family are safe and sound and their security is guaranteed".
REUTERS  –  

Soldiers patrolled Harare on Wednesday
"We are only targeting criminals around him who are committing crimes… that are causing social and economic suffering in the country," he said.
"As soon as we have accomplished our mission, we expect that the situation will return to normalcy."
Other key points of the statement include:
Citizens should remain calm and limit unnecessary movement
The military assures the Zimbabwean judiciary that its independence is guaranteed
Security services should "co-operate for the good of our country" and any provocation would "be met with an appropriate response"
All leave for the defence forces is cancelled and personnel should return to barracks immediately
It is not clear who is leading the military action.
Army chief Gen Constantino Chiwenga, who visited China last week, said on Monday the army was prepared to act to end purges within Zanu-PF.

The old guard strikes back
By Joseph Winter, BBC News website Africa editor
This is all about the leadership succession, as Mr Mugabe's powers finally falter.
The people who fought in the 1970s guerrilla war against white minority rule still dominate Zimbabwe's government and especially its security forces, and they are worried about losing that power and the wealth it generates.
In his statement on Monday, Gen Chiwenga warned against the "purging, which is clearly targeting members of the party with a liberation background".
This was obviously a reference to the sacking last week of Mr Mugabe's once loyal deputy, Mr Mnangagwa, a former defence minister, spy chief and veteran of the war of independence.
He and Grace Mugabe, who is four decades younger than her husband, had been seen as the main candidates to succeed Mr Mugabe. Mrs Mugabe's supporters are known as Generation 40 or G40 – a name which signals a changing of the guard in Zimbabwe, at least partially, 37 years after independence.
So this military action is the old guard reasserting its authority. Mr Mugabe was the political leader of the guerrilla war so the army always professed loyalty to him until he explicitly came out in favour of his wife.

What do we know of the shooting?
The firing was coming from northern suburbs where Mr Mugabe and a number of government officials live, the BBC's Shingai Nyoka reports from Harare.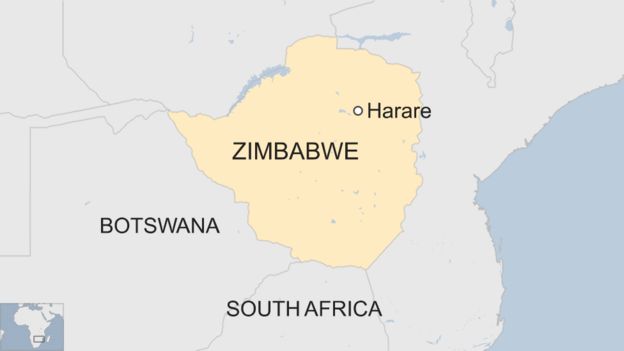 A witness told AFP news agency it could be heard near Mr Mugabe's residence in the suburb of Borrowdale early on Wednesday,
Some staff at ZBC were manhandled when the soldiers moved in, sources told Reuters.
Has anyone been detained?
A government source told Reuters news agency that Finance Minister Ignatius Chombo had been detained.
He is a leading member of a faction of Zanu-PF led by Grace Mugabe.
Is this a coup?
Alex Magaisa, former adviser to Zimbabwean opposition leader Morgan Tsvangirai, told the BBC: "They have decided not to call it a coup because they know that a coup does not sell, it will be condemned.
AFP  –  

General Chiwenga had warned of a military takeover
"But as far as authority is concerned it seems very clear that President Mugabe is now just a president in name and authority is now residing in the military."
Zanu-PF had accused Gen Chiwenga of "treasonable conduct" after he issued his warning that the army might intervene.
What was the political situation before the army acted?
Last month, Mrs Mugabe accused allies of Mr Mnangagwa of planning a coup.
AFP  –  

Grace Mugabe is seen as a potential successor to her elderly husband
EPA  –  

Emmerson Mnangagwa is seen here at a recent funeral
The rivalry between Mrs Mugabe and Mr Mnangagwa split Zanu-PF.
Gen Chiwenga is a close ally of Mr Mnangagwa and both are veterans of the 1970s war which ended white minority rule.
The leader of the war veterans, Chris Mutsvangwa, welcomed the military move, telling Reuters: "This is a correction of a state that was careening off the cliff.
"It's the end of a very painful and sad chapter in the history of a young nation, in which a dictator, as he became old, surrendered his court to a gang of thieves around his wife."