People of Catalonia Show Up For Massive Unprecedented Protest In All Major Cities
Catalan referendum: Anti-police strike hits public services
BBC
Crowds are thronging central Barcelona and blocking roads across Catalonia in a protest strike over police violence during the independence referendum.
There is little public transport, after Catalan trade unions called the strike to show public anger at Spanish police tactics during Sunday's disputed vote.
More than 50 roadblocks caused big traffic jams. Barcelona port was at a standstill, union sources said.
However, the city's El Prat airport and its taxis are operating normally.
Many small businesses across Catalonia have shut for the day. Schools, universities and medical services are also closed or operating at a minimum level.
Barcelona's metro traffic was cut to a 25% service during rush hour and no trains at all at other times.
Top tourist attractions were also closed, including the city's famous Sagrada Familia church.
REUTERS – 

A roadblock on Gran Via in central Barcelona: The banner says "Occupation forces get out!"
Mercabarna – Barcelona's massive wholesale market – was left deserted as some 770 food businesses closed for the day.
The strike was called in protest at "the grave violation of rights and freedoms" seen during Sunday's ballot. Almost 900 people were hurt as Spanish police tried to prevent voting, in a referendum declared illegal by the Madrid government.
Spanish Prime Minister Mariano Rajoy said the vote made a "mockery" of democracy.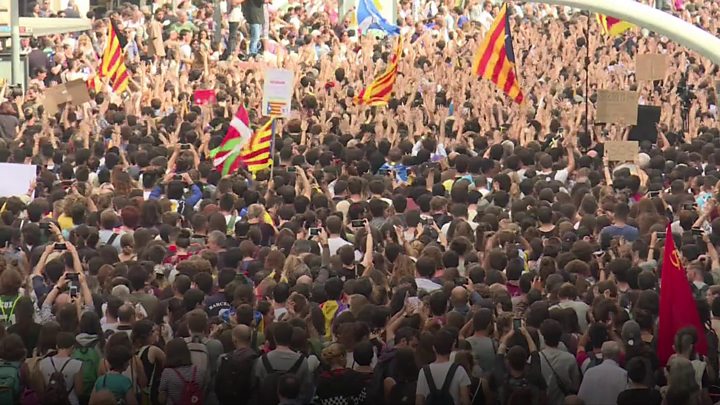 Some police officers were seen firing rubber bullets, storming into polling stations and pulling women by their hair.
Thirty-three police officers were also injured in Sunday's clashes, Catalan medical officials said.
However, more than 2.2m people reportedly voted in spite of this. The Catalan government says the vote in support of independence was nearly 90%, but official results have not yet been released.
Turnout was relatively low at a reported 42%, potentially weakening the position of Catalan President Carles Puigdemont.
EPA – 

Protesters blocked a street outside a police station in Barcelona
EPA – 

Barcelona metro: A sign warns commuters that there will be minimum services
EPA – 

A huge Barcelona wholesale market – Mercabarna – is paralysed by the strike
On Monday evening the Spain national football team abandoned a training session after fans booed and whistled at defender Gerard Pique, who has strongly backed the Catalan referendum.
Guardia Civil police mingled among the crowd, as some fans waved Spanish flags and anti-Pique placards.
He plays for FC Barcelona, which announced that it had joined the strike. "None of the professional teams or the youth teams at FC Barcelona will train tomorrow," the club said on Monday evening.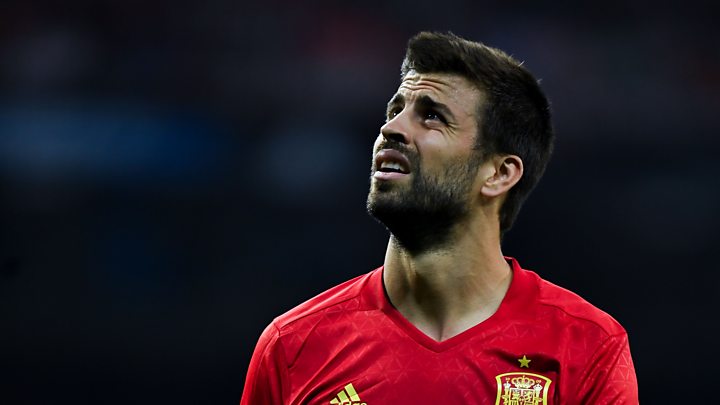 ---
Catalan rage: Separatism or populism?
By Europe editor Katya Adler
It would be wrong to interpret the anger and anguish so palpable in Catalonia right now as an expression of political unity. Catalans are as divided as ever on the question of independence.
What unites them today is a seething fury and resentment at the heavy-handedness of the Spanish government, represented by Prime Minister Mariano Rajoy, with what Catalans perceive as his Madrid-centric arrogance, brutishness and disregard for the rights of individuals.
This is far less about separatism than populism. Anti-establishment, nationalist sentiment a la Catalana.
Read more from Katya: Why Catalan emotions are running high
---
Meanwhile, political leaders are trying to find a way forward.
President Puigdemont has said he wants a new understanding with the central government in Madrid, but the Spanish government has warned it could suspend autonomy of the wealthy north-eastern region.
Given the chaotic nature of the vote, the turnout and voting figures should be taken with a pinch of salt, says the BBC's Tom Burridge in Barcelona.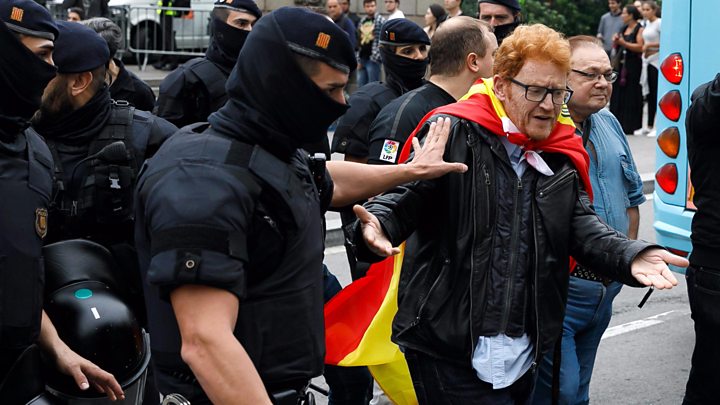 –
Prime Minister Rajoy held talks with Pedro Sánchez, leader of Spain's main opposition Socialist party, as well as Albert Rivera, the head of the centrist Ciudadanos party, late on Monday.
While the Socialist leader urged Mr Rajoy to hold talks with the Catalan president immediately, Mr Rivera said Spain should invoke article 155 of the constitution, in effect suspending Catalonia's autonomous powers.
Mr Puigdemont has called on the international community to help mediate between the two sides.
However, the European Commission described the crisis as "an internal matter" for Spain, that has to be dealt with in line with the constitutional order.