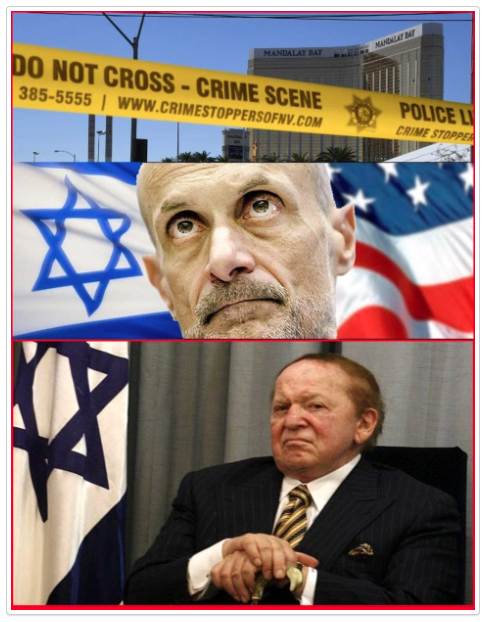 Michael Chertoff, Sheldon Adelson, Israeli Mossad Suspects in Las Vegas Massacre
chemtrailsplanet.net
Dr. Jim Fetzer Provides Deep Analysis of Las Vegas Massacre.  Points Blame Directly at Israel
10/6/2017 – Professor James Fetzer Ph.D and Dean Ryan tell the full story of 'The Las Vegas Massacre' from all different perspectives. Interview with Former Marine John Anderson who was a on the ground witness to the massacre.
Veritas Radio, 10/5/2017:   Former CIA Officer, Robert David Steele (RDS) – Like 9/11 the LAS VEGAS Murders are now Regarded as another FEMA exercise that went "LIVE".
It's been reported to Veritas Radio that security cameras on the 32nd Floor of Mandaly Bay were disabled with apparent knowledge of those who are contracted to provide security to the hotel.
Notorious 9/11 enabler and dual US/Israeli citizen, Michael Chertoffwould have easy  access to contractors, owners and personnel providing security for Mandalay Bay.
Summary: A non-violent, National level FEMA exercise employing paid crisis actors gave unwitting opportunity for a deep state group to infiltrate the FEMA exercise in order to murder dozens of people – characterized by the media as "conservatives", with spectacular sniper gunfire. Many aspects of this shooting are common to the 9/11 False Flag largely organized and enabled by Israel.
Who Benefits? – RDS: "I think Israel benefits, I think the one percent benefit, I think the Democratic National Committee benefits, I think the anti-gun people benefit and I think the Chertoff himself benefits magnificently from all of the money that will come out of this event shaping the US budget going forward."
Sheldon Adelson is the founder, chairman and chief executive officer of the Las Vegas Sands Corporation – the largest casino company in America.  Adelson's vast influence in the US and Asian Casino industry "should" make him a prime suspect for FBI questioning.
Michael Chertoff served as Secretary of Homeland Security and was co-author of the USA PATRIOT Act. He also co-founded the Chertoff Group, a risk-management and security consulting company, which employs several former senior political appointees. (WIKI)
Chertoff has already been formally accused of abusing his homeland security position to make money selling full body scanners. He was also involved in the stifling of investigations related to both 9/11 and Al-Qaeda. (Squawker)
TRUTHSTREAM MEDIA on LAS VEGAS MASSACRE
Excellent overview that points to Chertoff and Adelson as among the most likely to benefit
CASINO.ORG  Mandalay Bay Power Outage Shocks Visitors and Illuminates the Ghost of Danny Ocean
During a 40 minute power failure in 2016, Mandalay Bay security demonstrated they could lock-down the entire Casino almost immediately.  Contrast this to the seeming ineptness during the shooting.
"But the reality is that today's security at casinos is nearly unrivaled by any other industry, and that's especially true on the Las Vegas Strip."
Who Benefits when Security is Increased?
CASINO.ORG  Las Vegas Casino Security a Tricky Conundrum in Wake of Mass Shooting Outside of Mandalay Bay
"Gaming operators tend to keep mum about their security policies, although both Las Vegas Sands and Caesars Entertainment Corp, when contacted by Bloomberg and Reuters, said they were constantly reviewing their protocols. Boyd Gaming also said it was looking at ways to increase security after the shooting, as did most other casino entities."
"This could be a turning point," said one executive, who asked to remain anonymous. "Every management team is going to move this up to the top of the list." ($$$)
NOTES:
Complied Posts by Anonymous Whistleblower, ID:LABNfeTV on 4Chan: (Source)

Below: Surreal Crime Scene photo outside Route 91 Music Venue suggests foreknowledge. Image was most likely a promotion of Casino FEMA exercize on a night prior to the shooting massacre.
Below: Bizarre hi-res aerial photo from Times of Israel article presumed to be in the aftermath of the shooting reveals what appears to be a Hollywood staged scene with no blood and no crime scene investigators.  Numerous bottles and cups are overturned but none appear to have contained anything that is liquid. Baby strollers abandoned at an "alcohol" event where infants would not be allowed. Notice the satanic hand sign in the coke ad at the bottom and another inside the Route 91 Billboard.  Another strangely worded poster on the vertical scaffolding at the extreme left border says "I've been dying to see you line dance". The sky behind the Jason Aldean photo is filled with chemtrails.
The photo is associated with ToI article: "Casino mogul Adelson met with Trump hours after Las Vegas shooting".   It's as if Adelson summoned Trump to his court to lay down the law about "policy" affecting the ambitions of Israel.  It's no secret that Adelson has been critical of National Security Adviser H.R. McMaster due to his stance on Israel.  Adelson is also displeased with Trump's reluctance to move the US Embassy from Tel Aviv to Jerusalem.  Is this what the False Flag shooting was really about?
________________
TOP: Paddock Setup as Patsy on 32nd Floor. While it took Police 72 minutes to locate and breach his room, CNN reports Paddock fired his guns for only 10 minutes during the entire event. (2205 to 2215)
BOTTOM: Paddock alleged "Suicide" Image Fails to Match Photo Revealing "13" Tattoo.
Crowds on Demand Hire Crisis Actors For Las Vegas Event
TRUMP TOWER, Las Vegas North of Mandalay Bay