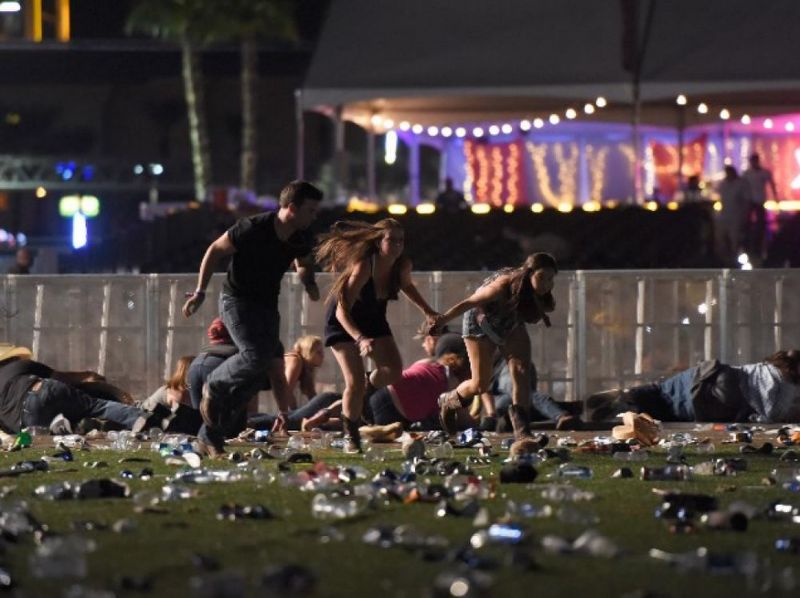 Massacre At Mandalay: Las Vegas Gunman Kills At Least 20 At Country Music Concert [VIDEO]
The Daily Caller
A gunman fired hundreds of rounds into a crowd gathered at a country music concert in Las Vegas Sunday night, killing at least 20 people and injuring more than 100, though authorities expect the number of dead and wounded to rise.
At around 10:08 p.m. local time, a gunman opened fire from an upper-level floor at Mandalay Bay hotel on a crowd of thousands gathered at the Route 91 Harvest concert.
Several prolonged bursts of automatic gunfire can be heard in numerous videos recorded of the incident, which began while country star Jason Aldean was in the middle of his set.
Insane…. this JUST happened. #PrayForVegas pic.twitter.com/RWgjFW7BHy

— Luke (@LukeBroadlick) October 2, 2017
Witnesses to the shooting said that they believed that the gunfire came from the hotel from an elevated position. Others described seeing people being hit with bullets, while one witness said on social media that he saw dead bodies "everywhere."
Video courtesy of Drew Akioshi. He was attending the concert at mandalay bay when shooting started. pic.twitter.com/mbyh9Y387q

— David Sakach (@davidsakach) October 2, 2017
Though there were initial reports of multiple shooters and multiple incidents up and down the Strip, Clark County Sheriff Joe Lombardo said at a press conference held at 1:30 a.m. local time that it was believed that there was only one suspect.
That man was killed on the 32nd floor of Mandalay Bay after officers responded to the shooting. Lombardo said that investigators are looking for the suspect's roommate, an Asian woman named Marilou Danley.
Marilou Danley is being sought for questioning re the investigation into the active shooter incident. If seen please call 9-1-1! pic.twitter.com/Z83XvcHejH

— LVMPD (@LVMPD) October 2, 2017
Lombardo declined to identify the suspect, who he called a "lone wolf."
Asked about the shooter's motive, Lombardo said, "We don't know what his belief system was at this time."
Continue reading at: http://dailycaller.com/2017/10/02/massacre-at-mandalay-las-vegas-gunman-kills-at-least-20-at-country-music-concert-video/