Las Vegas: At least 20 dead in Mandalay Bay shooting
BBC
More than twenty people have been killed and at least 100 injured in a mass shooting at a Las Vegas concert.
A gunman opened fire from the 32nd floor of the Mandalay Bay Hotel toward an open-air music festival being held close by.
Police said a suspect identified as a local resident, who was not named, had been shot and killed by officers.
They said they were looking for a companion travelling with the suspect as a "person of interest".
Sheriff Joe Lombardo said police believed the shooting was a "lone wolf" style attack, but confirmed they were trying to locate an Asian female named as Marilou Danely.
Sheriff Lombardo said he was unable to accurately say the number of dead and injured, but a local hospital spokesperson said earlier that at least 14 people were in a critical condition.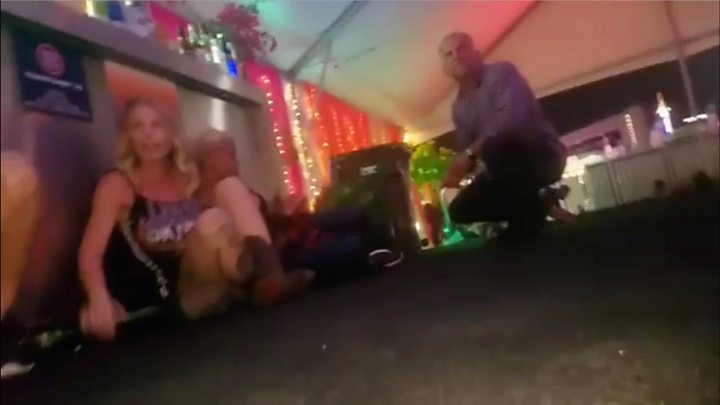 _
There had been reports of other incidents at different locations along the Las Vegas strip, but police said those reports were false.
Witnesses reported that hundreds of shots were fired.
Hundreds of people fled the scene and the sound of what appeared to be prolonged automatic gunfire could be heard on videos posted on social media.
GETTY IMAGES – 

There was a heavily armed police response to the incident
Many hotels on the Las Vegas strip close to the scene remain on police lockdown as they search for two vehicles in relation to the attack.
Parts of Las Vegas Boulevard were shut as armed officers arrived at the scene.
People have been sheltering in hotels, restaurants and at Las Vegas McCarran airport.
Marilou Danley is being sought for questioning re the investigation into the active shooter incident. If seen please call 9-1-1! pic.twitter.com/Z83XvcHejH

— LVMPD (@LVMPD) October 2, 2017
We're searching for two vehicles associated with the shooter: Hyundai Tucson Nevada/114B40 and a Chrysler Pacifica Nevada/79D401. https://t.co/pVyGvN7ZqV

— LVMPD (@LVMPD) October 2, 2017
A witness, Mike Thompson from London, told the BBC that he saw people running in total panic.
"One man had blood all over him and that's when I knew something was seriously wrong.
"People were running and there was chaos."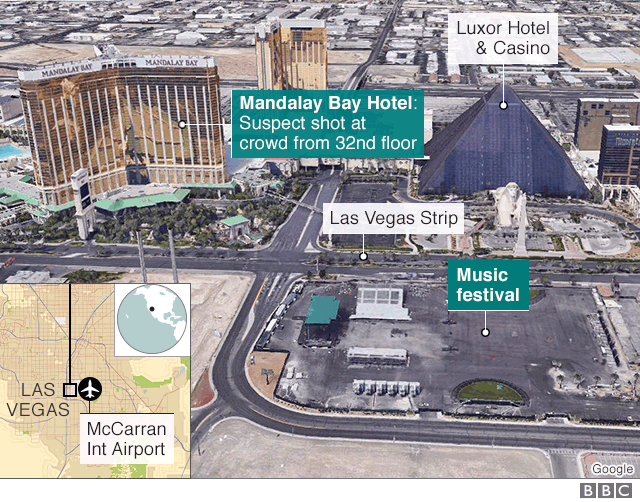 Some flights were diverted after news of the incident emerged.
The country music festival had been taking place since Friday at several hotels on the Las Vegas strip.
Nevada has some of the least stringent gun laws in the United States.
People are allowed to carry weapons and do not have to register themselves as a gun-owner.
Background checks are done when people buy guns, but they are also allowed to sell them privately.
The state does not ban assault weapons, which are automatic or semi-automatic firearms, and there are no limits on buying ammunition there.
GETTY IMAGES – 

A couple at the concert take cover after gunfire was heard at country music festival
GETTY IMAGES – 

Armed police are pictured outside Mandalay Bay hotel
---