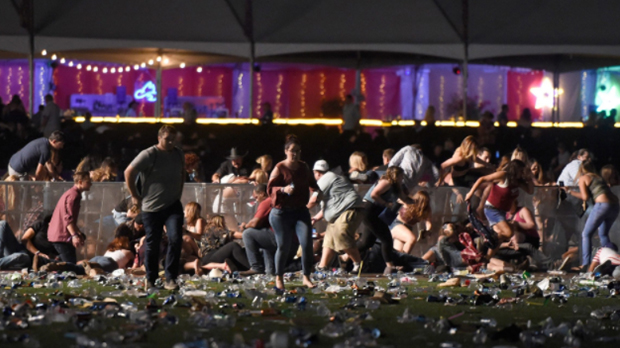 "Deadliest Mass Shooting In US History": At Least 50 Killed, Over 400 Injured After Shooter Opens Fire At Las Vegas Concert
ZeroHedge.com
Update 13 (10:55am):   Condemning the shooting, in his address to the nation from Washington, President Trump said thanked the first responders for their quick reaction, saying the attack "was an act of pure evil" and that "our unity cannot be shattered by evil, our bonds cannot be broken by violence." The president ordered U.S. flags to be flown at half-staff: "We pray for the entire nation to find unity and peace." Trump also said that he would visit Las Vegas on Wednesday after his Tuesday Puerto Rico trip.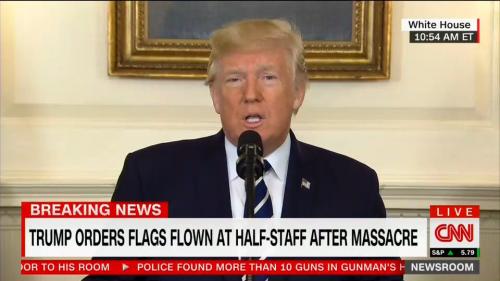 * * *
Update 12 (10:33am):  With the sun out, photos and videos have emerged of the broken windows on the 32nd floor of the Mandalay Bay Hotel. Photos reveal two broken windows on the floor from which gunman Stephen Paddock reportedly sprayed bullets at concert-goers below: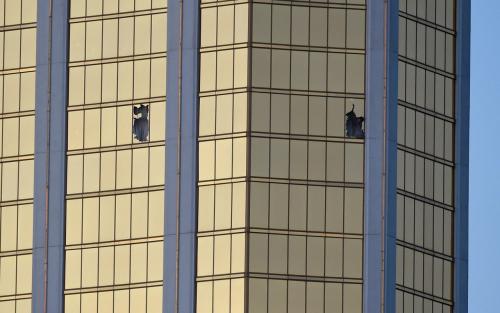 Video courtesy of NBC:
Video on @TODAYshow shows window smashed on Mandalay Bay Resort after gunman opened fire down onto concert. pic.twitter.com/8eUkbPkxtH

— NBC Nightly News with Lester Holt (@NBCNightlyNews) October 2, 2017
Sheriff: Gunman had 10+ rifles in his 32nd floor Las Vegas hotel room as he opened fire on 22,000 people below. http://nbcnews.to/2xJDynV  pic.twitter.com/IKGnkCBhGg
Video on @TODAYshow shows window smashed on Mandalay Bay Resort after gunman opened fire down onto concert. pic.twitter.com/8eUkbPkxtH
* * *
Update 11 (10:15am):  In a surprising development, the Islamic State's news agency has claimed responsibility for the concert attack, alleging that Stephen Paddock converted to Islam "months ago". There is no evidence for these claims. This despite police in Las Vegas stating there is no link to international terrorism.
BREAKING: #ISIS claimed #LasVegas attack, reporting through 'Amaq that executor is one of its "soldiers" & he converted to Islam months ago pic.twitter.com/4E85vEIUzH

— SITE Intel Group (@siteintelgroup) October 2, 2017
Meanwhile, from Reuters:
TWO SENIOR U.S. OFFICIALS SAY NO EVIDENCE AT THIS TIME THAT LAS VEGAS SHOOTER IS CONNECTED TO ANY INTERNATIONAL MILITANT GROUP
SENIOR U.S. OFFICIAL DISCOUNTED ISLAMIC STATE'S CLAIM OF RESPONSIBILITY FOR LAS VEGAS SHOOTING
* * *
Update 10 (10:00am): The brother of gunman Stephen Paddock has said the family is "dumbfounded" by what happened. Eric Paddock told MailOnline from his home in Orlando, Florida: "He was just a guy. Something happened, he snapped or something." US records show Paddock lived in a three-year-old, £300,000 two-bedroom home in the tiny desert community of Mesquite, 80 miles north east of Las Vegas, near the Arizona state border. The house is currently being searched by detectives, Clark County sheriff Joseph Lombardo told reporters.
Eric also told CBS News his brother was "not an avid gun guy at all". He added: "The fact that he had those kinds of weapons is just… where the hell did he get automatic weapons? He has no military background or anything like that. "He's a guy who lived in a house in Mesquite and drove down and gambled in Las Vegas."
"Not an avid gun guy at all…where the hell did he get automatic weapons? He has no military background," gunman's brother says pic.twitter.com/EMSKLQGYFM

— CBS News (@CBSNews) October 2, 2017
* * *
Update 9 (9:10am): The Vegas shooter Paddock killed himself as the police closed in. According to undersheriff Kevin McMahill, Stephen Paddock died from a self-inflicted gunshot wound as police made entry to his Las Vegas hotel room. He also confirmed that Paddock, who is believed to have checked into the hotel on Thursday, had more than 10 guns. McMahill added that Marilou Danley is overseas and that officers have made contact with her.  She is believed to be Australian and of Indonesian origin.
* * *
Update 8 (9:00am): This is a layout of the shooting scene per the NYT: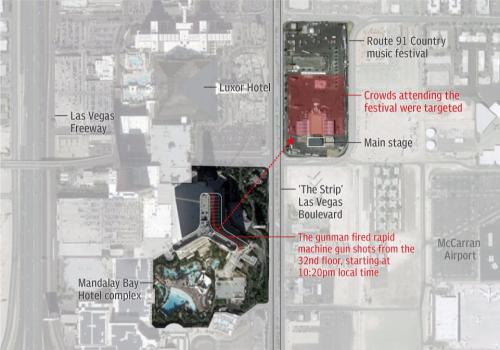 * * *
Update 7 (8:55am): According to LV police, as many as 406 injured people have been taken to various hospitals in Las Vegas after the concert attack; police also confirmed one of the 50 who died was an off-duty officer. Meanwhile, US Homeland Security said there is no "specific credible threat" to other public venues in America.
* * *
Update 6: (8:30am): more details have emerged on the gundman, Stephen Paddock, via the Telegraph.
Who was Paddock and what was his motive?
The gunman responsible for the worst mass shooting in modern US history is believed to be a grandfather who lived in a remote desert home, reports Leon Watson. Stephen Paddock, 64, was named by police as the perpetrator who left more than 50 dead. He was killed when officers blasted their way into his hotel room.
Where was he from?
Paddock is reported to have lived in a retirement village in Mesquite, Nevada, since June 2016 and was born on April 9, 1953. It is claimed he previously lived in Reno, Nevada, from 2011 to 2016, and also had an address in Melbourne, Florida, from 2013 to 2015. He has also lived in Henderson, Nevada, and several locations in California since 1990, it is reported.
Mesquite is located about 80 miles, or an hour and 16 minutes, away from Las Vegas, along Nevada's border with Arizona. Mesquite, a city in Clark County, is home to about 17,400 people, including several retirement communities, along with casinos and golf courses.
Did he act alone?
Despite initial reports of multiple gunmen, police do not believe at this time that there were any other attackers. Sheriff Joseph Lombardo, of the Las Vegas Metropolitan Police Department, described Paddock as a "lone wolf". Officers were initially seeking his travelling companion – Marilou Danley – who has now been located. She is believed to have been his roommate, however the police have since announced they do not believe she was involved in the shooting.

Marilou Danley, Source: facebook
Some further details: Marilou Danley is a former "high-limit hostess" at a casino. The mother and grandmother, whose now deleted Facebook page was full of photos with family members and trips overseas, was described by police as a 4'11" Asian woman. She was described as a "companion" of the still unidentified shooter. Police stopped short of calling Danley a suspect in the early morning hours of October 2, but they said they wanted to talk to her about the carnage.
Marilou Danley is being sought for questioning re the investigation into the active shooter incident. If seen please call 9-1-1! pic.twitter.com/Z83XvcHejH

— LVMPD (@LVMPD) October 2, 2017
Continue reading at: http://www.zerohedge.com/news/2017-10-02/shooter-las-vegas-concert-kills-20-injures-over-100