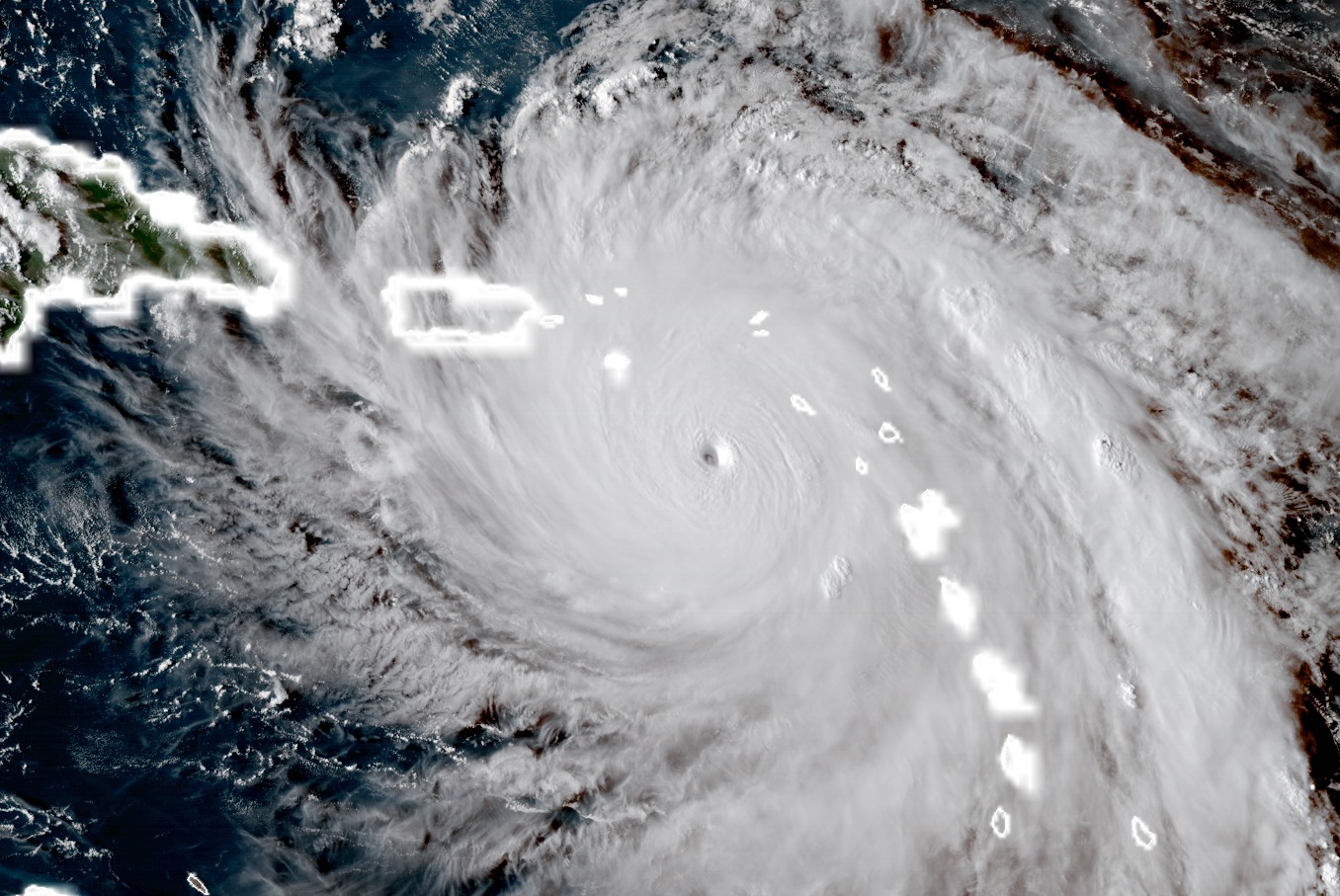 Hurricane Maria Has Begun Its Potentially Catastrophic Siege on Puerto Rico After Hammering the Virgin Islands
Weather.com
Story Highlights
Hurricane Maria is now moving into Puerto Rico after pummeling the Virgin Islands as a Category 4 hurricane.
This will be the most intense hurricane landfall in Puerto Rico since the Great Depression.
Maria's minimum central pressure Tuesday evening was the lowest for any Atlantic hurricane since Dean in August 2007.
Maria may then pass near the Dominican Republic Thursday, then the Turks and Caicos Friday.
Hurricane warnings have now been issued for the Turks and Caicos and the southeastern Bahamas.
It remains too early to determine if Maria will ever threaten the U.S. East Coast next week.
Hurricane Maria, a Category 4 on the Saffir-Simpson Hurricane Wind Scale, is now making a potentially catastrophic landfall in Puerto Rico, the island's strongest landfall since the Great Depression, while it continues to lash the Virgin Islands.
(MORE: Hurricane Central | Maria Lashes Dominica With 'Mind-Boggling' Devastation)
Happening Now
The eyewall of Maria is now carving through eastern Puerto Rico, including the island of Vieques. In advance of the eyewall, the National Weather Service issued a "extreme wind warnings" for several eastern Puerto Rico municipalities.
(INTERACTIVE: Latest Virgin Islands/Puerto Rico Radar)
Here are a sampling of peak wind gusts seen so far in Puerto Rico and the Virgin Islands as of early Wednesday morning:
Western St. Croix, Virgin Islands: 137 mph (sustained winds of 106 mph)
Yabucoa (WeatherFlow station): 113 mph
Gurabo: 103 mph
Fajardo: 100 mph
San Juan: 91 mph
St. Thomas, Virgin Islands: 86 mph
Flash flood warnings have also been issued in much of eastern Puerto Rico. At least a half dozen river gauges reported levels above flood stage already, with more heavy rain moving in.
(MORE: NWS Current P.R. River Flood Status)
The National Weather Service office in San Juan, Puerto Rico, warned of "catastrophic damage" from Maria's winds, as well as "life-threatening rainfall flooding having possible devastating impacts" in a hurricane local statement issued Wednesday morning.
Maria will be the strongest Puerto Rico landfall since a Category 4 September 1932 hurricane.
Little impact diff btwn 155 mph Cat. 4 & 160 mph Cat. 5. #Maria to be strongest PR landfall since Sep. 1932. (Hugo was Cat. 3 clip of NE PR) pic.twitter.com/WHBwlUY19c

— Jonathan Erdman (@wxjerdman) September 20, 2017
Prior to both Irma and Maria, only four other Category 4 hurricanes had tracked within 75 miles of central Puerto Rico in historical records dating to the late 19th century. Hurricane Hugo in 1989 was the last to do so prior to 2017, though it had weakened to a Category 3 hurricane as it clipped the northeast tip of Puerto Rico, according to the NOAA best tracks database.
Current Watches/Warnings
Hurricane warnings have now been issued for the Turks and Caicos Islands and southeast Bahamas. Hurricane warnings mean hurricane conditions are expected within 36 hours.
Hurricane warnings remains in effect for the U.S. and British Virgin Islands, Puerto Rico, Culebra, Vieques and in the Dominican Republic from Cabo Engano to Puerto Plata.
A tropical storm warning has been issued for Saba, St. Eustatius, St. Maarten, from west of Puerto Plata to the northern border of the Dominican Republic and Haiti and from west of Cabo Engano to Punta Palenque in the Dominican Republic.
Hurricane watches also include St. Maarten, St. Martin, St. Barthelemy and in the Dominican Republic from Isla Saona to Cabo Engano.
Forecast: Caribbean to Bahamas
Maria's core will continue to carve across Puerto Rico with destructive winds, storm surge flooding at the coast, and flooding rain Wednesday before pulling away Wednesday evening.
Conditions in the Virgin Islands will slowly improve Wednesday, though some bands of heavy rain and at least tropical storm-force winds may persist for a time.
Portions of the Dominican Republic, particularly near the north coast, may see hurricane-force winds develop as soon as Wednesday evening continuing into at least Thursday morning. There is still some uncertainty, as any slight jog of the eyewall north could keep the most intense winds off the coast of the Dominican Republic.
In the southeast Bahamas, Turks and Caicos, hurricane conditions are expected to arrive by late Thursday, but conditions will already begin to deteriorate, there, by Thursday morning.
A life-threatening storm surge raising water levels up to 6 to 9 feet above ground is possible in Puerto Rico and the Virgin Islands.
In the hurricane warning area of the Dominican Republic, water levels may rise by as much as 4 to 6 feet above normal tide levels, with a storm surge of 1 to 3 feet possible elsewhere along the northern coasts of the Dominican Republic and Haiti.
Puerto Rico may see 12 to 18 inches of rain, with locally up to 25 inches in some areas, through Friday.
The Virgin Islands are expected to receive a total of 8 to 12 inches of rain, with locally up to 16 inches.
The northern and eastern Dominican Republic, as well as the Turks and Caicos are forecast to pick up 4 to 8 inches of rain, with isolated 12-inch amounts.
These rainfall totals have the potential to produce widespread, life-threatening, potentially catastrophic flooding and mudslides.
Additional Rainfall Forecast
Will Maria Threaten the U.S. East Coast?
It is still too soon to determine at this time whether Maria will directly impact the East Coast of the U.S. next week.
Whether Maria will ever pose an East Coast threat will depend on steering currents in the upper atmosphere over the western Atlantic Ocean and the eastern United States that cannot be pinned down this far in advance.
Interestingly, the potential for Jose to stall off the Northeast coast this weekend could play some role in determining Maria's long-term future path. For more details, see the link below.
(MORE: How Jose Could Affect Maria's Long-Term Steering)
Also, if Maria interacts with the higher terrain of Puerto Rico and/or Hispañola, that could also affect its future track and intensity.
For now, all residents along the East Coast should monitor the progress of Maria.
Storm Recap
Maria rapidly intensified from a Category 1 to Category 5 hurricane Monday in almost as little time as the infamous 2005 Hurricane Wilma did, thanks to a combination of low wind shear, a moist atmosphere and warm ocean temperatures.
While #Maria has intensified very quickly, Wilma 2005 was still faster: cat 1 to cat 5 in less than 12 hours vs Maria about 15 hours.

— Dr. Rick Knabb (@DrRickKnabb) September 19, 2017
Maria then made landfall on the island of Dominica at 9:15 p.m. EDT Monday evening as a Category 5hurricane with maximum sustained winds of 160 mph, the first Category 5 landfall on the island in NOAA's historical record.
#Maria made landfall on Dominica at 915 pm AST as a category 5 #hurricane with 160 mph (260 km/h) winds https://t.co/QSxq7VPr15? pic.twitter.com/3Z1Q95WYlM

— National Hurricane Center (@NHC_Atlantic) September 19, 2017
A report from a U.S. Air Force Reserve Hurricane Hunter mission Tuesday evening confirmed Maria had strengthened even more as maximum sustained winds increased to 175 mph and central pressure dropped to 909 mb, a lower pressure than Irma had at any time.
This is the lowest pressure for any Atlantic hurricane since Hurricane Dean's 905-mb minimum central pressure in August 2007. It is also the 10th-most-intense hurricane in Atlantic Basin history, based on minimum central pressure.
___
http://weather.com/storms/hurricane/news/hurricane-maria-category-5-leeward-islands-virgin-islands-puerto-rico