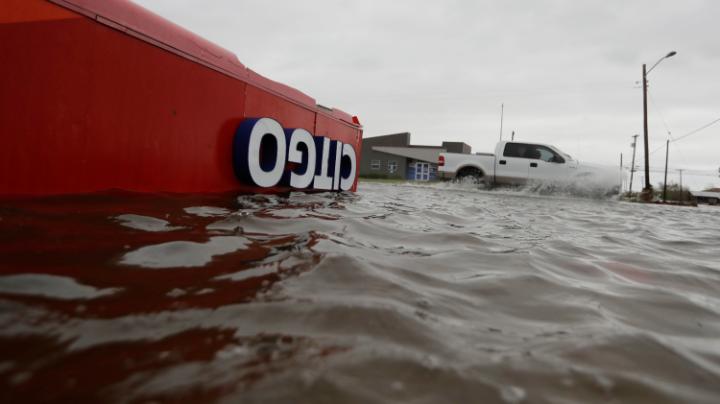 Hurricane Harvey: Fears of flash floods as 40 inches of rain hit Texas – latest updates
By Barney Henderson, David Millward and Nick Allen
The Telegraph
Hurricane Harvey lashes central Texas with torrential rains
Buildings collapsed in Rockland Texas
Most powerful storm to hit US for 12 years
President Donald Trump signs disaster proclamation
Town tells people to write names and social security numbers on their arms
The fiercest hurricane to hit the United States in more than a decade caused widespread damage and dumped torrents of rain along hundreds of miles of the Texas coastline.
Residents were warned of "catastrophic and life-threatening flooding" to come, after Hurricane Harvey made landfall late on Friday night with 130mph winds battering buildings, knocking down trees and electricity cables, and leaving up to 300,000 without power.
One person died in a house fire as Harvey roared across Rockport, Texas, the town's Mayor CJ Wax said.
A second fatality was announced late on Saturday night. A woman died as a result of flooding in Houston.
Rockport, a coastal town of about 10,000 people, where two thirds of residents had already evacuated, was directly in the storm's path.
Mayor CJ Wax said it had been hit "right on the nose" and there was "widespread devastation" with homes and businesses destroyed.
.@ChuckGrassley – got your message loud and clear. We have fantastic people on the ground, got there long before #Harvey. So far, so good!

— Donald J. Trump (@realDonaldTrump) August 26, 2017
The roof of a high school in Rockport reportedly caved in, and 10 people were taken to the county jail for treatment after another roof collapse at a nursing home.
Before the storm Rockport had issued advice to those not evacuating to write their names and Social Security numbers on their arms so rescuers could identify them if they perished.
One man who stayed in the town said: "The storm sounded like a train with square wheels. It was the most stressful thing I've ever been through. I saw trees going down, roofs blowing off. I've got 300-year-old oak trees down in my yard, a magnolia tree on my roof."
Texans were warned to look out for alligators displaced by the extreme weather.
In a statement warning about alligators the Fort Bend County Sheriff's Office said: "Expect them to be displaced. Simply looking for higher ground. Leave alone until water recedes."
The storm stirred memories of Hurricane Katrina, which made a direct hit on New Orleans in 2005 and led to 1,800 deaths amid a widely criticised government response.
'Leave town or write your details on your arm,' warns Rockport official
M
r Trump signed a disaster declaration late on Friday night which he said would "unleash the full force of government help".
He commended Brock Long, head of the Federal Emergency Management Agency for his handling of the storm.
Mr Trump, who was at Camp David, wrote on Twitter: "You are doing a great job – the world is watching! Be safe. We are leaving nothing to chance. City, State and Federal Governments working great together! We have fantastic people on the ground, got there long before Harvey. So far, so good!"
Mr Trump intended to visit Texas early next week in the wake of the hurricane to assess the emergency response.
Continue reading here:
http://www.telegraph.co.uk/news/2017/08/26/hurricane-harvey-130mph-winds-surging-waters-bring-major-damage/