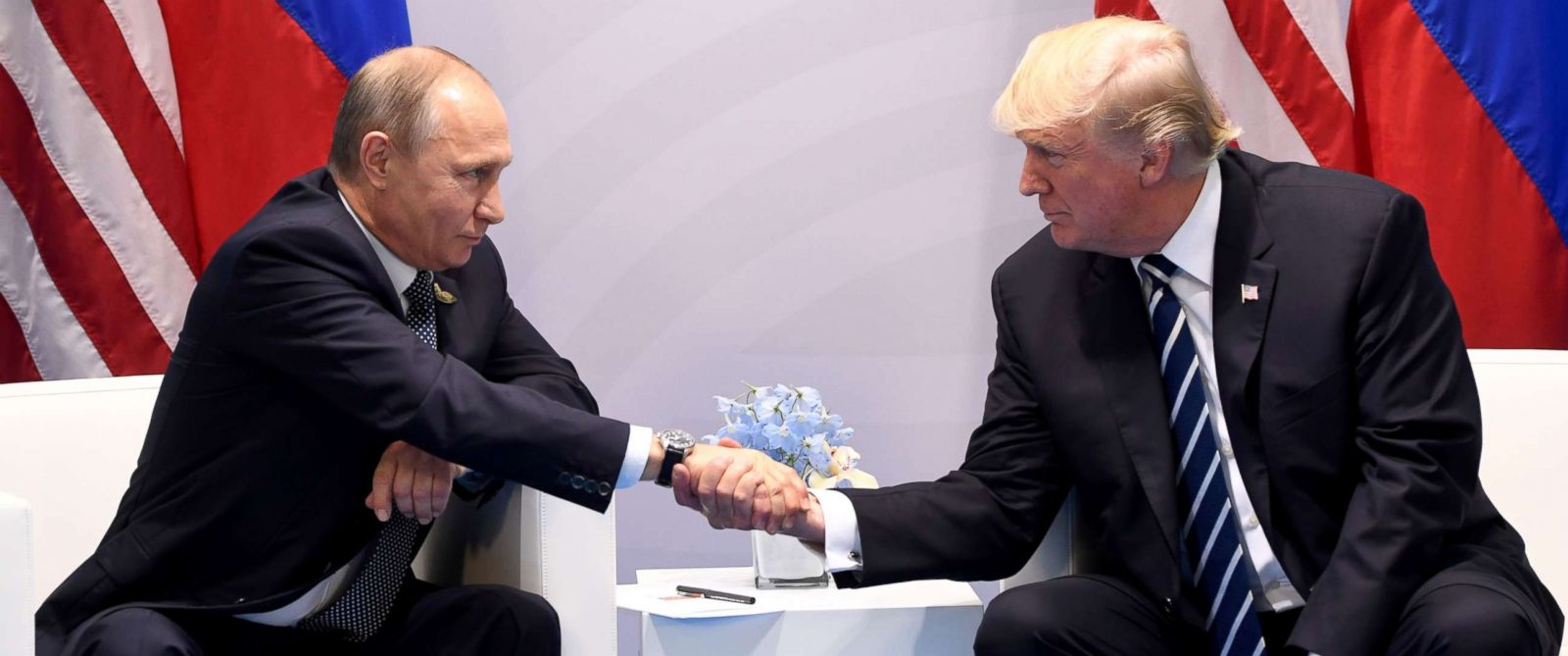 Putin Reveals What He Discussed With Trump In Two-Hour Long First Meeting
ZeroHedge.com
Following their first ever, 2+ hour meeting which was originally supposed to last only 30-40 minutes, the question on everyone's mind was what did the two discuss.
So, in addition to the previously discussed ceasefire agreement in Southwest Syria unexpectedly announced by the two nations, speaking at the beginning of his meeting with Japanese Prime Minister Shinzo Abe, Vladimir Putin said that during his first meeting with US President Donald Trump, the two discussed Syria, Ukraine, counterterrorism, and drumroll, the "fight against cyber crime."
"I had a very lengthy conversation with the President of the United States, there were a lot of issues such as Ukraine, Syria, other problems, some bilateral issues", according to Interfax news agency. "We again returned to the issues of fighting terrorism and cybersecurity," Putin added.
Elaborating after the meeting, Secretary of State Rex Tillerson said Trump repeatedly pressed Putin on the matter over the course of their meeting (see below for details).
Putin denied Russia's involvement, and according to a parallel comment from Russia's Sergey Lavrov, "Trump accepted Putin's assurance of no election hacking."
Or as Interfax put it:
TRUMP ACKNOWLEDGES ANTI-RUSSIAN CAMPAIGN IN U.S. ALREADY LOOKING ODD, THAT HE ACCEPTS PUTIN'S STATEMENTS ON THIS MATTER – LAVROV: IFX
However, it appears Lavrov may have taken some artistic liberty, because according to NBC's chief White House correspondent, one administration official has said Lavrov's comment is "not accurate"
Pushback already from Trump administration: one official tells @NBCNews Lavrov's "not accurate" w/this comment –> https://t.co/URIsFPQYWT

— Hallie Jackson (@HallieJackson) July 7, 2017
Additionally, Tillerson also discussed the ceasefire deal in Syria:
"A cease-fire has been entered into," U.S. Secretary of State Rex Tillerson told reporters. This is the "first indication of the U.S. and Russia being able to work together in Syria," he said.
Until now, Putin and Trump had only spoken on the phone. They were not alone: Russian Foreign Minister Sergey Lavrov and US Secretary of State Rex Tillerson were also present at the talks.
* * *
Earlier, during the press photo session, Trump told the media that "President Putin and I have been discussing various things, and I think it's going very well."
"We've had some very, very good talks, we are going to have a talk now and obviously that will continue," Trump added, saying there are hopes of "a lot of very positive things happening."
"It's an honor to be with you, thank you," Trump concluded, offering his hand to Putin.
"I'm delighted to be able to meet you personally Mr. President," Putin countered. "And I hope, as you have said, our meeting will yield positive result."
"Spasibo [thank you]," the US leader added in Russian.
Addressing Trump, Putin then said that although the two leaders have "several times talked over the phone, including on some very important bilateral and international issues," phone talks were "obviously not enough." Meetings in person are "necessary" if the two countries want to resolve the "most pressing issues," Putin added.
* * *
Finally, some additional details first from Rex Tillerson, courtesy of Bloomberg:
TILLERSON: U.S., RUSSIA, JORDAN REACHED CEASEFIRE IN SW SYRIA
RUSSIA HAS SAME INTEREST IN STABLE SYRIA AS U.S.: TILLERSON
TRUMP NOTED SANCTIONS BILL ONGOING IN PUTIN TALKS: TILLERSON
NO LONG-TERM ROLE FOR ASSAD, HIS FAMILY, IN SYRIA: TILLERSON
RUSSIA-U.S. DIFFERENCES IN TACTICS, PACE, ON N.KOREA: TILLERSON
TILLERSON SAYS TRUMP & PUTIN HAD A GOOD EXCHANGE ON #NORTHKOREA; RUSSIANS SEE IT DIFFERENTLY THAN THE U.S. DOES: RTRS
TILLERSON SAYS IT IS NOT CLEAR U.S. OR RUSSIA WILL EVER COME TO A RESOLUTION ON THE QUESTION ABOUT ELECTION INTERFERENCE: RTRS
About the bromance between the two:
TRUMP, PUTIN CONNECTED QUICKLY, `POSITIVE CHEMISTRY': TILLERSON
TILLERSON SAYS NEITHER LEADER WANTED TO STOP MEETING, U.S. FIRST LADY CAME IN AT ONE POINT TO TRY TO GET THEM TO CONCLUDE: RTRS
And the punchline:
TRUMP RAISED ELECTION MEDDLING, PUTIN DENIED ROLE: TILLERSON
TRUMP ACCEPTED PUTIN'S ASSURANCE OF NO ELECTION HACKING: LAVROV
And here is the conversation from the Russian side, in this case Sergey Lavrov, as reported by Interfax:
PUTIN, TRUMP HAD VERY CONCRETE CONVERSATION – LAVROV
LAVROV SAYS HE AND TILLERSON ASKED TO CONTINUE DIALOGUE ON ALL INT'L ISSUES, INCLUDING N. KOREA
LAVROV: THERE IS UNDERSTANDING ON THREE DE-ESCALATION ZONES IN SYRIA, DIALOGUE CONTINUING ON NORTHERN ZONE
LAVROV: U.S. AIMS AT IMPLEMENTATION OF MINSK AGREEMENTS – LAVROV
LAVROV: CONTACTS WITH TRUMP, TILLERSON SHOWED NO SIGN OF U.S. DEPARTING FROM MINSK ACCORDS
LAVROV: PUTIN, TRUMP AGREE ON CREATION OF BILATERAL WORKING GROUP FOR DEVELOPMENT OF INTERACTION ON BROAD RANGE OF ISSUES, INCLUDING CYBER SECURITY
LAVROV: WE WILL CONTINUE SEEKING SOLUTION TO PROBLEM OF RUSSIAN DIPLOMATIC PROPERTY IN U.S
RUSSIA, U.S. AGREE TO SPEED UP THEIR AMBASSADOR APPOINTMENT PROCEDURES – LAVROV
LAVROV: STATE SOVEREIGNTY TO BE ENSURED IN CREATION OF DE-ESCALATION ZONE IN SOUTHERN SYRIA
LAVROV: WE HOPE U.S. ENVOY FOR UKRAINE WILL ARRIVE IN MOSCOW FOR CONSULTATIONS SOON
LAVROV: AGREEMENT REACHED TO CREATE RUSSIAN-U.S. CHANNEL FOR UKRAINIAN SETTLEMENT
LAVROV: SECURITY IN DE-ESCALATION ZONE IN SOUTHERN SYRIA WILL BE ENSURED USING RUSSIAN POLICE, U.S. AND JORDANIAN FORCES
LAVROV: RUSSIAN, U.S. EXPERTS IN JORDAN ON FRIDAY FINISHED WORK OF AGREEING ON DE-ESCALATION AREAS IN SOUTHWEST SYRIA
LAVROV: PUTIN AND TRUMP ARE DRIVEN BY NATIONAL INTERESTS, AIM AT MUTUAL AGREEMENTS
TRUCE IN SOUTHERN SYRIA TO BE EFFECTIVE FROM MIDNIGHT JULY 9 – LAVROV
LAVROV: PUTIN, TRUMP DEMONSTRATED THAT THEY HAVE NO INTENTION OF CREATING PROBLEMS OUT OF NOTHING FOR TWO COUNTRIES
And the only line that matters on this side:
TRUMP ACKNOWLEDGES ANTI-RUSSIAN CAMPAIGN IN U.S. ALREADY LOOKING ODD, THAT HE ACCEPTS PUTIN'S STATEMENTS ON THIS MATTER – LAVROV
In summary: Putin denied hacking the US election, and "Trump accepted Putin's assurance" at least according to the Russian side. We now await the howls of outrage from the US media.
___
http://www.zerohedge.com/news/2017-07-07/putin-reveals-what-he-discussed-trump-two-hour-long-first-meeting