'Music is language of angels' – conductor of Russian orchestra that awed Salzburg Festival (VIDEO)
RT.com
Russian musicians left the Salzburg Festival audience in awe, becoming the third non-Austrian musicians ever to open the event. RT spoke with world-famous Greek-Russian conductor Teodor Currentzis, who led the orchestra.
Following the concert, the audience gave the musicians a 15-minute standing ovation.
Over the two weeks that the Perm orchestra stayed in Austria, they gave numerous concerts, but Currentzis told RT that opening the Salzburg Festival is an outstanding honor.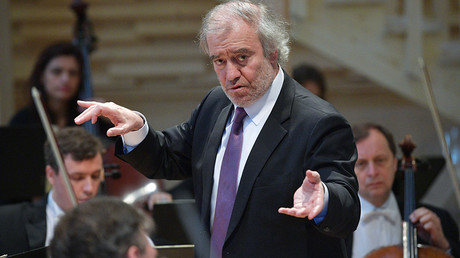 Read more    Russian Maestro Gergiev to perform on Bastille Day in Paris, under fire for 'Putin friendship'
"It's a great responsibility to open the Salzburg Festival," he said.
The conductor spoke very fondly and passionately about his orchestra, Musica Aeterna, saying, "We gathered great musicians from all over the world, and they really want to give their inspiration and efforts for the flourishing of Russian culture."
He smiled, adding that Russian orchestras "are more spiritual and less disciplined," than central European orchestras.
Currentzis spoke about the difference between Russian and the European audiences, as well as his ways of preparing the public to listen.
"In Europe, they are very quiet. Very generous in the applause, but very quiet during the performance. Now, in Perm [the city in Russia where the conductor is based and where he works most of the time], we have educated our audience – one of the best in the world – because we have a laboratory of the audience, and they get really prepared for the musical score before our performances."
Still, Currentzis thinks that the response is essentially universal in audiences worldwide, as "music is the only treasure without nationality that we have."
"Music is the language of the angels, and every person has an angel in the prison of his heart. So music tries to find a key to release the angel. And the angels don't have political disagreements, wars, greed, and their language is music. So what we're trying to do is to connect people."
Currentzis, 45, was born in Athens, Greece and entered the National Conservatory there at the age of 12, in the violin department. In 1994-1999, he studied conducting at St. Petersburg State Conservatory.
In 2004, Currentzis founded his now world-famous MusicAeterna orchestra. Since 2011, he has been music director of the Perm Opera and Ballet Theatre. Back in April, the Southwest German Radio Symphony Orchestra said that Currentzis will be appointed principal guest conductor in the 2018-2019 season.
He was granted Russian citizenship in 2014.
___
http://www.rt.com/news/397926-salzburg-russian-conductor-currentzis/