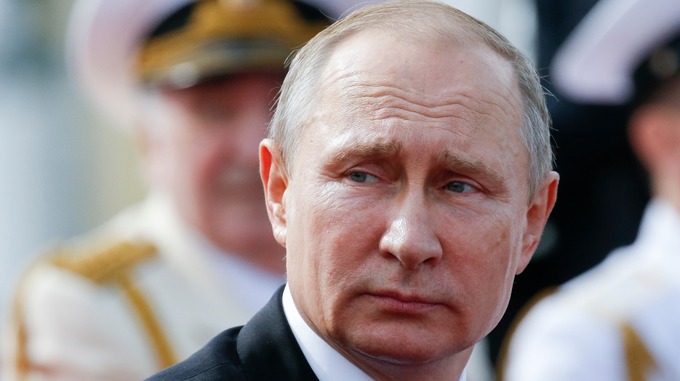 "It's Time To Retaliate": Putin Expels 755 U.S. Diplomats
Zerohedge.com
When Russia warned on Friday that it would retaliate proportionately after it announced it would seize two diplomatic compounds used by the US in Russia and added that it would reduce the number of US diplomatic service staff in the country to equal the number of Russian diplomats in the US by September 1, calculated by the local press at 455, it wasn't joking.
Moments ago, speaking in an interview on the Rossiya 1 TV channel, Vladimir Putin said that 755 American diplomats will be expelled, or as he phrased it "will have to leave Russia as a result of Washington's own policies", a move which as we previewed on Friday will make the diplomatic missions of Russia and the United States of equal staffing.
Speaking late on Sunday, the Russian president said that the time for retaliation has come: "we've been waiting for quite a long time that maybe something would change for the better, we had hopes that the situation would change. But it looks like, it's not going to change in the near future… I decided that it is time for us to show that we will not leave anything unanswered."
Putin added that "the personnel of the US diplomatic missions in Russia will be cut by 755 people and will now equal the number of the Russian diplomatic personnel in the United States, 455 people on each side" Putin said, adding that "because over a thousand employees, diplomats and technical personnel have been working and are still working in Russia, and 755 of them will have to cease their work in the Russian Federation. It's considerable."
Putin also told the Russian audience that "the American side has made a move which, it is important to note, hasn't been provoked by anything, to worsen Russian-US relations. [It includes] unlawful restrictions, attempts to influence other states of the world, including our allies, who are interested in developing and keeping relations with Russia,"
According to Reuters, Putin also said that Russia is able to impose additional measures against U.S. but he is against such moves (for now).
"We could imagine, theoretically, that one day a moment would come when the damage of attempts to put pressure on Russia will be comparable to the negative consequences of certain limitations of our cooperation. Well, if that moment ever comes, we could discuss other response options. But I hope it will not come to that. As of today, I am against it."
As we reported late last week, following the House's approval of new sanctions against Russia, Iran and North Korea, the Russian foreign ministry told Washington to reduce the number of its diplomatic staff in Russia, which currently includes more than 1,200 personnel, to 455 people as of September 1.
And now we await the US retaliation in what is once again the same tit-for-tat escalation that marked the latter years of the Obama regime, as the US Military Industrial Complex breathes out a sigh of relief that for all the posturing by Trump, things between Russia and the US are back on autopilot.
___
http://www.zerohedge.com/news/2017-07-30/its-time-retaliate-putin-expels-755-us-diplomats