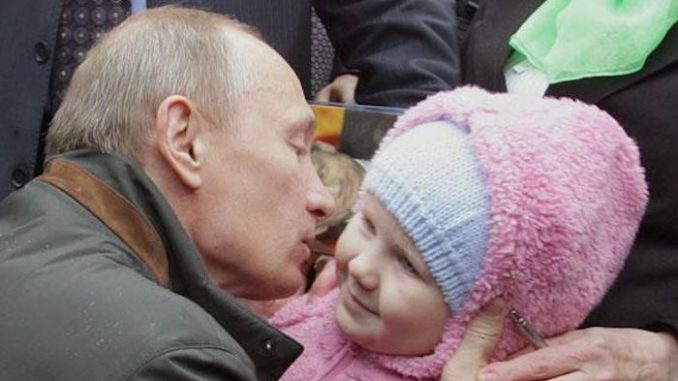 Putin Bans U.S. Adoption Of Russian Orphans Due To Pedophile Epidemic
awdnews.com
Vladimir Putin has issued an immediate ban on U.S. adults adopting Russian children over fears for the safety of the children due to the pedophilia epidemic plaguing the United States.
The law, which was passed emphatically by both houses of the Duma, raised eyebrows in Russia, however Putin explained "the country will not be responsible" for the abuse of their children at the hands of pedophiles.
Americans adopt children from abroad more often that citizens of any other country in the world, and while the vast majority may have honorable intentions, there is increasing evidence that an elite pedophile ring uses adoption to enter children into child sex trafficking, with many of the children disappearing without a trace.
D.C. children most at risk
The elite pedophile ring operating out of Washington D.C. has made children living in the nation's capital the most "at risk" in the country, according to U.S. Department of Health and Human Services data, with an astonishing 23.4 per 1,000 children suffering abuse. The next closest is New York, another known elite pedophile hub, with 17.4 cases per 1,000 children.
Despite the disturbing statistics, Putin's ban on adoption to the United States has been seen as controversial in some quarters. The President tried to explain himself in front of a hall full of Russian and foreign journalists, many of whom were surprised by the adoption bill.
The first question asked why Putin had made "the most destitute and helpless children into instruments of political battle." The second was even more blunt, calling the bill "cannibalistic."
Live on Russian television, Putin mounted a strong defense: How could the journalists stand idly by while U.S. elites "abuse Russian children. You think that's normal?" Putin demanded.
"What's normal about being abused? You like that? What are you, a sadomasochist? The country will not be responsible."
Passing a new bill in Russia has never presented much of a problem for President Vladimir Putin. With control of both houses of parliament, legislation backed by Putin generally amounts to a Kremlin fiat.
When the adoption bill went up for a vote in the Duma, only four deputies voted against it and two abstained. An overwhelming 400 voted in favor of the new law.
This is not the first time Putin has called out the West over pedophilia.
Last year Putin used his annual Christmas press conference to accuse Western liberal elites of abandoning the traditional values that made their countries great. Instead of building a future based on solid Christian values, Western elites have created a culture of "excessive, exaggerated political correctness."
This new culture is so destructive it will lead to the downfall of Western civilization if it is not arrested, he warned.
In the four hour question-and-answer session, Putin said there is an international push for a New World Order that will "remove national sovereignty" and "destroy identity and of God-created diversity."
To reach this goal, Putin states that Western elites have begun rejecting the roots that their societies were built on.
"Many Western states have taken the way where they deny or reject their own roots, including their Christian roots which form the basis of Western civilization. In these countries, the moral basis and any traditional identity are being denied – national, religious, cultural and even gender identities are being denied or relativized."
"In these countries, the moral basis and any traditional identity are being denied – national, religious, cultural and even gender identities are being denied or relativized. There, politics treats a family with many children as equal to a homosexual partnership (juridically).
"The excesses and exaggerations of political correctness in these countries indeed leads to serious consideration for the legitimization of parties that promote the propaganda of pedophilia.
"The people in many European states are actually ashamed of their religious affiliations and are indeed frightened to speak about them."
___
http://awdnews.com/society/putin-bans-u-s-adoption-of-russian-orphans-due-to-pedophile-epidemic