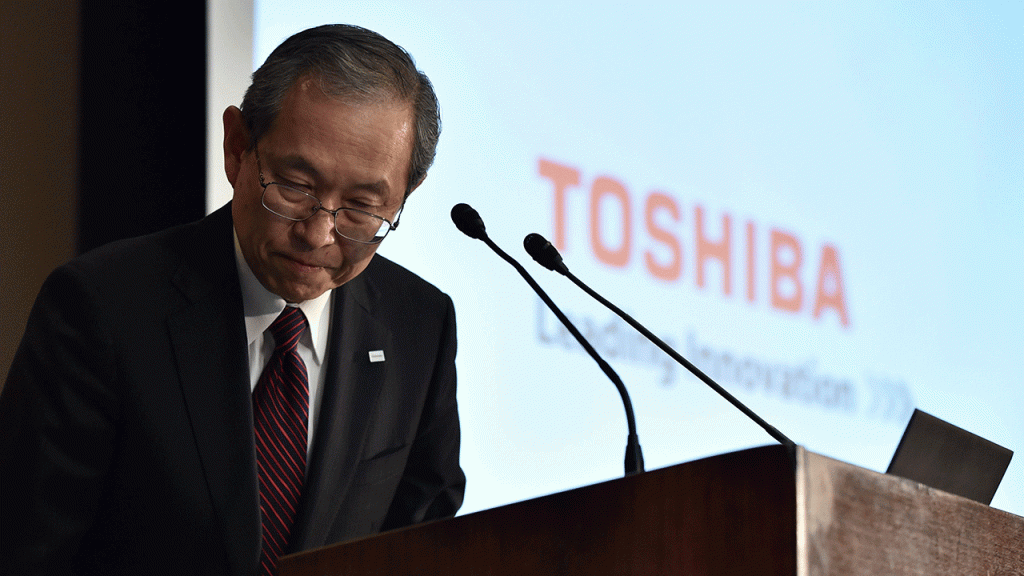 Toshiba warns of 'substantial doubt' on staying in business
Japanese group publishes unaudited third-quarter results, raising delisting fears
Toshiba reported a net loss of ¥647.8bn for the third quarter. The accounts were not signed off by its auditor PwC © Reuters
Toshiba on Tuesday warned of "substantial doubt" about its ability to continue as a going concern after the struggling Japanese industrial giant failed to persuade its auditor to sign off its third-quarter accounts.
The group, which is reeling from its worst ever financial crisis because of far-reaching problems at its US nuclear subsidiary Westinghouse, took the unusual step of publishing unaudited accounts for the three months to December 31.
Toshiba's failure to obtain an accounts sign-off from its auditor PwC Aarata increases the risk that the group could lose its status as a listed company, because this raises new questions about its internal controls that were found to be inadequate in a 2015 accounting scandal.
Having twice missed deadlines for filing audited third-quarter results for its 2016 fiscal year, Toshiba on Tuesday reported a net loss of ¥647.8bn ($5.9bn) for the period, mainly because of a $6.3bn writedown on Westinghouse.
In the middle of its 22-page results statement, Toshiba said: "There are material events and conditions that raise the substantial doubt about the company's ability to continue as a going concern."
Westinghouse last month filed for Chapter 11 bankruptcy protection in the US after running up large cost overruns on two flagship projects in the country to build new nuclear power stations.
The writedown by Toshiba focuses mainly on Westinghouse's acquisition in 2015 of Stone & Webster, a nuclear construction company involved in the two US projects in Georgia and South Carolina.
The impasse between Toshiba and PwC stems from investigations by outside lawyers that were commissioned by the Japanese group and relate to the Stone & Webster deal.
Toshiba said last month that its audit committee had found evidence, based on the lawyers' work, that some senior Westinghouse managers exerted "undue pressure" over the accounting for the deal.
Toshiba said on Tuesday that PwC had questioned whether there was a need to recognise losses linked to Stone & Webster in Toshiba's accounts before the third quarter of its 2016 fiscal year.
PwC had also queried whether the alleged undue pressure by Westinghouse managers had an impact on the accounts of Toshiba or those of its US subsidiary.
But Toshiba executives said the lawyers' investigations had found no evidence that the group had improperly recorded losses relating to Stone & Webster.
They added they did not believe Toshiba's accounts needed to be revised as a result of the alleged undue pressure, and stressed that its internal controls were functioning.
"We are confident about these figures," said Satoshi Tsunakawa, Toshiba's president, referring to the unaudited third-quarter results. "We are going to do our best to avoid delisting by bolstering our finances."
Explaining why PwC had not signed off its accounts, Toshiba said its auditor wanted more time to assess the conclusions of the lawyers' investigations. PwC declined to comment.
Analysts say Toshiba's impasse with its auditor will add further pressure on the Tokyo Stock Exchange, which is examining whether the group has improved its internal controls after the company was placed on "stock on alert" status in the wake of its $1.3bn accounting scandal in 2015.
If the bourse deems its internal controls as inadequate, Toshiba's shares will be delisted.
The shares will also be delisted if Toshiba falls into negative shareholder equity for two consecutive years.
The group expects its equity to fall to a negative ¥620bn at the end of its 2016 fiscal year.
This reflects how Toshiba is predicting a record net loss of up to ¥1tn, which would be the worst ever performance by a Japanese manufacturer.
The loss partly stems from Toshiba's guarantees on Westinghouse's contingent liabilities, which stood at ¥650bn at the end of February and relate to potential further cost overruns on the two US nuclear projects.
To strengthen its balance sheet, Toshiba is planning to sell its core Nand memory chip business as well as other assets including its television unit.
Toshiba has received bids for the Nand business of ¥2tn or more from Taiwan's Hon Hai Precision Industry, better known as Foxconn, and Silver Lake, the technology-focused private equity group which has teamed up with US chipmaker Broadcom, according to people close to the talks.
Foxconn has indicated it may be willing to pay as much as ¥3tn, said one of these people, although the company has a reputation for negotiating down its offer price, as it did during the takeover of Japanese consumer electronics company Sharp last year. Foxconn declined to comment.
___
https://www.ft.com/content/4a068050-1e9b-11e7-b7d3-163f5a7f229c