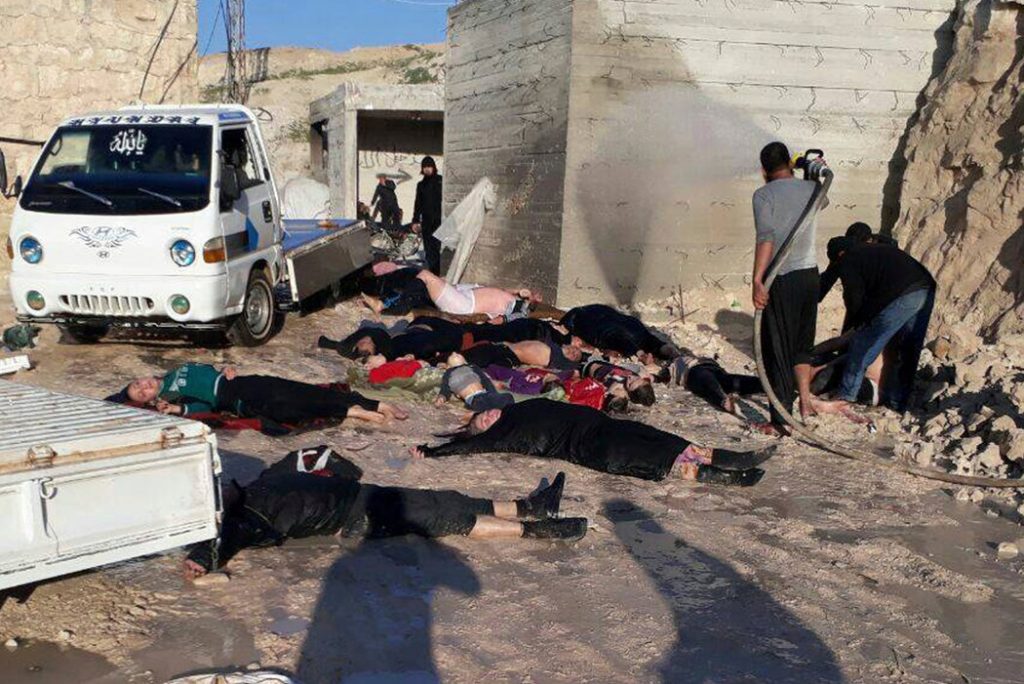 Rep. Tulsi Gabbard Faces Democratic Backlash After Questioning Sarin Gas Attack
Democratic congresswoman who met Assad says she's 'skeptical' he committed sarin atrocity – and now faces calls for her removal
Rep. Tulsi Gabbard is being labeled an apologist for saying she was 'skeptical' the Syrian Bashar al-Assad was responsible for last week's sarin attack
Gabbard, who served two tours in Iraq, said she wanted to see more proof and pointed to how the U.S. was misled into going into Iraq in 2003 
Some Democrats including former Democratic National Committee Chair Howard Dean are calling on her to resign 
'There are a number of theories out there,' Gabbard said. 'There are a number of ways that you can point the finger.'
With these remarks, some of her fellow Democrats are calling for her head.
The Democratic congresswoman, who served two tours in Iraq, pointed out how she and other Americans should have been 'skeptical' of intelligence findings that got the country involved in the Iraq war as well
For example, for Democratic National Committee Chairman Howard Dean tweeted out a link to Gabbard's comments and added his own commentary.
'This is a disgrace, Gabbard should not be in Congress,' Dean wrote.
When asked about it on MSNBC by Alex Wit, who pointed out that Gabbard wanted to see proof, Dean scoffed.
'If you're on the Foreign Relations Committee and you haven't seen the proof in the last five and a half years, there's something the matter with you,' Dean said. 'I am tired of people making excuses. This is no different than Trump making excuses for Putin. We've had enough of this.'
'Let's talk about facts and the fact is, Assad is a butcher, a murderer, and he has repeatedly over the past few years used chemical weapons on his own people! What more do you want?' Dean demanded.
Neera Tanden, a top Hillary Clinton ally who heads the D.C.-based think tank the Center for American Progress, also criticized Gabbard and suggested her constituents vote her out of office.
'People of Hawaii's 2nd district – was it not enough for you that your rep met with murderous dictator?' Tanden tweeted.
Gabbard, who served two tours of duty in Iraq, said she wants a debate over military action.
She was highly critical of Trump's missile launch into Syria last week.
'We need to learn from Iraq and Libya – wars that were propagated as necessary to relieve human suffering, but actually increased human suffering many times over,' the Democratic congresswoman said in an email to the Hill newspaper.
While her January visit with Assad raised eyebrows, Gabbard's remarks about intervention in Syria were in line with many of her fellow liberal Democrats' comments.
During last year's Democratic primary, Gabbard broke ranks with the Democratic National Committee and endorsed Sen. Bernie Sanders, considered the more dovish of the two leading candidates.
'I and thousands of my brothers- and sisters-in-arms went to war in Iraq based on false intelligence and lies from our leaders – our president, military and political leaders. We should have been skeptical then, and we weren't,' Gabbard said. 'The cost was thousands of American lives and trillions of dollars down the drain. What to speak of millions of non-American lives.'
Gabbard said she believed Trump's military involvement was unconstitutional and that he needed Congressional approval for it and future military action in the state.
 'There is a reason our Constitution gives Congress the power to declare war: we should be shown evidence and given the opportunity to debate the strategy and sacrifice expected,' she argued to the Hill.
 'No leader – of either party, pro or against military intervention – should let our president take us down the path to another regime change war without that debate,' she added.
___
http://www.dailymail.co.uk/news/article-4401962/Democrat-fire-skeptical-Assad-attacked.html