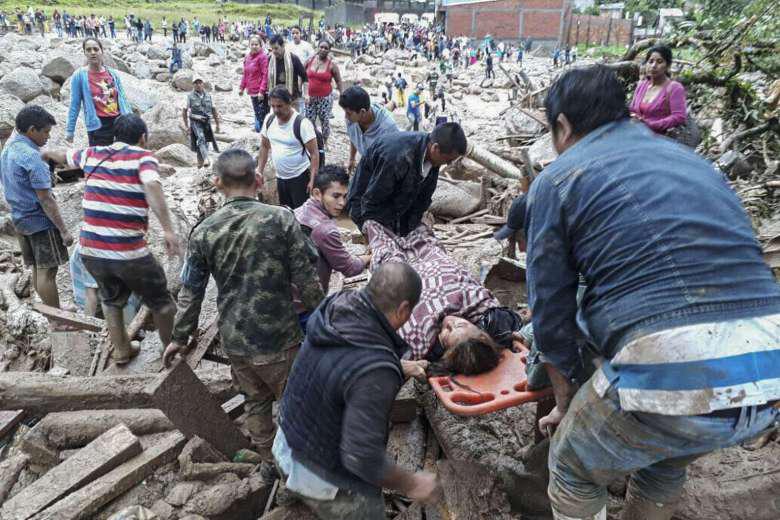 254 Dead, 200 Missing, 400 Injured In Colombia Landslide
Colombia landslide: Rescue teams race to reach survivors
Colombia's security forces are searching for hundreds of missing people after heavy mudslides left at least 254 dead.
About 1,100 soldiers and police are involved in the rescue effort.
Heavy rain flooded the city of Mocoa in the country's south-west with mud and rocks, burying whole neighbourhoods and forcing residents to flee their homes.
An army statement said there were at least 400 injured and 200 still missing in the capital of Putumayo province.
Colombian Red Cross volunteers in the area also put the death toll at more than 200.
The aid group said it was working to help family members contact each other, and that the operation was continuing into the night.
Video footage from the city showed residents crying over a list of missing children, along with their ages, pinned to a family welfare centre.
"We have lost a baby, who has gone missing, and the rest is as you can see," one resident told reporters. "A little baby, we can't find him anywhere."
AFP – 

Boulders and other debris damaged buildings in their path as the flood hit Mocoa
President Juan Manuel Santos declared a state of emergency in the region and flew in to oversee the rescue effort.
"We will do everything possible to help," he said. "It breaks my heart."
The Colombian Air Force is bringing equipment, water and medicine to the area as the search operation continues.
Photos posted to social media by the air force showed some patients being evacuated by air.
"Our heroes will remain in the tragedy zone until the emergency is over," the army's statement said.



TWITTER/@JUANMANSANS – 

Colombia's president said he would guarantee assistance to the victims
Colombia's director of the National Disaster Risk Management Unit told the AFP news agency that a third of the region's expected monthly rain fell during one night.
The unusually heavy rain caused the rivers to burst their banks.
"It was torrential rainstorm, it got really strong," local resident Mario Usale, 42, told Reuters.
He was searching for his father-in-law, the news agency said.
"My mother-in-law was also missing, but we found her alive 2km (1.25 miles) away. She has head injuries, but she was conscious," he added.
AFP – 

Rescue workers searched among the rubble and fallen trees
The mayor of Mocoa, Jose Antonio Castro, told local media that the city was "totally isolated", without electricity and water.
His own house had also been destroyed in the flood, with mud reaching as high as his roof.
AFP – 

The debris totally destroyed many homes and submerged vehicles
Landslides have struck the region several times in recent months.
In November, nine people died in the town of El Tambo, about 140km (87 miles) from Mocoa, during a landslide which followed heavy rain.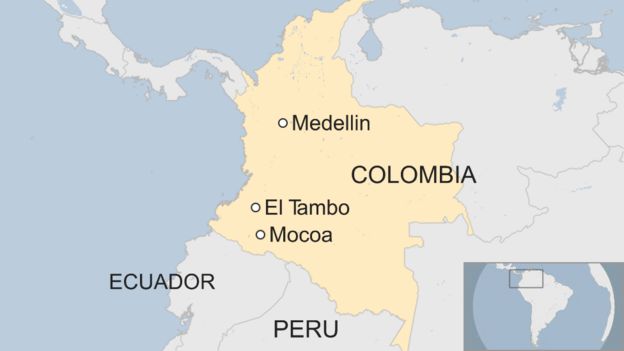 Less than a month before that, another landslide killed several people near Medellin, almost 500km (310 miles) to the north.
And in neighbouring Peru, more than 90 people have died since the start of the year because of unusually heavy rainfall, which also caused landslides and flash floods.