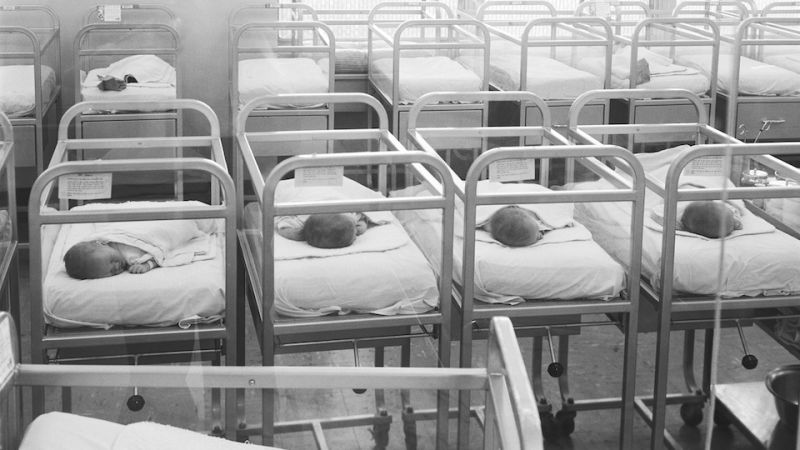 Banished Babies: The Secret History of Ireland's Baby Export Business
by 2012: What's the 'real' truth?
Since this story broke in 1996, the Irish media have been chasing down details of the "export" –primarily to the U.S.–of 2,000-plus infants and toddlers born to unmarried Irish mothers between the late '40s and the mid-'70s. Reporter Milotte did a TV documentary on the subject; his book incorporates new archival material released by the Irish government and the Catholic Church, as well as three involving case studies of efforts by adoptees or the mothers who reluctantly gave them up to get back together.
At mid-century, both church and state in Ireland stressed shame, secrecy, and the religion of adoptive parents over all other considerations; only in the mid-'50s did Eire require confirmation that proposed parents could provide a healthy (as well as a Catholic) home for Irish kids, and several money-based schemes slipped through the Republic's lax rules. An enlightening international sidebar to studies of the consequences of open versus closed adoption.
According to Ireland´s Ryan Report approximately 30,000 children were tortured and abused while in catholic religion run Industrial Schools. This report only investigated the abuses committed against children by priest and nuns of approximately 10% of the religious institutions all over Ireland without including Mental Institutions and Magdalene Laundries. We present the names of some of these hellholes listed on the Residential Institutions Redress Act, 2002:
An Griana´n Training Centre, Grace Park Road, Dublin 9
Artane Industrial School for Senior Boys, Dublin 5
Baltimore Fishery School for Senior Boys, Baltimore, Co. Cork
Benada Abbey Industrial School for Girls, Ballymote, Co. Sligo
Carriglea Park Industrial School for Senior Boys, Dun Laoghaire, Co. Dublin
Cottage Home, Tivoli Road, Dun Laoghaire, Co. Dublin
Don Bosco House, Gardiner Street, Dublin 1
Family Group Home, Geevagh, Co. Sligo
Family Group Home, Letterkenny, Co. Donegal
Family Group Home, Wexford
Kirwan House, Ranelagh, Dublin 6
Madonna House, Blackrock, Co. Dublin
Madonna House, Merrion Road, Dublin 4
Martanna House Hostel, Grace Park Road, Dublin 9
Miss Carr's Children's Home, 5 Northbrook Road, Dublin 6
Mount Carmel Industrial School for Girls, Moate, Co. Westmeath
Nazareth House, Sligo
Orphanage Schools, Convent of Mercy, Kells, Co. Meath
Our Boy's Home, 95 Monkstown Road, Dun Laoghaire, Co. Dublin
Our Lady of Mercy Industrial School for Girls, Kinsale, Co. Cork
Our Lady of Succour Industrial School, Newtownforbes, Co. Longford
Our Lady's Industrial School for Girls, Ennis, Co. Clare
Pembrook Alms (Nazareth House) Industrial School for Girls,Tralee, Co. Kerry
CPI Marino Special School, Bray, Co. Wicklow
Cork University Hospital School
Harcourt Street Hospital, Dublin 2
Holy Family School for Moderate Learning Disability, Charleville, Co. Cork
Our Lady of Good Counsel, Lota, Glanmire, Co. Cork
Our Lady of Lourdes Hospital, Dun Laoghaire, Co. Dublin
Our Lady's Hospital for Sick Children, Crumlin, Dublin 12
Sacred Heart Home, Drumcondra, Dublin 9
School of the Divine Child, Lavanagh, Ballintemple, Cork
School of the Holy Spirit, Seville Lodge, Kilkenny, Co. Kilkenny
Scoil Ard Mhuire, Lusk, Co Dublin
Scoil Eanna, School of the Angels, Montenotte, Cork
Scoil Triest, Lota, Glanmire, Co. Cork
St. Martin's Orphanage, Waterford
St. Clare's Orphanage, Harold's Cross, Dublin 6
St. David's, Lota, Glanmire, Co. Cork
St. Gabriel's School, Curraheen Road, Cork
St. Joseph's Orphanage, Tivoli Road, Dun Laoghaire, Co. Dublin
St. Joseph's Orphanage, Bundoran, Co. Donegal
St. Joseph's Orthapaedic Hospital for Children, Coole, Co.Westmeath
St. Joseph's School for the Visually Impaired, Drumcondra, Dublin 9
St. Kevin's Reformatory, Glencree, Co. Wicklow
St. Martha's Industrial School, Monaghan
St. Martha's Industrial School, Merrion, Dublin 4
St. Mary's Orthopaedic Hospital, Baldoyle, Dublin 13
St. Mary's Orthopaedic Hospital, Cappagh, Dublin 11
St. Mary's School for Visually Impaired Girls, Merrion, Dublin
St. Vincent's Centre for Persons with Intellectual Disability, Lisnagry, Limerick
St. Vincent's Orphanage, North William St, Dublin 9
St. Aidan's Industrial School for Girls, Newross, Co. Wexford
St. Aloysius' Industrial School for Girls, Clonakilty, Co. Cork 25
St. Ann's Industrial School for Girls and Junior Boys, Renmore, Lenaboy, Co. Galway
St. Anne's Industrial School for Girls, Booterstown, Co. Dublin
St. Anne's Reformatory School for Girls, Kilmacud, Co. Dublin
St. Anne's, Sean Ross Abbey, Roscrea, Co. Tipperary
St. Augustine's Industrial School for Girls, Templemore, Co.Tipperary
St. Augustine's, Obelisk Park, Carysfort Avenue, Blackrock, Co. Dublin
St. Bernadette's, Bonnington, Montenotte, Cork
St. Bernard's Industrial School for Girls, Fethard, Dundrum, Co. Tipperary
St. Bridgid's Industrial School for Girls, Loughrea, Co. Galway
St. Cecilia's, Cregg House, Sligo
St. Clare's Orphanage, Harold's Cross, Dublin 6
St. Coleman's Industrial School for Girls, Cobh/Rushbrook, Co. Cork
St. Columba's Industrial School for Girls, Westport, Co. Mayo
St. Conleth's Reformatory School for Boys, Daingean, Co. Offaly
St. Dominick's Industrial School for Girls, Waterford
St. Finbarr's Industrial School for Girls, Sundays Well, Marymount, Cork
St. Francis Xavier's Industrial School for Girls and Junior Boys, Ballaghadereen, Co Roscommon
St. Francis' & St Mary of the Angels, Beaufort, Killarney, Co. Kerry
St. Francis' Industrial School for Girls, Cashel, Co. Tipperary
St. George's Industrial School for Girls, Limerick
St. John's Industrial School for Girls, Birr, Co. Offaly
St. Joseph's Industrial School for Boys, Passage West, Co. Cork
St. Joseph's Industrial School for Boys, Tralee, Co. Kerry
St. Joseph's Industrial School for Girls and Junior Boys, Ballinasloe, Co. Galway
St. Joseph's Industrial School for Girls and Junior Boys, Clifden, Co. Galway
St. Joseph's Industrial School for Girls and Junior Boys, Liosomoine, Killarney, Co. Kerry
St. Joseph's Industrial School for Girls, Cavan
St. Joseph's Industrial School for Girls, Dundalk, Co. Louth
St. Joseph's Industrial School for Girls, Kilkenny
St. Joseph's Industrial School for Girls, Mallow, Co. Cork
St. Joseph's Industrial School for Girls, Summerhill, Athlone, Co. Westmeath
St. Joseph's Industrial School for Girls, Whitehall, Drumcondra, Dublin 9
St. Joseph's Industrial School for Senior Boys, Ferryhouse, Clonmel, Co. Tipperary
St. Joseph's Industrial School for Senior Boys, Glin, Co. Limerick
St. Joseph's Industrial School for Senior Boys, Greenmount, Cork
St. Joseph's Industrial School for Senior Boys, Letterfrack, Co. Galway
St. Joseph's Industrial School for Senior Boys, Salthill, Co. Galway
St. Joseph's Orphanage, Tivoli Road, Dun Laoghaire
St. Joseph's Reformatory School for Girls, Limerick
St. Joseph's School for Hearing Impaired Boys, Cabra, Dublin 7
St. Joseph's School for the Visually Handicapped, Drumcondra, Dublin 9
St. Kyran's Industrial School for Junior Boys, Rathdrum, Co. Wicklow
St. Laurence's Industrial School for Girls, Sligo
St. Laurence's Industrial School, Finglas, Dublin 11
St. Martha's Industrial School for Girls, Bundoran, Co. Donegal
St. Mary's Industrial School, Lakelands, Sandymount, Dublin 4
St. Mary's Orthopaedic Hospital, Baldoyle, Dublin 13
St. Mary's Orthopaedic Hospital, Cappagh, Finglas, Dublin 11 Sch.
St. Mary's School for Hearing Impaired Girls, Cabra, Dublin 7
St. Mary's, Delvin, Co. Westmeath
St. Mary's, Drumcar, Dunleer, Co. Louth
St. Mary's, Rochestown, Cork
St. Michael's Industrial School for Girls, Wexford
St. Michael's Industrial School for Junior boys, Cappoquin, Co.Waterford
St. Michael's, Glenmaroon, Chapelizod, Dublin 20
St. Mura's Orphanage, Fahan, Co. Donegal
St. Patrick's Industrial School for Boys, Upton, Cork
St. Patrick's Industrial School for Junior Boys, Kilkenny
St. Paul's Hospital, Beaumont, Dublin 9
St. Paul's, Montenotte, Cork
St. Saviour's Orphanage, Lr. Dominick Street, Dublin 1
St. Vincent's (House of Charity) Industrial School for Junior Boys, Drogheda, Co. Louth
St. Vincent's Industrial School for Girls, Limerick
St. Vincent's Industrial School, Goldenbridge, Inchicore, Dublin 8
St. Vincent's Orphanage, Glasnevin, Dublin 9
St. Vincent's, Navan Road, Dublin 7
Stewart's Hospital, Palmerstown, Dublin 20
Tabor House, Dublin
Temple Street Hospital, Dublin 1
The Bird's Nest Home, 19 York Road, Dun Laoghaire, Co. Dublin
The Los Angeles Homes, Dublin
The O'Brien Institute, Malahide Road, Dublin
Trudder House, Newtownmountkennedy, Co. Wicklow
Warrenstown House, Corduff Road, Blanchardstown, Dublin 15
___
http://jhaines6.wordpress.com/2013/10/24/banished-babies-the-secret-history-of-irelands-baby-export-business/