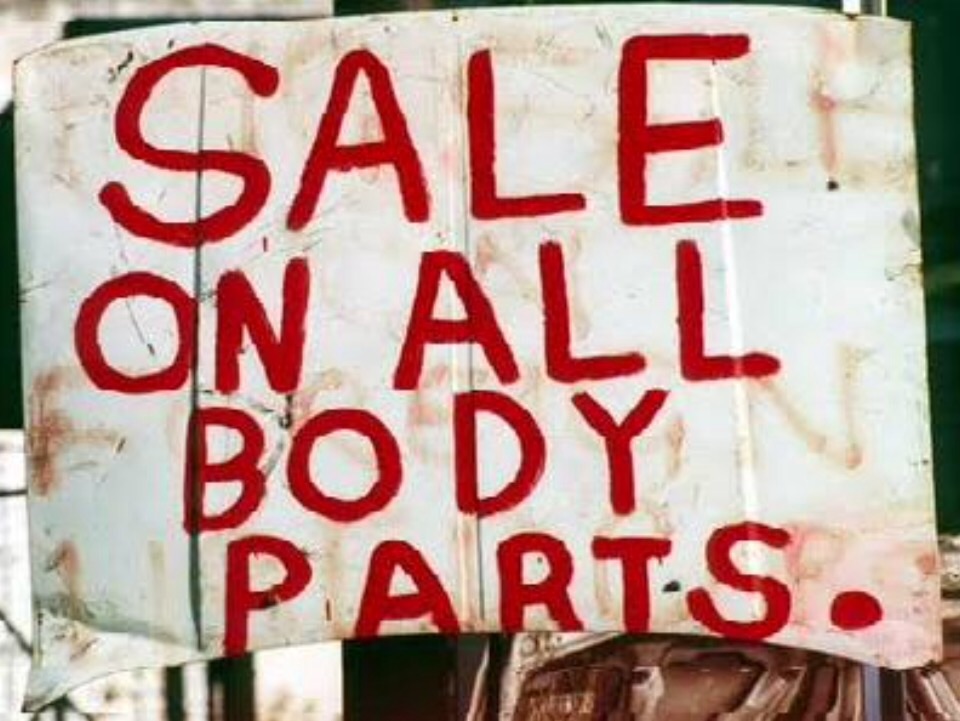 Organ Harvesting
Whale.to

Human Abuse
"If a Jew needs a kidney, is it allowed, in order to save his life, to take the kidney from a Goy (non-Jew), passing by, even if he is not guilty of anything?  In my opinion, Torah allows it. The life of a Jew is priceless"— Lubavitcher rabbi Yitzchak Ginsburgh
[2015 Nov] Bodies of murdered Palestinians are being returned by israel with organs missing  The Palestinian ambassador to the United Nations (UN) says the Tel Aviv regime is harvesting the organs of Palestinians killed in clashes with Israeli forces in the occupied territories.  Riyad Mansour said in a letter to UN Secretary General Ban Ki-moon on Wednesday that the bodies of the Palestinians killed by Israeli forces are "returned with missing corneas and other organs, further confirming past reports about organ harvesting by the occupying power."  "A medical examination conducted on bodies of Palestinians returned after they were killed by the occupying power found that they were missing organs," Mansour wrote in the letter.
[2015 Book] Birth Trauma, and the Dark Side of Modern Medicine:  Exposing the Systematic Violence During Hospital Birth and the Attempt to Hijack Our Souls by Jeanice Barcelo 
[2011 Oct] NY organ trafficker admits buying kidneys in Israel for $10,000… and selling them in U.S. for $120,000  anthropologist and organ trade expert Nancy Scheper-Hughes, who described Israel as a 'pariah' in the organ transplant world, has said in the past that many of the donors were desperately poor immigrants from eastern European countries such as Moldova, Romania and Russia.  They say the recipients are leading healthy lives thanks to Rosenbaum…..The probe led to 46 arrests, including several rabbis, the New York Daily News reports……Prosecutors said he bought the organs from vulnerable people in Israel for as little as $10,000, then sold them here for a minimum of $120,000.
[2011 Feb] Israel Economy for Beginners by GILAD ATZMON  Increasingly, Israel seems to be nothing more than a humongous money laundering haven for Jewish oligarchs, swindlers, weapons dealers, organ traffickers, organised crime and blood diamond traders…..it seems to me that the Israeli-Palestinian conflict, and Israel's horrendous crimes against the Palestinian people, actually serves to divert attention away from Israel's complicity in some colossal and global crimes against vast populations around the world.
[2010] The Return of the Body Snatchers By Israel Shamir Donald Boström, a Swedish photographer who worked in the West Bank in 1992, was tipped off by UN officials to follow the bloody trail of Israeli soldiers who had kidnapped young Palestinians and returned their dead bodies five days later "with a slit from the abdomen up to the chin."
[2010] SA Hospital Guilty of Organ Trafficking  Netcare KwaZulu pleads guilty to organ trafficking. Children were among poor paid to have a kidney removed
[2010] Israel Human Organ Theft in Haiti by STEPHEN LENDMAN
[2010] Body Parts and Bio-Piracy by Nancy Scheper-Hughes  In its heyday (1997-2007), the Israeli transplant tourism/organ-trafficking network was an ingenious and extremely lucrative multimillion-dollar program that supplied a few thousand Israeli patients and diasporic Jews worldwide with the "fresh" organs and transplants they needed. With Rosenbaum's arrest, the U.S. media were suddenly interested in the Israeli-based transplant-trafficking scheme, now that there was a proven link to hospitals in New York City. …..After my tape was released in Israel, on December 19, 2009, to Israeli TV's Channel 2, government officials for the army and the Ministry of Health admitted that organs and tissues were harvested from the dead bodies of both Palestinians andIsraelis throughout the 1990s, but that the practice ended in 2000…..In fact, according to Kugel, "Organs were sold to anyone; anyone that wanted organs just had to pay for them." While skin, heart valves, bones, and corneas were removed and used for transplants, solid organs – hearts, brains, livers – "were sold for research, for presentations, for drills for medical students and surgeons."
…..To Dr. Kugel the prime issue had nothing at all to do with science: it was about disrespect, about hoarding body specimens, about turning the Institute intoa factory of bodies. The Institute's conduct was motivated by money, by power, and by authoritarian paternalism of the sort that says, "We know what's good for you, we'll decide what happens to you, the person who doesn't know anything. We'll decide." And that's the reason why that happened, and Dr. Kugelasserts it is happening to this day.
[2009] Is Israel a State or An Organ Harvesting Mafia? by KAWTHER SALAM by KAWTHER SALAM
[2009] Organ Failure  The arrests of rabbis who trafficked body parts uncover more complicated issues.
[2009 Aug] Our sons plundered for their organs By Donald Boström
[2004] UC Berkeley anthropology professor working on organs trafficking
[2004] Israeli organ traffickers shift operations to China  There is no law in Israel against organ trafficking and government policy effectively encourages it by allowing Israelis who go abroad for transplants to be reimbursed as much as $80,000.
Quotes
"Israel is at the top," she states. "It has tentacles reaching out worldwide. (It has) a pyramid system at work that's awesome….they have brokers everywhere, bank accounts everywhere; they've got recruiters, they've got translators, they've got travel agents who set up the visas." — Nancy Scheper-Hughes. UC Berkeley Professor of Medical Anthropology
"As for the Goyim… Zalman's attitude (was): "Gentile souls are of a completely different and inferior order. They are totally evil, with no redeeming qualities whatsoever."…If every simple cell in a Jewish body entails divinity, is a part of God, then every strand of DNA is a part of God. Therefore, something is special about Jewish DNA…" "…If a Jew needs a liver, can you take the liver of an innocent non-Jew passing by to save him? The Torah would probably permit that. Jewish life has an infinite value," he explained. "There is something infinitely more holy and unique about Jewish life than non-Jewish life."— Chabad-Lubavitch Rabbi Yitzchak Ginsburgh in "Jewish Week," the largest Jewish publication in the United States, April 26, 1996.
The 3rd classification is the classification of healthy prisoners for the international human organ center, where their vital organs will be removed one by one while they will be be maintained in life with special life-support systems. [1994] Serge Monast Talk Explaining NASA's Project Blue Beam
Nancy Scheper-Hughes with Alberty Alfonso da Silva in his mud-walled hut in a slum of Recife, Brazil. Alberty was trafficked in August 2003 to Durban, South Africa, where he sold his kidney to an American kidney patient who was flown in from New York City. (Photo by John Maier)
Bilal Achmed Ghanan, 19, was shot and taken away by Israeli soldiers. The body was returned stitched together from the belly to the neck.
Levy Izhak Rosenbaum being led away by FBI agents. Rosenbaum is alleged to have functioned as a middleman in the illegal organ trafficking scheme.