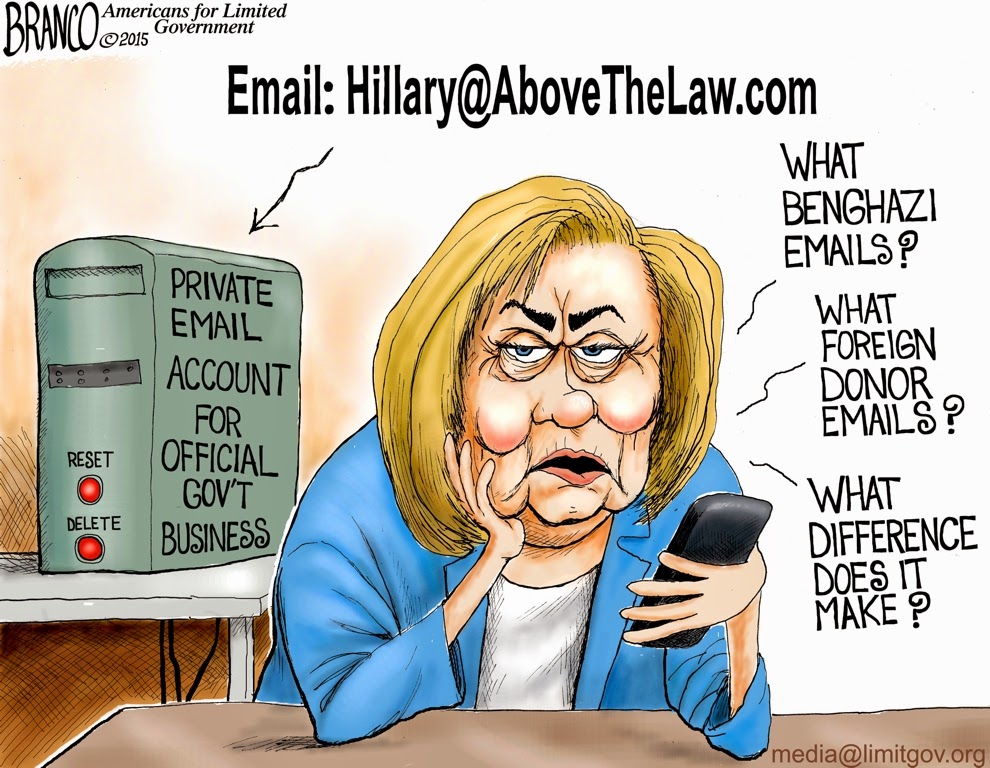 Obama-Clinton-Adedin-Weiner Conspiracy Unravels! Former Asst. US Attorney Blows Lid Off of Emailgate!
Like Watergate, the Cover-up Will Take
Down the Obama-Clinton-Abedin Crime
Team
Obama, Clinton, Abedin, Weiner Are Co-conspirators In The Greatest US Government Crime Spree Cover-up Ever
Abedin Accuses Assange of Cyber-Crime When She and Clinton are the Criminals Who Set Up the Unlawful Server and Email
SOTN Editor's Note:
The real irony presented in the following RT article is that it is the Barack Obama-Hillary Clinton-Huma Abedin tag team that committed serious crimes in the establishment of a home-based server and private email address to conduct official government business at State. The primary reason why Wikileaks was able to hack Secretary of State Clinton's email was because of how unsecured and utterly exposed it was.
And yet, Abedin is calling Julian Assange a criminal for doing what whistleblowers do—calling out government officials for their serial misconduct and serious crimes perpetrated against the people and the country.  As for Secretary Clinton's central role in this unrivalled debacle, she is now legally barred from holding public office in the United States Government. Nevertheless, she still runs for POTUS even though as a trained lawyer she knows the law quite well in this regard.
U.S. CODE: Hillary R. Clinton is disqualified from holding any public office in the United States Government
Again, only because Clinton & Company broke several laws in the administration of their illegal email system did this unparalleled breach of national security laws occur.  They are the real criminals blaming their illicit behavior on the hero Assange who exposed them.
With the breaking of the unprecedented Weinergate scandal, Abedin herself is even more guilty of the gross mishandling of state property (and quite possibly state secrets). That her highly compromised sexting husband possessed 650,000 of her work-related emails on his personal computer is as inconceivable as it is a clear violation of federal law. And the FBI has been on to them from the start.
You Simply Don't Stonewall An FBI Investigation…And Expect To Get Away With It
The Clinton-Abedin Crime Team Still Hasn't Got A Clue
Apparently Abedin was unaware at the time that the only reason why Clinton was not prosecuted to the fullest extent of the law is because President Barack Obama was just as guilty of using the same illicit email account to send and receive classified information. Abedin herself was told by the FBI that Obama used a secret handle by which he unlawfully sent classified info outside of the government communication system.
Clinton and Obama Revealed As Co-Conspirators, Irrefutable FBI Evidence Proves Cover-up Of Classified Info Exchanges
The bottom line of this ongoing Executive Branch crime saga is that all of the aforementioned co-conspirators are not only guilty of grave felonious conduct, they all colluded to cover up the numerous crime.  Obama only interfered in the ongoing email FBI investigation in order to avoid being charged with the same crimes as Clinton.  His false public proclamations of her innocence are quite unheard of in U.S. political history, but perfectly understood now when viewed through the lens of his own complicity.
When a former Assistant United States Attorney for the Southern District of New York weighs in the matter by disclosing the indisputable facts without any media spin, the true depth and breadth of the conspiracy comes into stark relief.  Former prosecutor Andrew C. McCarthy is also a columnist for National Review wherein he deftly deconstructs the Emailgate crime scene in a following exposé.  This particular breakdown of the facts of the case establishes Obama as an unindicted co-conspirator and ought to be read by every American citizen. 
Failure to Indict Clinton Only Because of Obama's Complicity–He Also Sent Classified Info Unsecured
Very few really understand what is really being covered up by the likes of Emailgate, Servergate, Benghazigate, and now Weinergate.  As the truth is disclosed by the FBI and other law enforcement agencies, this series of interlocking scandals will be understood as the greatest cover-up of US government criminality in modern history.
The Hidden Agenda Behind Emailgate, Servergate and Benghazigate…
And Why They Will Not Go Away
It will also likely be responsible for the dissolution of the Obama Administration between now and January 20th, or of a Clinton Administration should she outright steal the election.
State of the Nation
November 5, 2015
N.B.  The following two articles have been posted in their entirety to both preserve the public record and provide critical background information for those who are unaware of the true Emailgate back story. Why is the Clinton Emailgate Scandal so HUGE?
~~~~~~~~~~~~~~~~~~~~~~~~~~~~~~~~~~~~~~~~~~~~~~~~~~~~~~~~~~~~~~
'Clever-cyber thief to a convicted criminal': Huma Abedin & Clinton discuss Assange in emails
RT.com
Newly released emails from the US State Department reveal Hillary Clinton and her senior aide Huma Abedin discussing ways to deal with WikiLeaks founder Julian Assange after he had published 250,000 diplomatic cables.
Abedin writes to Clinton in December 2010, advising the then-secretary of state on her statement on Assange and WikiLeaks.
"We view this not as a "clever game" of wiki leaks but rather as a "criminal act" against the United States of America," Abedin writes. "He might think this is a clever game today-but when he is prosecuted and if convicted-he will move from being a clever-cyber thief to a convicted criminal–and will find out that's a whole different kind of game."
READ MORE: The State Department releases the latest batch, #18, of Clinton emails

More than 1,000 emails from Clinton's private email server were published on the State Department website Thursday as part of a Freedom of Information request by Vice News into the FBI's investigation into the private server.
Many of the emails have already been released by WikiLeaks, but this one is new.
The State Department is due to release another batch of emails Friday.
Hillary Clinton on Assange "Can't we just drone this guy" — report https://t.co/S7tPrl2QCZ pic.twitter.com/qy2EQBa48y

— WikiLeaks (@wikileaks) October 3, 2016
Clinton had strong statements on Assange on other occasions. Earlier this year, it emerged that in the lead up to WikiLeaks' 'CableGate' release, Clinton reportedly said, "Can't we just drone this guy?" in a State Department meeting.
READ MORE: Hillary Clinton considered drone attack on Julian Assange – report 

At that stage, the whistleblowing site had already published damning documents on the war in Afghanistan and Iraq.
In October, Clinton commented on NSA whistleblower Edward Snowden at a town hall event in October.
"Because he took valuable information and went first to China and then is now under the protection of Vladimir Putin, I think that raises a lot of questions about everything else he did," she said. "So I do not think he should escape having to return and answer for what he has done."
#Snowden should return to US but 'answer for what he's done' – Clinton http://t.co/OzBpPEX8tj pic.twitter.com/nr1wYyMBxa

— RT (@RT_com) October 17, 2015
___
'Clever-cyber thief to a convicted criminal': Huma Abedin & Clinton discuss Assange in emails — RT America
~~~~~~~~~~~~~~~~~~~~~~~~~~~~~~~~~~~~~~~~~~~~~~~~~~~~~~~~~~~~~~
Obama's Conflict Tanked the Clinton E-mail Investigation — As Predicted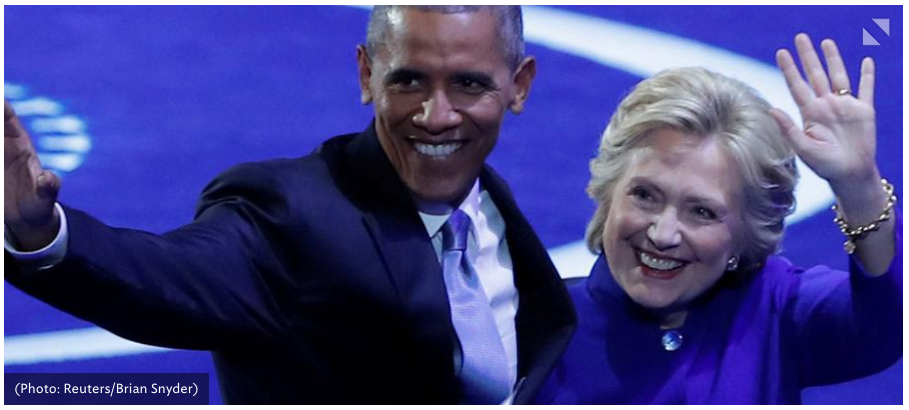 Hillary couldn't be proven guilty without proving the president guilty as well.
ANDREW C. MCCARTHY
The National Review
'How is this not classified?"
— Huma Abedin
So exclaimed Hillary Clinton's close aide and confidante, Huma Abedin. The FBI had just shown her an old e-mail exchange, over Clinton's private account, between the then-secretary of state and a second person, whose name Abedin did not recognize. The FBI then did what the FBI is never supposed to do: The agents informed their interviewee (Abedin) of the identity of the second person. It was the president of the United States, Barack Obama, using a pseudonym to conduct communications over a non-secure e-mail system — something anyone with a high-level security clearance, such as Huma Abedin, would instantly realize was a major breach.
Abedin was sufficiently stunned that, for just a moment, the bottomless capacity of Clinton insiders to keep cool in a scandal was overcome. "How is this not classified?"
She recovered quickly enough, though. The FBI records that the next thing Abedin did, after "express[ing] her amazement at the president's use of a pseudonym," was to "ask if she could have a copy of the email."
Thanks to Friday's FBI document dump — 189 more pages of reports from the Bureau's year-long foray ("investigation" would not be the right word) into the Clinton e-mail scandal — we now know for certain what I predicted some eight months ago here at NRO: Any possibility of prosecuting Hillary Clinton was tanked by President Obama's conflict of interest.
As I explained in February, when it emerged that the White House was refusing to disclose at least 22 communications Obama had exchanged with then-secretary Clinton over the latter's private e-mail account, we knew that Obama had knowingly engaged in the same misconduct that was the focus of the Clinton probe: the reckless mishandling of classified information.
To be sure, he did so on a smaller scale. Clinton's recklessness was systematic: She intentionally set up a non-secure, non-government communications framework, making it inevitable that classified information would be mishandled, and that federal record-keeping laws would be flouted. Obama's recklessness, at least as far as we know, was confined to communications with Clinton — although the revelation that the man presiding over the "most transparent administration in history" set up a pseudonym to conceal his communications obviously suggests that his recklessness may have been more widespread.
Still, the difference in scale is not a difference in kind. In terms of the federal laws that criminalize mishandling of classified information, Obama not only engaged in the same type of misconduct Clinton did; he engaged in it with Clinton. It would not have been possible for the Justice Department to prosecute Clinton for her offense without its becoming painfully apparent that 1) Obama, too, had done everything necessary to commit a violation of federal law, and 2) the communications between Obama and Clinton were highly relevant evidence.
Obama not only engaged in the same type of misconductClinton did; he engaged in it with Clinton.
Indeed, imagine what would have happened had Clinton been indicted. The White House would have attempted to maintain the secrecy of the Obama-Clinton e-mails (under Obama's invocation of a bogus "presidential communications" privilege), but Clinton's defense lawyers would have demanded the disclosure of the e-mails in order to show that Obama had engaged in the same misconduct, yet only she, not he, was being prosecuted. And as most experienced criminal-law lawyers understand (especially if they've read a little Supreme Court case known as United States v. Nixon), it is an argument that Clinton's lawyers would have won.
In fact, in any other case — i.e., in a case that involved any other unindicted co-conspirator — it would be the Justice Department itself introducing the Obama-Clinton e-mails into evidence.
As noted above, the FBI told Huma Abedin that the name she did not recognize in the e-mail with Clinton was an Obama alias. For the agents to do this ran afoul of investigative protocols. The point of an FBI interview is for the interviewee to provide information to the investigators, not the other way around. If agents give information to potential witnesses, the government gets accused of trumping up the case.
But of course, that's only a problem if there is actually going to be a case.
In this instance, it was never going to happen. The president's involvement guaranteed that . . . so why worry about letting Abedin in on the president's involvement?
Abedin was startled by this revelation. No wonder: People in her lofty position know that direct presidential communications with high-ranking officials who have national-security and foreign-policy responsibilities are presumptively classified.
To convey this, and thus convey the legal significance of Obama's involvement, I can't much improve on what I told you back in February. When the Obama Justice Department prosecuted retired general David Petraeus, the former CIA director, for mishandling classified information, government attorneys emphasized that this top-secret intelligence included notes of Petraeus's "discussions with the president of the United States of America."
Petraeus pled guilty because he knew the case against him was a slam-dunk. He grasped that trying to defend himself by sputtering, Clinton-style, that "the notes were not marked classified" would not pass the laugh test. As I elaborated in the February column, when you're a national-security official engaging in and making a written record of policy and strategy conversations with the president, the lack of classified markings on the documents you've created
[does] not alter the obvious fact that the information they contain [is] classified — a fact well known to any high government official who routinely handles national-defense secrets, let alone one who directly advises the president.
Moreover, as is the case with Clinton's e-mails, much of the information in Petraeus's journals was "born classified" under the terms of President Obama's own executive order — EO 13526. As I've previously noted, in section 1.1(d) of that order, Obama issued this directive: "The unauthorized disclosure of foreign government information is presumed to cause damage to the national security." In addition, the order goes on (in section 1.4) to describe other categories of information that officials should deem classified based on the damage to national security that disclosure could cause. Included among these categories: foreign relations, foreign activities of the United States, military plans, and intelligence activities.
Abedin knew, as the FBI agents who were interviewing her surely knew, that at least some of Obama's pseudonymous exchanges with Clinton had to have crossed into these categories. They were born classified. As I said in February, this fact would profoundly embarrass Obama if the e-mails were publicly disclosed.
Hundreds of times, despite Clinton's indignant insistence that she never sent or received classified information, the State Department has had to concede that her e-mails must be redacted or withheld from public disclosure because they contain information that is patently classified. But this is not a concession the administration is willing to make regarding Obama's e-mails.
That is why, as I argued in February, Obama is trying to get away with the vaporous claim that presidential communications must be kept confidential. He does not want to say "executive privilege" because that sounds too much like Nixon. More important, the only other alternative is to designate the e-mails as classified. That would be tantamount to an admission that Obama engaged in the same violation of law as Clinton.
Again, this is why the prosecution of Mrs. Clinton never had a chance of happening. It also explains why, in his public statements about the matter, Obama insisted that Clinton's e-mailing of classified information did not harm national security. It is why Obama, in stark contrast to his aforementioned executive order, made public statements pooh-poohing the fact that federal law forbids the mishandling of any intelligence secret. ("There's classified, and then there's classified," he said, so cavalierly.) He had to take this position because he had himself effectively endorsed the practice of high-level communications through non-secure channels.
This is also why the Justice Department and the FBI effectively rewrote the relevant criminal statute in order to avoid applying it to Clinton. In his public statements about Clinton, Obama has stressed that she is an exemplary public servant who would never intentionally harm the United States. In rationalizing their decision not to indict Clinton, Justice Department officials (in leaks to the Washington Post) and the FBI director (in his press conference and congressional testimony) similarly stressed the lack of proof that she intended to harm the United States.
As I've repeatedly pointed out, however, the operative criminal statute does not call for proof of intent to harm the United States. It merely requires proof of gross negligence. This is entirely lawful and appropriate, since we're talking about a law that can apply only to government officials who have a special duty to preserve secrecy and who have been schooled in the proper handling of classified information. Yet the Justice Department frivolously suggested that applying the law exactly the way it is written — something the Justice Department routinely tells judges they must do — would, in Clinton's case, potentially raise constitutional problems.
Alas, the Justice Department and the FBI have to take that indefensible position here. Otherwise, Clinton would not be the only one in legal jeopardy.
I will end with what I said eight months ago:
To summarize, we have a situation in which (a) Obama knowingly communicated with Clinton over a non-government, non-secure e-mail system; (b) Obama and Clinton almost certainly discussed matters that are automatically deemed classified under the president's own guidelines; and (c) at least one high-ranking government official (Petraeus) has been prosecuted because he failed to maintain the security of highly sensitive intelligence that included policy-related conversations with Obama. From these facts and circumstances, we must deduce that it is possible, if not highly likely, that President Obama himself has been grossly negligent in handling classified information.
That is why the Clinton e-mail scandal never had a chance of leading to criminal charges.
— Andrew C. McCarthy is a policy fellow at the National Review Institute. His latest book is Faithless Execution: Building the Political Case for Obama's Impeachment.
___
http://www.nationalreview.com/article/440380/obama-email-alias-clinton-why-fbi-didnt-prosecute-hillary