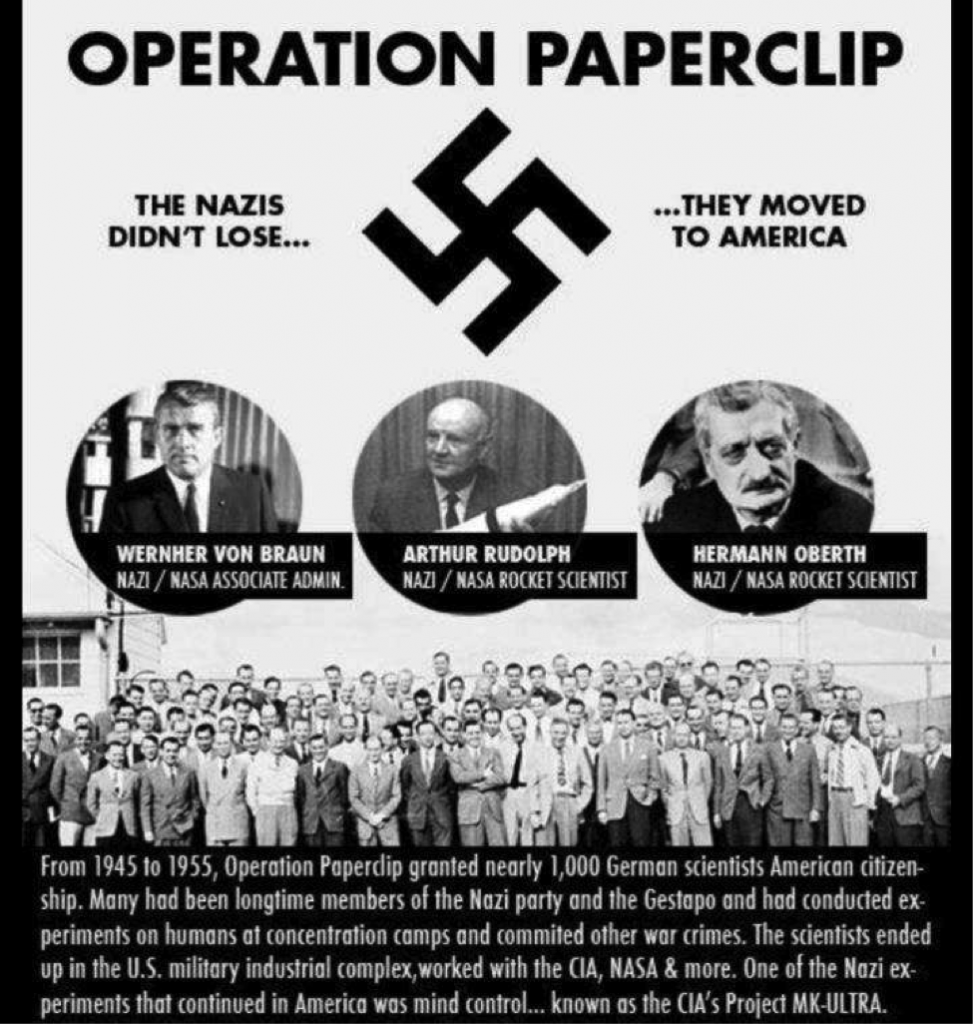 Operation Paperclip: When The CIA Recruited Nazis And War Criminals To Work For The U.S. Government
Project Paperclip: CIA Smuggled In And Hired Thousands Of Nazis And Hundreds of War Criminals To Develop And Set Off Nuclear Atom Bombs On US Soil, US Corporations Built And Supported Hitler War Machine
by Dr. Good Heart
A Green Road Journal
Key figures
CIA OPERATION PAPERCLIP VIDEO
Operation Paperclip was the code name under which the US intelligence and military services extricated scientists from Germany, during and after the final stages of World War II. The project was originally called Operation Overcast, and is sometimes also known as Project Paperclip.
Of particular interest were scientists specialising in aerodynamics and rocketry (such as those involved in the V-1 and V-2 projects), chemical weapons, chemical reaction technology and medicine. These scientists and their families were secretly brought to the United States, without State Department review and approval; their service for Hitler's Third Reich, NSDAP and SS memberships as well as the classification of many as war criminals or security threats also disqualified them from officially obtaining visas. An aim of the operation was capturing equipment before the Soviets came in. The US Army destroyed some of the German equipment to prevent it from being captured by the advancing Soviet Army.
The majority of the scientists, numbering almost 500, were deployed at White Sands Proving Ground, New Mexico, Fort Bliss, Texas and Huntsville, Alabama to work on guided missile and ballistic missile technology. This in turn led to the foundation of NASA and the US ICBM program.
4,000 NAZI'S WENT TO WORK FOR US GOVERNMENT AFTER WWII
Over 4,000 former Nazis went to work for the U.S. government, without the public's knowledge, to help fight the Soviet Union. Reinhard Gehlen, an intelligence officer for Hitler's General Staff, was tapped to head the U.S. intelligence program in West Germany to spy on the Russians. At the same time, former Nazi scientists and engineers were welcomed onto American soil. But the extent of these operations is only now becoming clear: In 1998, a law was passed mandating declassification of documents concerning recruitment of former Nazis. CIA AND THE NAZIS examines these files to see how far the U.S. went in recruiting its former enemy to fight its new one.
The truth is, thousands of former Nazis, some of whom committed atrocities, went to work for the United States government without the public's knowledge. During the war, their crimes ranged from overseeing slave labor camps to sending orphans to their deaths. After the war, they were on the US payroll either as scientists in America or as intelligence agents in Europe."
Many Nazis, some of whom committed war atrocities, such as overseeing death camps, were imported into the USA. The US government was willing to hide those Nazi secrets and their ID's from Americans. The US government was willing to hire and pay money to anyone who had what they wanted, such as nuclear information. Thousands of 110% Nazi's were imported into the USA after the end of World War II. What effect did the importation of these radical individuals have on the US, and on the for profit military industrial complex?
AMERICA'S NAZI SECRET AND THE TWO CIA'S IN THE US, ONE FOR THE REPUBLICANS AND ANOTHER FOR THE DEMOCRATS, HISTORICALLY AND TODAY
Fully revised and expanded, America's Nazi Secret by John Loftus reveals how the U.S. government permitted the illegal entry of Nazis into North America in the years following World War II. This extraordinary investigation exposes the secret section of the State Department that began, starting in 1948 and unbeknownst to Congress and the public until recently, to hire members of the puppet wartime government of Byelorussia—a region of the Soviet Union occupied by Nazi Germany. The author, a former Justice Department investigator, uncovered this stunning story in the files of several government agencies. The revised and expanded version includes a chapter previously banned from release by authorities and a foreword and afterword with recently declassified materials.
America's Nazi Secret is an insider's history of how the United States Department of Justice obstructed Congress by: 
Blocking congressional investigations into famous American families who funded Hitler, Stalin and Arab terrorists.
Lying to Congress, the GAO, and the CIA about the postwar immigration of Eastern European Nazi war criminals to the US.
Concealing from the 9/11 investigators the role of the Arab Nazi war criminals in recruiting modern Middle Eastern terrorist groups.
Author John Loftus is a former U.S. government prosecutor, a former Army intelligence officer, and the author of numerous books. He has appeared regularly as a media commentator on ABC National Radio and Fox News. He lives in St. Petersburg, Florida.
MEMBERS OF SS JOINED US MILITARY VIA CIA AFTER WORLD WAR II
At the end of WWII, members of the SS started to approach US forces and offer information for sale. Nazi General Galen was one of those experts who had Nazi intelligence files. He turned himself in to US forces two weeks after the Germans surrendered. Because he knew a lot about the Soviets, the CIA wanted him. He played on US fears of the Soviets.
General Galen claimed that the Soviets were power hungry, not to be trusted, land greedy and had an army that should be feared. General Galen and ten of his staff were smuggled into the USA, right after the war and he was put on the CIA payroll. He reinvented himself and claimed that he was not really a Nazi, and that he could play intelligence officer for the CIA, against the Soviet Union. He ended up having a staff of hundreds, made up mostly of former Nazis.
Stalin made some moves in 1946 that scared the US military, so they started courting Nazi intelligence officers and recruiting them. Before this point, they were hunting Nazis to put them in jail and charge them with war crimes. Now the bigger fear was the Soviets, so the Nazis turned into the best friends and were put on the payroll of the US government, specifically of the CIA, much like Communist China is now the best friend and most favored trading nation of the US today.
A Top Secret program called Project Paper Clip was put into effect after WWII by the CIA. War criminals were supposed to be avoided and excluded from this super secret nuclear information import of Nazis into this US program. But when most of the Nazi scientists and other experts failed this war criminals test, the CIA recruiters simply falsified the Nazi's files and sent those to the State Dept. urging them to hire these criminals, just so that the Soviets could not have them.
CIA-NAZIS: TERROR AND MURDER INCORPORATED
Once the war ended, thousands of SS men, murderers, torturers, killers of women, children and babies, were recruited by Dulles, including, as admitted by the CIA on April 29, 2001 (11), Klaus Barbie, the infamous "Butcher of Lyon." Barbie was eventually convicted of crimes against humanity by a French court.
Navy Barracks in Coronado, CA: After World War II, the CIA eventually split into two factions, one which was controlled by Nazis/fascists that had allied with the Klan's political engine. By 1967, the Nazification of the CIA and Republican Party was complete, and they were so deeply enmeshed in the political establishment, and in the military and intelligence community they could build navy barracks like this one.
That George W. Bush's grandfather, Prescott Bush, was involved in financing the Nazis isn't contested nor is the fact that he was part of a criminal cabal that actively sought to impose a fascist coup in America in the 30s (the Business Plot). Under George W. Bush, however, this fascist state– one completely controlled by Wall Street– that Prescott Bush envisioned came into being with the passage of the Patriot Act. 
For more on this, read; http://club5150.com/cia-nazis-terror-murder/
BRITISH BANKERS AND HO– USE OF WINDSOR, UK ROYALTY BACKED HITLER AND HIS RACIST BELIEF SYSTEM
"The British monarchy, and the City of London's leading Crown bankers, enthusiastically backed Hitler and the Nazis, bankrolled the Führer's election, and did everything possible to build the Nazi war machine, for Britain's planned geopolitical war between Germany and Russia. Support for Nazi-style genocide has always been at the heart of House of Windsor policy, and long after the abdication of Edward VIII, the Windsors maintained their direct Nazi links. ….."To get beyond the soap opera stuff and truly understand the Windsors today, it is useful to start with Prince Philip. Not only was he trained in the Hitler Youth curriculum, but his German brothers-in-law, with whom he lived, all became high-ranking figures in the Nazi Party…."
100 US CORPORATIONS BUILT UP AND SUPPLIED THE HITLER WAR MACHINE; VIDEO OF TEN AMERICAN COMPANIES THAT AIDED HITLER AND HELPED HIM INVADE OTHER COUNTRIES
Hitler Financed, Supplied By 100 US Corporations; Coca Cola, Metro Goldwyn Mayer, Chase Manhattan Bank, Dow Chemical, Brown Brothers Harriman, Woolworth, Alcoa, Ford, GM, IBM, Standard Oil, BBH Prescott Bush
http://www.agreenroadjournal.com/2016/07/hitler-financed-supplied-by-us.html
Top 10 American Companies that Aided the Nazis — TopTenzNet
VIDEO http://youtu.be/AojiX7QFuxM 8 min.
DOCUMENTARY; HITLERS AMERICAN BUSINESS PARTNERS WERE FUNDAMENTAL TO HITLER HAVING THE SUCCESS THAT HE DID, AND HE COULD NOT HAVE DONE WHAT HE DID WITHOUT THESE CORPORATIONS HELP, FINANCING AND SUPPORT
Hitler's American Business Partners
This documentary uncovers the unholy alliance between Nazi Germany and some of the biggest corporations in the US — companies which were indispensable for Hitler to wage war. Henry Ford, the automobile manufacturer; James D Mooney, the General Motors manager; and Thomas Watson, the IBM boss were all awarded the Grand Cross of the German Eagle — the Nazi's highest distinction for foreigners for their services to the Third Reich.
http://twitter.com/theDossier_info
TRADING WITH THE ENEMY; THE BUSH DYNASTY WAS DEEPLY INVOLVED IN SUPPORTING THE NAZI FASCIST WAR MACHINE, JUST AS MODERN DAY PRESIDENT BUSH HAD DEEP TIES TO THE DICTATORIAL SAUDI REGIME, LINKED TO 9/11
The Oligarchical Bush Family of Generational Treason
VIDEO: http://youtu.be/a4jrv71ZfgA 45 min.
The Oligarchical Bush Family of Generational Treason from the Nazi SS and Adolf Hitler to Osama bin Laden. The journalist in this video is providing factually true evidence. The oligarchical Bush family of generational treason reaching back to the namesake of the two Bush presidents, George Herbert Walker. The way we do anything is the way we do everything. 
In the same manner that Prescott Bush traded with the Nazi industrial complex against the United States during WWII, so too did both Bush presidents with the Carlyle Trading Group and Bin Laden family. Unbeknownst to the Saudi Arabian 911 hijackers, was that a number of those same enemy combatants were also psychologically conditioned CIA jackal assets.
WHAT WILL THE LONG TERM CONSEQUENCES BE, OF DEVELOPING AND BUILDING NUCLEAR WEAPONS IN EVERY COUNTRY GLOBALLY?
Ethically however, no matter who ended up inventing it first, every country, including the US, needs to consider the implications and long term consequences on seven future generations of nuclear bombs and nuclear weapons including depleted uranium weapons. What will happen in the future, if each country on Earth with nuclear weapons uses nuclear bombs on civilians cities? The US has already done this multiple times, and continues to do so by using depleted uranium weapons and ammunition, and exporting nuclear power reactors to all kinds of other countries illegally.
Isn't the US acting much like the Nazis did, in a way that mimics their actions of global militarism and global conquest? The US has thousands of military bases all around the world. The US often expresses it's power in a way that does not lead to healthy democracy in the country touched by that power.
ONE CONSEQUENCE: DECEPTION, SECRECY AND CORRUPTION INSIDE THE CIA, MILITARY INDUSTRIAL COMPLEX
Could the importation of Nazis into the social, cultural and economic fabric of the United States have infected it with a form of corporate driven Nazi Fascism, inside of the military industrial corporate and political complex?
Art And Science Of Deception; Global Corporations And The 1%
Nazis did not think long term, and neither does the US military industrial complex or the nuclear industry. The Nazis thought only about short term results, as do the huge global corporations that make up the military industrial complex, as well as a huge percentage of everyday commerce inside the US.
Bottom line, these huge corporations have gotten very good at extracting wealth from everyone, while transferring risk back to them, and keeping all of the profits, getting corporate subsidies, while paying zero taxes. It is a win win win game for corporations, and lose, lose, lose for individuals and communities.
These huge corporations have undue influence on politics, the media and politicians, just to name a few. The consequences are being experienced by billions of people globally, but not many people know about the consequences due to the effective PR and lobbying cash infusion campaign that these corporations put out in many different directions.
STUDY EXPLAINS HOW RELIGION, SCIENCE AND MEDICINE CAN BE PERVERTED AND CORRUPTED; IT IS REALLY EASY TO DO AND TO PULL IT OFF SUCCESSFULLY FOR LONG PERIODS OF TIME
Psychiatry during the Nazi era: ethical lessons for the modern professional 2007
"The experience of psychiatry during the Nazi era provides an example of how science can be perverted by politics and therefore can become vulnerable to misuse and abuse. An exclusive focus on the monstrous aspects of Nazi medicine enables us to dismiss such events as aberrant and deviant, with a subsequent failure to internalize the inherent and very real dangers of the perversion of science and clinical management by outside political influences. Psychiatry cannot afford to turn a blind eye to such a past."
WHY ALL NUCLEAR PLANTS NEED TO BE SHUT DOWN AND DISMANTLED
Each country needs to think seven future generations into the future. What effect will low level radiation have on seven future generations, if present trends continue?
Why All Nuclear Power Plants Must Be Shut Down
Nuclear accidents keep on taking out thousands of square miles of fertile land and water that used to be utilized for raising food. This is happening at a rate of about one nuclear accident every couple of years. There are many more nuclear and radioactive accidents, leaks and mishaps than people realize.
Nuclear Accidents, Recycling Nuclear Weapons/Fuel
Nuclear accidents and the emissions from all nuclear facilities have irreversible and long term negative effects on the genetic structure of all living beings; insects, animals, fish and humans.
Individual Radioactive Elements/Isotopes, USA Radiation Exposure
Low level radiation affects millions of children yearly in a negative manner, reducing their capacity for happiness and a full life.
Low Dose Radiation Dangers/Symptoms For Children And Adults
What if we stopped living in fear of each other? Would that not stop the desire to build more nuclear weapons?
Nuclear Bombs, Nuclear Weapons, Nuclear War
What if we focused on peaceful co-existence and solving problems through non violent methods? What if we taught this science in schools?
Peace, War, Human Rights, Justice, Prisons, And Violence Prevention
What if we taught our children how to think seven future generations into the future, instead of just for the short term, with no thought of the consequences?
Holistic Living, Green, Renewable Energy
The consequences of living in fear and developing Nazi weapons is not worth the price billions of people must pay for the next million years, due to the lack of any effective answers for nuclear waste products.
Long Term Storage Of Nuclear Fuel, Nuclear Waste
Hitler rose to power with the help of bankers and corporations from the US and the UK. He could not have built up his huge war machine except with their help and support. This support continued on even into the days AFTER the US and UK declared war on Germany. Corporations and bankers do not care who wins or loses in war, and they make sure that they make a PROFIT off of both sides. War is very profitable, much more so than ordinary commerce. For the same reason, bankers are also involved in drug money laundering, because it is VERY PROFITABLE.
The appearance of freedom and democracy is maintained on the surface, so that people can believe in something. Meanwhile, underneath, these very dark forces intent on destruction, killing, suffering, racism, and profit are holding all of the reigns of power. The 1 percent manipulate the news, events, and create false flag attacks if needed, in order to start wars that they then profit from, ON BOTH SIDES.
Medical doctors, Christian churches and psychiatrists were all perverted and corrupted, allowing Nazism to flourish in Germany. They are all vulnerable to abuse, misuse and corruption, especially when lots of money is involved, as it is today. The fact is that Nazism or Fascism is not an isolated extreme example, but rather, it is a common place, every day thing that happens all around the world, especially in countries where huge corporate monopolies exert huge financial, political and mass media pressure on every profession and every community.
The Science Of Sustainable Health needs to be taught in all schools, from grade school to college and graduate universities. The consequence of not doing this is the extinction of the human race, as it races towards doom, imposed by short term PROFIT thinking with no thoughts regarding consequences of actions taken in haste and only for money.
The American Indians believed that anyone who had greed/short term profit as a motivation in life was mentally ill, and they were right.