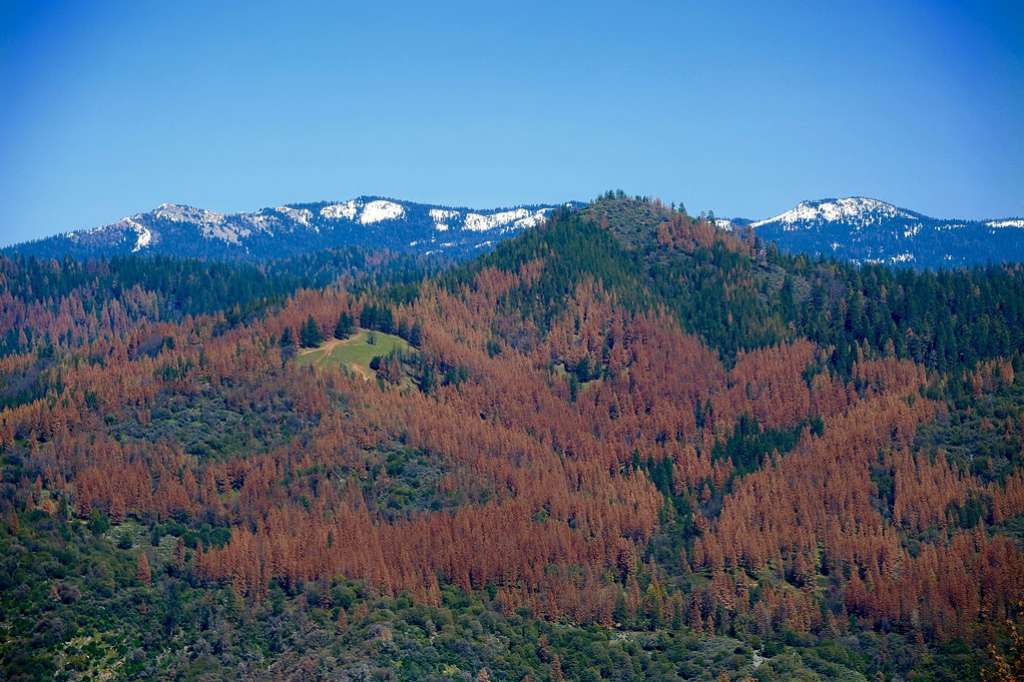 Mass Die-Off Of Forests Happening Globally And Accelerating Death Rate Of Trees Is Increasing
by Dr. Good Heart
A Green Road Journal
This article documents the mass die off of forests all around the world. If trees were another alien species and human kind was a visitor from another planet, what humanity is doing to the trees of the world would be considered a crime of genocide. The levels of loss are so overwhelming that there is no way for humanity to continue on the present course and still have a habitable planet.
Green things grow faster with
increased CO2
, but the damage caused by increasing acid (CO2 is acid), which then creates more
acid oceans,
acid rain
,
acid soils,
plus global warming and the resulting climate changes is not only cancelling out this 'benefit', but it is resulting in increased harm to forests, at an accelerating rate. This article documents the mass die off of forests all around the world, due to such factors as increasing temperatures, increased CO2, increased ozone levels, pollutants, droughts, desertification, radiation, and more.
HOW MANY TREES ARE THERE IN THE WORLD AND HOW MANY ARE BEING LOST?
The planet is losing a massive number of trees globally per year out of the trillions that existed originally on Earth. Of course all of these trees are radiation contaminated and weakened due to the emissions of things like radioactive carbon from nuclear fission facilities.
5 BILLION TREES BEING LOST EACH YEAR GLOBALLY
Sickputer 
September 6, 2015
the world tree losses each year…15 billion trees lost, 5 billion replanted, total yearly loss 10 billion trees. In 300 years all the trees will be gone. Unless naked apes stop cutting them down…or more likely naked apes become extinct from radiation and wars and then the tree count will zoom. Trees handle radiation better than humans, but they may be some gnarly looking trees in 2500 AD.
http://bigstory.ap.org/article/5d29245e237a4004aa9b0df074ca640d/lots-trees-hug-study-counts-3-trillion-trees-earth
Over the past 10 years, the death of forest trees due to drought and increased temperatures has been documented on all continents except Antarctica. This can in turn drive global warming by reducing the amount of carbon dioxide removed from the atmosphere by trees and by releasing carbon locked up in their wood.
http://thinkprogress.org/climate/2011/12/14/389298/dying-aspens-climate-forest-die-off-global-change-droughtquot/
MASS DIE OFF OF FORESTS HAPPENING ALL OVER THE GLOBE
Huge swathes of trees are dying around the world.  Anja Taylor investigates the cause of the mass devastation all around the world.  As seen on Catalyst, ABC TV Australia, 26 Apr 2012. Global warming is blamed for all of these mass die offs of trees all around the world, but there is more to this story than just hotter weather and drought.
VIDEO:http://youtu.be/VYZaSYOpL2g 10 min
World's Oldest and Biggest Trees Dying 'Alarmingly' Fast!!
VIDEO: http://youtu.be/dgvoZCIc16U?t=3m30s
DYING FORESTS IN THE SIERRAS; THIS HAS BEEN GOING ON FOR A LONG TIME, FORESTS ARE THINNING OUT AND DISAPPEARING, BUT IS NOW ACCELERATING FAST
This process of many pine and other trees dying in the Sierras has been happening for many years, and is not limited to drought years. Many people have theories about what is causing the mass die off of trees on both the West and East side of the Sierras. The guesses and theories range from global warming, to acid rain, chemtrails, pollution from cities, and increased ozone levels. Maybe it is all of these and more.. The most important part to understand is that the slow, gradual strangulation of trees is largely invisible, because the Forest Service hires foresters to go in and 'take out' the dead and dying trees. When someone flies over the forest, all that they see is a thinner, sicker, weaker forest, year by year, by year.
This is what it looks like before the thinning process where the tree cutters come in and take them out to make everything look 'ok' again….But then the trees don't come back and the forest canopy gets thinner and thinner. Like an older person who is balding, forests are going the same way, they are disappearing.
A short video of huge numbers of pine trees dying in the West
VIDEO: http://youtu.be/xEF1UtKxb9I 3 min.
2010 – What's Killing the Great Forests of the American West?
Across western North America, huge tracts of forest are dying off at an extraordinary rate, mostly because of outbreaks of insects. Scientists are now seeing such forest die-offs around the world and are linking them to changes in climate.
2015 – A new study by the U.S. Forest Service tried to assess the scope of the problem. Researchers estimated that the drought has killed off at least 12.5 million trees in California's national forests during the drought. The scientists expect the die-off to continue. "It is almost certain that millions more trees will die over the course of the upcoming summer as the drought situation continues and becomes ever more long term," said biologist Jeffrey Moore, acting regional aerial survey program manager for the U.S. Forest Service
http://www.latimes.com/local/lanow/la-me-ln-trees-dying-california-drought-20150505-story.html
For fifteen years now I have watched the once grand and green forest canopy of these incomparable mountains whither into naked twisted matchsticks. What began slowly, barely noticeable, turned into all encompassing devastation in the last five years. Like collapsed tinker toys all akimbo, an eeriy scene right out of Cormac McCarthy's novel, "The Road". Everything is dying. Humongous douglas fir, ponderosa pine, blue spruce, aspen, and down lower even juniper and pinyon. No longer just a tree here and there, but rather entire forests are utterly dead. You climb up to Wolf Creek Pass over 11,000′ high, the finest and greatest powder snow in the lower 48, and glass the landscape for 360 degrees, and you will not find one living tree. Millions upon millions of dead trees as far as the eye can see. You can drive for a hundred miles north to Gunnison and all you will see are dead forests, 100% dead.
RADIATION IS ALSO DEVASTATING FORESTS ALL ACROSS THE WORLD, COMBINED WITH DROUGHT, CO2, ACID RAIN AND POLLUTANTS SUCH AS OZONE
Radiation is invisible, but deadly. Few people are aware of the toxic effect that invisible radioactive carbon and other emissions from nuclear plants have on trees and all other living things as well. This negative effect has been studied and documented scientifically.
Radioactive Contamination Of Bamboo Forests In Japan, As A Result Of Fukushima Daichi Mega Nuclear Disaster
http://agreenroad.blogspot.com/2015/05/radioactive-contamination-of-bamboo.html
PATHWAYS OF RADIOACTIVE CONTAMINATION LEAD FROM EVERY NUCLEAR POWER PLANT AND EVERY NUCLEAR ACCIDENT, DIRECTLY INTO AGRICULTURAL PRODUCTS, INCLUDING TREES
Source/credit R NOX
What are main ways that radionuclides can enter into the food chain?
There are three main pathways for radioactive substances to enter the food chain (See Fig. 1):
– Radioactive material carried by the wind (airborne), by water current (waterborne) and through soil or sediments.
– Radionuclides in air can be deposited on plants.
– Radionuclides in water bodies can also affect aquatic plants and animals in a similar way.
Questions & Answers – Nuclear Emergency Response for Food and Agriculture The relative importance of these contamination pathways depends on various factors. These factors include:
– The nature of the nuclear or radiological emergency.
– The physical and chemical properties of the released radionuclides.
– The time lapsed after the deposition.
– The ability of the plant and animals to accumulate radionuclides.
– The stage of the plant at which the emergency occurs (the time of the year).
– The land use.
– The agricultural practises.
Source/credit; radioactive cesium contamination of forests map
The whole territory Vetkovskiy special forestry contaminated with radionuclides
Area of contamination over 99000 hectares.
41,500 hectares (42%) of forest land is in the area of radioactive contamination 15 curies / square kilometer or more.
RADIOACTIVE CARBON FROM NUCLEAR INDUSTRY IS KILLING OFF FORESTS AND WEAKENING THEIR BASIC UNDERLYING STRUCTURE FROM WITHIN
Radioactive Carbon 14 From Nuclear Power Plants Causing Deforestation, Fungus Infections, Disease And Death Of Trees And Plants Globally – Global Warming http://agreenroad.blogspot.com/2014/05/carbon-14-emitted-by-nuclear-power.html
Source/credit
; R-NOX radioactive fallout levels from Chernobyl, present day
click on link above to see picture/map of radioactive fallout all over European continent from Chernobyl, in case it is erased.Nuclear Energy As A Direct Cause Of Global Warming, Acid Rain, Acid Oceans, Extreme Weather, And Super Storms
http://agreenroad.blogspot.com/2013/12/nuclear-energy-as-direct-cause-of.html
Low Dose Radiation Causes Oxygen Depletion Globally, Kills Trees, Corals, Fish, Algae; via @AGreenRoad
http://agreenroad.blogspot.com/2013/07/low-dose-radiation-causes-oxygen.html
*** The main danger is plutonium. This is comparable to WIPP… anyone, even across the Northern Hemisphere, in the path of the smoke plume, might be exposed to similar doses. ***
The potential danger in this fire comes from the radioactive contaminants the burning plants have absorbed, ecologist Christopher Busby told RT.
"Some of the materials that were contaminating that area would have been incorporated into the woods. In other words, they land on the ground in 1986 and they get absorbed into the trees and all the biosphere. And when it burns, they just become re-suspended. It's like Chernobyl all over again." Busby is the scientific secretary of the European Committee on Radiation Risks.
Numerous other experts in the field share these concerns. Randall Thompson warns: "If it rains on that cloud of smoke… once it gets inside you in any way – nose, mouth, hands, through your orifices – then you are being radiated." Thompson participated in the cleanup of the 1979 Three Mile Island Incident in Pennsylvania – a partial nuclear meltdown at a nuclear reactor, the worst such accident in US power plant history.
http://rt.com/news/254869-chernobyl-fire-radioactive-ukraine/
AS MORE NUCLEAR ACCIDENTS HAPPEN, LARGER AREAS BECOME RADIOACTIVELY CONTAMINATED AND TREES BECOME DAMAGED, BOTH PHYSICALLY AND GENETICALLY
As more and more nuclear accidents happen, very large forested areas become radioactive. Trees become radioactive, as does the pollen that can contain 253,000 Bq/kg of Cesium radiation and pine needles that can contain 177,000 Bq/kg. How long can the trees absorb the punishment that this kind of internal radiation dishes out without catastrophic consequences in the long term?
Chernobyl, Fukushima, TMI – Radioactive Forests, Fires, Smoke, Straw, Pollen And Pine Needles – 177,000 Bq/Kg, Pollen With 253,000 Bq/Kg In Japan
http://agreenroad.blogspot.de/2014/05/fukushima-radioactive-straw-pine.html
Dr. Mousseau – Chernobyl And Fukushima's Deadly Radioactive Legacy Recorded In Trees, Animals, Insects And Birds
http://agreenroad.blogspot.com/2013/08/dr-mousseau-chernobyls-deadly.html
HOW RADIATION IS TRANSFERRED TO PLANTS, INCORPORATED INTO LEAVES
Radiation damage is recorded in trees, just like it is able to be seen and monitored in insects, birds, sea life and humans.
Source/credit R-NOX
Via 
R-NOX
 "How can radioactive materials (radionuclides) enter plant products during the early stage of the nuclear emergency?
– Following radioactive release to the atmosphere, the deposition of radionuclides on vegetation, soil or surface of water represents the starting point of their transfer in food chains. There are two principal deposition processes for the removal of radionuclides from the atmosphere: dry deposition is the direct transfer to and absorption of gases and particles by natural surfaces such as vegetation, whereas wet deposition is the transport of a substance from the atmosphere to the ground in snow, hail or rain.
– Once deposited on vegetation, radionuclides are lost from plants due to removal by wind and rain and through leaching. The increase of biomass of plants during growth does not cause a loss of activity, but it does lead to a decrease of activity concentration due to effective dilution. There is also systemic transport (translocation) of radionuclides in plants, leading to the redistribution of a substance from the surface where it was deposited to the other parts of the plant that were not contaminated directly (for instance root beets or tubers). The surface of plant may be contaminated through resuspension: This occurs when the wind exerts a force that redistributes particles to the surface plants. Radionuclides in soil can also be taken up by plants (Figure 2).
– Contamination of plants may also occur via contaminated surface water (inundation, irrigation) or contaminated ground water (upwelling, irrigation) whilst contamination of animals may occur because of consumption of contaminated water."

Source/credit R-NOX
GOVERNMENT FINDS STRANGELY DEFORMED TREES AROUND FUKUSHIMA
Radiation fears growing as govt' finds strangely deformed trees around Fukushima — Nearly 100% have 'morphological defects' — "Trees did not have a top bud, without which its growth cannot continue" — Effects worsening over time — Researchers prevented from doing studies… "so little data" (PHOTOS & VIDEO)
BLUE MOUNTAINS ON EAST COAST OF US ARE EXPERIENCING DIE OFF JUST LIKE FORESTS ON WEST COAST AND THE REST OF THE WORLD
… killing the hemlocks in the Great Smoky Mountains National Park and Blue RidgeParkway. … Many hemlocks have died in the Joyce Kilmer Memorial Forest.
www.thewesterncarolinajournalist.com/…/local-trees-dying-under-insect-…
May 16, 2013 – In fact, areas lined with dead trees along the Blue Ridge Parkway and Great Smoky Mountain National Forest show evidence of these insects …
Survey project maps tree death along Appalachian ridges
By Don Hopey, Post-Gazette Staff Writer
In the Allegheny National Forest's Tionesta Scenic Area, 30 percent to 40 percent of the trees on some slopes are dead or dying. On Clingman's Dome, a 6,640-foot peak in Great Smoky Mountain National Park, the mortality rate is closer to 60 percent standing dead.
GUY MCPHERSON; INCREASED CO2, LESS WATER GLOBALLY, RESULTING IN MASSIVE DIE OFF OF TREES
CLIMATE CHANGE – DYING TREES, Discrimination, More – 4/5 – Dr. Guy McPherson
The result of burning carbon based fossil fuels, cutting down forests and increased desertification is a rise in the global CO2 levels, leading to global warming, despite a reduction in the solar energy coming in. Normally, the Earth would be entering an Ice Age right now, but instead, it is accelerating into unknown hotter territory, due to the insulating blanket of many global warming gases that are building up..
GLOBAL WARMING PICTURES AND GRAPHS
Mass Deaths in Americas Start New CO2 Epoch
"The environment isn't over here. The environment isn't over there. You are the environment."

Chief Oren Lyons Faithkeeper Turtle Clan of the Seneca Nations of the Iroquois Confederacy.
ORWELL POETRY
or-well
June 26, 2015 
I like this poem by someone named Sidhe.
"Disorderly Conduct" by Sidhe
A message to all of you short-sighted killers
What kind of world will you leave behind for your children
When you've squeezed every last drop of life from the land
With your greed and your murder you've wrought with your plans
I'd like to remind you your money means nothing
When the water's been blackened and the creatures are starving
You toy with a force you do not understand
Your chemicals won't wash all that blood off your hands
First Nations fight cancer up in Athabasca
Your oil trains are time bombs impending disaster
Your pipelines will leak and your cesspools will sprawl
And your babies are left with the brunt of it all
What of the animals caught in the tar?
What of the forests left clear cut and scarred?
What of those atrocities I didn't witness?
Like Serafino in Columbia sending assassins
To murder union organizers who stood up and spoke out
In the back of my mind I can still hear them shout
I am made of this land you are made of the same
The planet is dying and you are to blame
Are you proud of yourselves? Look at what you've become
Heartless machines, so frigid and numb
So reluctant to think that you may just be wrong
That you hear the dissent and you send in the guns.
SONG; SCREAMING TREES, DYING DAYS
Screaming Trees – Dying Days
VIDEO: 
http://youtu.be/JWLkr774ZFY
 5 min.
If trees could talk to us, what would they say about wholesale clear cutting and destruction of the Earth's lungs?
"When all the trees have been cut down, when all the animals have been hunted, when all the waters are polluted, when all the air is unsafe to breathe, only then will you discover you cannot eat money."

– Cree Prophecy
Planet Earth 911 Emergencies And Global Threats
SUMMARY
There is not a lot of time left.
The solution is to close all nuclear  and carbon fuel burning plants globally, and switch to carbon free fuels. A nuclear and carbon free future can turn things around, but these changes have to happen quickly. Is humanity ready for massive and quick changes towards a nuclear and carbon free future? Time will tell. The solutions are all there, ready and waiting for us.
There is still hope, but huge global carbon and nuclear energy monopolies are standing in the way, due to their myopic focus on short term profits. Their greed may doom the planet and all living things on it. Starting a massive global tree planting program also needs to be started, especially in areas where desertification is expanding. Certain kinds of trees will grow even in desert areas.
WHAT YOU CAN DO, TO MAKE A POSITIVE DIFFERENCE
Activist Teach In; 10 Things Anyone Can Do To Make A Positive Difference
http://agreenroad.blogspot.com/2015/07/activist-teach-in-10-things-anyone-can.html
Environment, Holistic Living, Health, Self Healing, Zero Point, Renewable Energy, Energy Storage, Nuclear
WHAT YOU CAN DO, TO MAKE A POSITIVE DIFFERENCE
Activist Teach In; 10 Things Anyone Can Do To Make A Positive Difference
http://agreenroad.blogspot.com/2015/07/activist-teach-in-10-things-anyone-can.html
Environment, Holistic Living, Health, Self Healing, Zero Point, Renewable Energy, Energy Storage, Nuclear
LEARN, TRANSFORM, DONATE, SHARE, SPONSOR, CONNECT, COMMENT, COLLABORATE
Please help AGRP get this news out… thanks for your generous and very appreciated support! What you support grows and expands. What you withhold support from shrinks, shrivels and disappears. Even .50 cents per month is a great help. What is teaching the science of sustainable health worth?
————————————————————————————-
————————————————————————————-
"Copyright Disclaimer under Section 107 of the Copyright Act 1976, "ALLOWANCES ARE MADE FOR FAIR — USE" for purposes such as criticism, comment, news reporting, teaching, scholarship and research. Fair use is a use permitted by copyright statute, that otherwise might be infringing. Non-profit, educational or personal use tips the balance in favor of fair use." For more info go to:www.lawcornel.edu/uscode. Copyright protected material on this website is used in accordance with 'Fair Use', for the purpose of study, review or critical analysis, and will be removed at the request of the copyright owner(s). Please read
Notice and Procedure for Making Claims of Copyright Infringement.
End