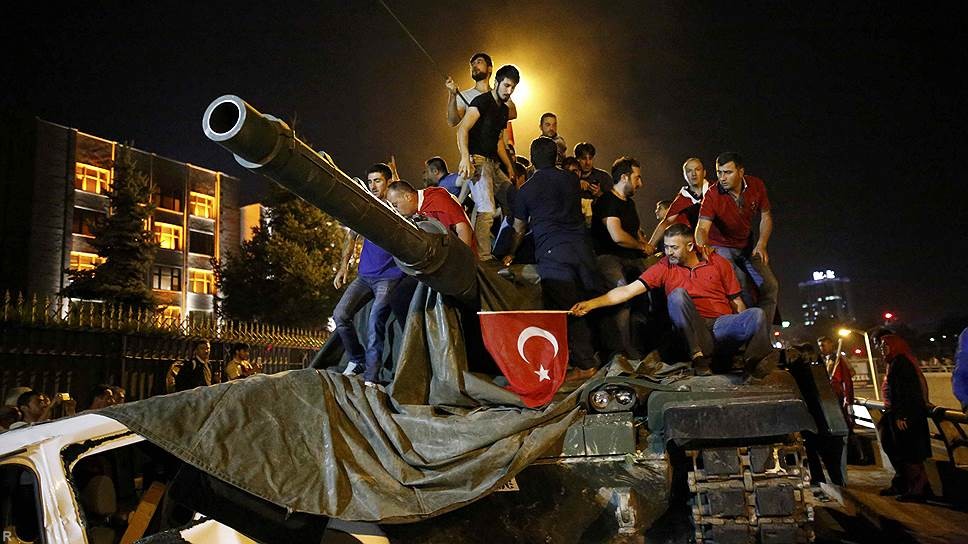 Turkish Coup Attempt Crumbles; Erdogan Returns After Crowds Answer Call To Streets
ZeroHedge.com
In an event not seen in since 1997, military factions in Turkey tried to seize control of the country on Friday night, setting off a scramble for power and plunging a crucial NATO member and American ally into chaos in what is already one of the world's most unstable regions. However, by Saturday morning President Recep Tayyip Erdogan, whose whereabouts were unclear and was rumored to have been on vacation when the coup attempt began, flew to Istanbul Ataturk Airport, signalling that the coup had failed.
"A minority within the armed forces has unfortunately been unable to stomach Turkey's unity," Erdogan said at the airport, after the private NTV network showed him greeting supporters. Blaming political enemies, Mr. Erdogan said "what is being perpetrated is a rebellion and a treason. They will pay a heavy price for their treason to Turkey."
In essence, thanks to the very poorly planned coup – which some have suggested had been orchestrated by Erdogan himself – has given the Erdogan regime legitimacy to accelerate the recent trend of converting Turkey from a parliamentary into a presidential regime, thus granting himself even more power as a result.
As the NYT adds, there were strong indications that coup leaders, at a minimum, did not have a tight grip on many parts of the country. One could go further and say that the military never really had much control anywhere. Supporters of Erdogan took to the streets of Istanbul early on in the coup hours to oppose the coup plotters, and there were scattered reports some of its leaders had been arrested.
Martial law was declared in the country, although few if any casualties were confirmed, despite constant media reports of clashes between the army and the protesters.
President Erdogan, an Islamist who has dominated politics for more than a decade and sought to exert greater control over the armed forces, was forced to use his iPhone's FaceTime app from an undisclosed location to broadcast messages urging the public to resist the coup attempt.
In one of the night's more comic moments, before returning to Istanbul Erdogan appeared in a video call to the studio of the Turkish sister channel of CNN, where an announcer held up a mobile phone to the camera to show him. He called on Turks to take to the streets to defend his government and said the coup plotters would pay a heavy price.
"There is no power higher than the power of the people," he said in a night of wild confusion and contradictory accounts of who was in control. "Let them do what they will at public squares and airports."
After Erdogan appeal for people to take to the streets, many of his followers obeyed his orders and mosque loudspeakers exhorted his supporters to go out and protest the coup attempt. The state-run Anadolu News Agency said 17 police officers had been killed in a military helicopter attack by coup plotters on a police special forces headquarters outside Ankara, although that has not been confirmed. There were also reports that fighter jets had shot down a military helicopter used by coup plotters. CNN Turk reported that 12 civilians were killed in an explosion at the Parliament building.
During this time, foreign support poured in from both neighbors such as Greece and Russia, all the way to the US. The United States Embassy said in a statement that "shots have been heard in Ankara" and urged Americans to take shelter. Social media outlets worked intermittently or were blocked. The US state depratment later said that it would only support the democratically elected regime.  Senior Pentagon officials in Washington said they were still trying to determine what was occurring in Turkey. They said the United States had not adjusted its military posture in the region.
The Defense Department has roughly 2,200 uniformed military personnel and civilians in Turkey. About 1,500 of them are based at Incirlik, an air base in southern Turkey near Syria. The United States has used the base to launch airstrikes against the Islamic State. Since March, Incirlik has been on an "elevated force protection level" amid concerns that militants were targeting it. Defense Secretary Ashton B. Carter in May ordered all family members of military personnel based at Incirlik to leave the country.
* * *
The events began unfolding around 10 p.m. Friday as the military moved to stop traffic over two of Istanbul's bridges, which cross the Bosporus and connect the European and Asian sides of the city.
There were reports of gunfire in Istanbul's central Taksim Square, where pro-Erdogan supporters had gathered, but there were no reports of injuries, and it appeared that security forces were acting with restraint. On the Bosporus Bridge, which was closed earlier in the evening by the military, there were reports of gunfire as protesters approached, and according to NTV, a television news channel, three people were injured.
What was surprising, is that some prominent military figures spoke out against a coup, including the commander of the First Army, Gen. Umit Guler, who issued a statement, carried by a pro-government news channel, saying, "The armed forces do not support this movement comprised of a small group within our ranks." One wonders then just how organized and orchestrated this "low level" coup.
Even leaders of opposition political parties, who have otherwise worked against Mr. Erdogan's government, spoke out against a seizure of government by the military. "This country has suffered a lot from coups," Kemal Kilicdaroglu, the leader of the main secular opposition party, the Republican People's Party, known by its Turkish initials C.H.P., said in a written statement, according to Hurriyet Daily News. "It should be known that the C.H.P. fully depends on the free will of the people as indispensable of our parliamentary democracy."
One thing is undisputed: the coup was poorly organized from the beginning: instead of arresting Erdogan on the spot and taking over all media, while unleashing infantry forces around key choke points, the army was on the defensive almost from the beginning, and was unable to open fire on its own people when the momentum started to slip away.
To be sure, some tried to spin the coup as well-organized.  According to Reuters, early in the evening the coup appeared strong. A senior EU source monitoring the situation said: "It looks like a relatively well orchestrated coup by a significant body of the military, not just a few colonels. They've got control of the airports and are expecting control over the TV station imminently. They control several strategic points in Istanbul.
"Given the scale of the operation, it is difficult to imagine they will stop short of prevailing."
Only they did, and dramatically so, failing to show either substantial organization or resolve to push the coup to its end. As a result, as the night wore on, momentum turned against the coup plotters. Crowds defied orders to stay indoors, gathering at major squares in Istanbul and Ankara, waving flags and chanting. The army had lost control just a few hours after the attempted coup started late on Friday evening.
"Some people illegally undertook an illegal action outside of the chain of command," Prime Minister Binali Yildirim said in comments broadcast on NTV, a private television channel. "The government elected by the people remains in charge. This government will only go when the people say so."
Shortly after Yildirim spoke, factions of the Turkish military issued a statement, according to the news agency DHA, claiming it had taken control of the country.
"Turkish armed forces seized the rule of the country completely with the aim of reinstalling the constitutional order, democracy, human rights and freedoms, to make rule of law pervade again, to re-establish the ruined public order," the statement quoted by DHA said. "All the international agreements and promises are valid. We hope our good relations with all global countries goes on."
* * *
Erdogan blamed followers of Fethullah Gulen, a Muslim cleric who lives in exile in Pennsylvania and who once was an ally before the two had a bitter falling-out in 2013 over a corruption inquiry that targeted Mr. Erdogan and his inner circle, for the coup attempt. Over many years, followers of Mr. Gulen built up a presence in Turkey's police and judiciary, and Mr. Erdogan blamed them for the corruption probe. Erdogan and his allies then purged the judiciary and the police of those linked to Mr. Gulen, going so far as to call him the leader of a terrorist organization and seeking, unsuccessfully, to have him extradited from the United States. An organization associated with Mr. Gulen in the United States, the Alliance for Shared Values, denied any responsibility for the coup attempt.
It will probably not come as a surprise that Gulen, who has been used a traditional scapegoat by Erdogan in his attempt to grab power, denied any involvmenet and hiw Alliance for Shared Values said it condemns the coup attempt. "We condemn any military intervention in domestic politics of Turkey," Alliance for Shared Values, group backed by preacher Fethullah Gulen, says in statement on its website.
While the simmer attempted coup is still ongoing in the early hours on Saturday morning, the outcome is clear: it will fail.
Why wins? Why the president of course. As he said during a press conference upon his arrival back in Istanbul in the early Saturday morning hours, the coup is an opportunity to "to purge the military." Erdogan also vowed to exact "the highest price" from the perpetrators.
Or, to summarize, the military said Erdogan's power consolidation justifies the attempted coup; Erdogan said the coup justifies further consolidation of power.
Erdogan appears to have won again.
* * *
Below is a timeline of the key coup events as recounted by Reuters. All times GMT.
0100 – Erdogan appears among supporters at Istanbul airport, says uprising has been attempted against solidarity and unity of country; says no power is above national will.
0045 – Around 30 soldiers, part of faction attempting to carry out a military coup, surrender weapons after being surrounded by armed police in Istanbul's central Taksim square.
0045 – Turkish private broadcaster CNN Turk halts live news broadcast, presenter says soldiers entered studio control room.
0027 – Two more explosions hit parliament; member of parliament reached by telephone says lawmakers are hiding in shelters at the parliament.
0020 – Turkish official says Erdogan's plane lands in Istanbul.
2352 – Turkish PM says situation under control, blames Gulen movement, declares no-fly zone over Ankara. A U.S.-based organisation close to Gulen earlier denied involvement.
2339 – Bomb hits parliament in Ankara, state-run Anadolu Agency says. Reuters witness hears blast in Istanbul.
2320 – Kerry says emphasised "absolute support for Turkey's democratically elected, civilian government and democratic institutions" in phone call with Turkish foreign minister.
2313 – Group close to U.S.-based cleric Gulen says accusations it was involved in coup attempt are "highly irresponsible". Condemns military intervention in Turkish politics, says concerned about safety of citizens.
2305 – President Obama says he and Secretary of State Kerry agree that all parties in Turkey should support elected government. Urges restraint, avoidance of bloodshed – White House statement.
2304 – State-run Anadolu Agency says 17 police killed at Ankara special forces HQ; no independent confirmation
2259 – Turkish fighter jet shoots down military helicopter used by coup-plotters over Ankara, broadcaster NTV says.
2251 – Commander of special forces says a group has engaged in treason, they will not succeed. Says military does not condone coup.
2247 – PM says gangs and illegal formations are behind coup attempt, and calls it a terrorist act. He says government remains in charge. Urges people to take to the streets.
2237 – Commander of Turkey's First Army, part of land forces responsible for Istanbul and other western areas, said those attempting a coup were a small faction and "nothing to worry about".
2226 – Two loud explosions heard in centre of Turkish capital
2208 – Tanks surround Turkish parliament building, open fire. Gunfire heard at Istanbul airport.
2203 – Turkish justice minister says members of a movement loyal to U.S.-based cleric Fethullah Gulen in the army are behind the attempted coup.
2151 – A military helicopter opens fire over the Turkish capital Ankara, witnesses report an explosion in the capital.
2135 – Turkish state broadcaster TRT goes off air, but later starts broadcasting from London.
2126 – Turkish President Tayyip Erdogan urges people to take to the streets to protest against what he describes as a coup attempt by a minority faction within the military. Speaking to a CNN Turk reporter via a cellphone video link he says it will meet a "necessary response". He says he is returning to the capital Ankara.
2122 – Turkish PM says on Twitter everything will be done to put down coup attempt, even if it means fatalities. Says sieges are under way at some important buildings, without specifying, but urges people to remain calm.
2118 – Presidential source says president and government are still in power.
2105 – Turkish state broadcaster says reading statement on the orders of the military – that new constitution will be prepared, accuses government of eroding democratic and secular rule of law, that the country is being run by a "peace council", that martial law imposed, curfew imposed across the country.
2102 – Head of Istanbul branch of Turkey's ruling AK Party says soldiers enter party building, told to go.
2058 – Soldiers are inside buildings of Turkish state broadcaster TRT in Ankara, TRT correspondent tells Reuters.
2057 – Facebook, Twitter, YouTube and other social media restricted in Turkey, say internet monitoring groups.
2049 – Turkish presidential source says statement made on behalf of armed forces was not authorised by military command.
2047 – Turkish chief of military staff among hostages taken at military headquarters in Ankara, says state-run Anadolu agency.
2038 – Turkish President Tayyip Erdogan is safe, reports CNN Turk.
2025 – Turkish military says has taken power to protect democratic order. In a statement sent by email and reported on Turkish TV channels, the military says all of Turkey's existing foreign relations will be maintained.
2002 – Turkish Prime Minister Binali Yildirim says attempted coup under way, calls for calm. He says a group within Turkey's military has attempted to overthrow the government and security forces have been called in to "do what is necessary".
1950 – Gunshots are heard in Ankara, military jets and helicopters seen flying overhead. Helicopters seen overhead in Istanbul.
1929 – Istanbul's Bosphorus Bridge and Fatih Sultan Mehmet Bridge are both closed. Dogan News Agency footage shows cars and buses being diverted.
* * *
Live feed from Sky News
* * *
And here is a recap of the main events as they came in:
Update 25 – Local media reports that some army holdouts still remain in an unconfirmed report, however at this point the momentum has completely shifted and it appears that the coup is now effectively over.
Update 24: After emerging from the Istanbul airport, Erdogan is now holding a press conference.
President Recep Tayyip Erdogan, speaking at Istanbul's Ataturk Airport early Saturday, said that a coup attempt by members of the armed forces loyal to his rival, Fethullah Gulen, amounted to "treason."
"A minority within the Armed Forces has unfortunately been unable to stomach Turkey's unity," Mr. Erdogan said, adding that individuals loyal to Mr. Gulen had "penetrated the Armed Forces and the police, among other government agencies, over the past 40 years."
"What is being perpetrated is a rebellion and a treason," Mr. Erdogan said. "They will pay a heavy price for their treason to Turkey."
Erdogan fell back to his all scapegoating technique, accusing his old nemesis, the cleric Fethullah Gulen who lives in Pennsylvania, of orchestrating  the coup, even though moments ago Gulen's Alliance for Shared Values condemned the coup attempt. "We condemn any military intervention in domestic politics of Turkey," Alliance for Shared Values, group backed by preacher Fethullah Gulen, says in statement on its website.
That doesn't matter to Erdogan however, who continues with the well-known narrative. As a result, many have suggested that this poorly planned coup was in fact created by Erdogan himself to bolster his popularity and his international political image, and so now armed with the sympathy vote he will actively push to conclude Turkey's conversion from a parliamentary regime to a presidential one. As such the coup was nothing more than a carefully staged prop, one which saw virtually nobody hurt, nobody arrested, and practically zero actual involvement by the "army."
It remains to be seen if this is true.
* * *
Earlier:
* * *
Update 23: Or maybe it's not over just yet. Moments ago, a group of soldiers were reported to have raided major Turkey private media group, CNN Turk. Media outlets Hurriyet and Dogan were also being taken over.
Other media outlets are being bombed outright:
At the same time more major explosions were reported at the Turkish parliament
Worse, just after Erdogan landed at the airport, a major explosion was heard on the grounds:
LOUD EXPLOSION HEARD AT ISTANBUL'S ATATURK AIRPORT -REUTERS WITNESS
Although he seems to be ok:
TURKISH PRESIDENT ERDOGAN SPEAKS AT ATATURK AIRPORT IN ISTANBUL
* * *
Update 22: With the dynamic behind the coup clearly moving in his favor, Erdogan decided that it is now safe to go back to Istanbul, and according to local media, he just landed at Istanbul's Ataturk airport.
* * *

Update 21: it appears that the coup – poorly executed from the beginning with tank and helicopter support but no infantry – is effectively over. Moments ago Anadolu reported that Turkish state TV resumes normal broadcast; The army member soldiers attempting TRT seizure taken into custody. Additionally the Turkish PM has told local media the situation in Turkey is "largely under control" after military attempt to bring down government.
TURKEY ARMY COUP REPELLED: STATE-RUN AA CITES INTEL OFFICIAL
Meanwhile, the underpreapred troops are being arrested themselves by ordinary people in the street.
* * *
Update 20 – Russia, who some have whispered may be behind the coup following the bad blood after the Turkish downing of its fighter jet last October, has chimed in:
"Moscow is deeply concerned about the news coming from Turkey," Kremlin spokesman Dmitry Peskov told reporters, adding that President Vladimir Putin was being constantly informed of new developments by the Russian foreign ministry and intelligence services.
* * *
Update 19 – The military is now on the clock as it has to gain full control quickly. Alas, that means more violence, and moments ago there were reports that 17 Turkish police officers were killed in a helicopter attack while an F16 shot down a hijacked helicopter.
Turkey's state-run Anadolu Agency says that 17 police officers have been killed in a helicopter attack on police special forces headquarters on the outskirts of Ankara. Loud explosions were heard earlier in Turkey's capital after the military said it seized full control of the country. But government officials, including President Recep Tayyip Erdogan, tried to play down reports that the military was in control. Erdogan called for citizens to take to the streets in a show of support for the government, and said the coup attempt would be unsuccessful.
TURKISH NAVY COMMANDER SAYS DOESN'T ACCEPT COUP ATTEMPT:ANADOLU
TURKEY PRESIDENCY SAYS F16 SHOT DOWN A 'HIJACKED' HELICOPTER
* * *
Update 18 – Shots fired  by military . As a reminder, Turkey has the largest military of the European NATO allies.

*ARMY HELICOPTERS FIRED AT TURKEY INTELLIGENCE, ARMY HQS: AA
2 BACK TO BACK BOMBINGS ROCK TURKISH CAPITAL NEAR POLICE HQ
*PM YILDIRIM SAYS TURKEY IS 'ON ITS FEET, ON THE STREETS'
*TURKEY PM YILDIRIM: WE'RE BUSY PUTTING DOWN THIS SILLY UPRISING
Update 17 – Erdogan now said to be trying to get UK asylum. According to the Daily Beast
Turkish president Tayyip Erdogan is reportedly seeking asylum in Europe, as a military coup continues in Turkey, U.S. military sources tell NBC News. Erdogan's presidential jet was allegedly denied landing rights at Istanbul's airport, before heading out of the country. He was then denied asylum in Germany, according to NBC, before heading to London. Addressing Turkey via Facetime, Erdo?an asserted declared, "I am president," and vowed to crush the opposition forces. He also said "This country can't be managed from Pennsylvania," directly linking the coup attempt to U.S.-based exiled imam Fethullah Gülen.
* * *
Update 16 – the people are piling into public squares, where a confrontation with the new army leaders may take place:
People gather at Taksim square… can't let go democracy so easily, no matter who opposes it.#Turkey pic.twitter.com/ci3qQNYhZm

— DrVatsa (@DocVatsa) July 15, 2016
Update 15 – Meanwhile as Erdogan, still in an undisclosed location, is allegedly trying to obtain German asylum, unconfirmed social media reports that his request has been denied. Meanwhile, the Turkish president's office isn't disclosing Erdogan's whereabouts, saying he is at a secure location, AP reports.
* * *
Update 14- a tank said to be heading to the PM's office in Ankara has been blocked by protesters
* * *
Update 13 – a quick note from the Telegraph about the mood on the ground in Turkey right now:
Speaking from his hostel in Istanbul, Gabriel Turner, 23, from north London told The Telegraph that "everyone is on edge" as army jets circled the sky above the city:

Once we heard the military were taking over we thought we'd better get back to the hostel. The streets were crazy, all the cars were going at about 100 miles per hour. It is so chaotic.

Everyone is on edge. No one knows whether to trust the police and whose side they are on. I've been told to stay away from government buildings.

Everyone was running and shouting, trying to hitchhike because everything had stopped, there was no public transport. We hit hiked for about three miles – there were 12 of us crammed in the back of a car.

When we were on the way back, some boys said 'stop there's tear gas'. We decided to continue as it was the only way to get back to the hostel but I could smell something acidic in the air.
* * *
Update 12 – Gunfire reported on Istanbul's popular Taksim square, where the local people appear to be engaging the army

TANKS SEEN RUMBLING IN DOWNTOWN ANKARA
TURKS SEEN CLIMBING ON TANK IN ISTANBUL'S VATAN STREET: TVNET
POWERFUL EXPLOSION IN TURKISH CAPITAL
* * *
Update 11 – Washington/NATO follow-up
Update 10 – Erdogan no longer welcome in Turkey
* * *
Update 9 – Erdogan speaks from 'secure' site:
ERDOGAN: THEY WILL PAY HEAVY PRICE FOR THIS
ERDOGAN: `PARALLEL STATE' THINKS IT WILL TAKE OVER COUNTRY
ERDOGAN: WE WILL TAKE ALL NECESSARY STEPS
ERDOGAN CALLS IT UPRISING ATTEMPT BY MINORITY IN ARMY
ERDOGAN: I INVITE NATION TO THE SQUARES AND AIRPORTS
ERDOGAN: NO FORCE CAN STAND POWER OF PEOPLE
ERDOGAN: ARMY CHAIN OF COMMAND HAS BEEN VIOLATED
ERDOGAN SAYS HE'S STILL THE PRESIDENT AND COMMANDDER IN CHIEF
ERDOGAN: I DON'T BELIEVE COUP BACKERS WILL SUCCEED
*ERDOGAN SAYS THEY WILL RESIST COUP TO THE DEATH
Turkish President Tayyip Erdogan urged people to take to the streets to protest against what he described as a coup attempt by a minority faction within the military, vowing that it would meet with a "necessary response", Reuters reports He told a CNN Turk reporter via cellphone that Turkish people must gather in public squares to show their response to the attempted military takeover, in comments broadcast live on television.
Erdogan said he believed the attempted coup would be over within a "short time" and said those responsible would pay a heavy price in the courts. He said the act was encourage by the "parallel structure" – his shorthand for followers of Fethullah Gulen, a U.S.-based Muslim cleric who he has repeatedly accused of attempting to foment an uprising among his followers in the judiciary and the military.
"I certainly believe that coup plotters will not succeed," he said, speaking on FaceTime via mobile phone in his first reaction to the move by the Turkish armed forces.
"I urge the Turkish people to convene at public squares and airports. I never believed in a power higher than the power of the people."
* * *
Update 8 – "Council of Peace" formed
Update 7 – The Fight is getting closer to Erdogan as the US tells US citizens on the ground in Turkey to shelter in place
VERY HEAVY GUNFIRE HEARD AT TURKEY PRESIDENTIAL PALACE
Update 6 – The State broadcaster TRT, occupied by military officers, announces that military has taken over the authority all across Turkey. The military just declared martial law.
TURKEY'S GOVT LOST ITS LEGITIMACY AND HAS BEEN OVERTHROWN: TRT
MARTIAL LAW DECLARED ACROSS TURKEY UNTIL FURTHER NOTICE: TRT
TURKEY'S STATE-RUN TRT TV READS OUT STATEMENT FROM ARMY GROUP
ERDOGAN ON HIS WAY TO ATATURK AIRPORT: ANADOLU
Update 5 – Chaos continues
TURKEY AKP MP KULUNK CALLS FOR CIVIL DISOBEDIENCE ACROSS NATION
KERRY: WE HOPE THERE WILL BE PEACE AND STABILITY IN TURKEY
Update 4 1657ET -Government responds

*TURKISH PRESIDENT ERDOGAN'S OFFICE SAYS HE IS SAFE: REUTERS
*TURKEY'S YILMAZ: COUP ATTEMPT BY `PARALLEL STATE'
*TURKEY'S YILMAZ: COUP ATTEMPT TO BE REPULSED VERY SOON
Update 3 – its' getting violent

GUNFIRE HEARD IN ISTANBUL'S VATAN STREET: CNNTURK TELEVISION
TURKEY'S STATE BROADCASTER STORMED BY MILITARY: SKY
ATTACK HELICOPTERS OPEN FIRE NEAR TURKEY ARMY HQ
TURK POLICE RETURN FIRE AT ARMY HELICOPTER IN ANKARA: CNNTURK
Update 2 – Erdogan finally got the memo.

TURKEY PRESIDENCY: THIS IS AN ATTACK AGAINST TURKISH DEMOCRACY
TURKEY PRESIDENCY: GRP WITHIN ARMY ATTEMPTED TO OVERTHROW GOVT
TURKEY CHIEF OF GENERAL STAFF HULUSI AKAR KEPT HOSTAGE: ANADOLU
ISTANBUL POLICE OPENED INVESTIGATION ON MILITARY ATTEMPT: AA  
Update – The army is now in control.
TURKEY ARMED FORCES SAY THEY'VE TAKEN CONTROL OF COUNTRY

TURKEY ARMED FORCES: TOOK CONTROL TO RESTORE FREEDOM, DEMOCRACY
TURKEY ARMED FORCES: WE GUARANTEE VALIDITY OF ALL INTNL DEALS
CAVUSOGLU: WE WILL PROTECT DEMOCRACY UNTIL THE END
TURKISH WARPLANES FLY LOW OVER CAPITAL ANKARA

Full statement:
* * *

Shooting and explosions are being reported in the Turkish capital, Ankara, with military jets and helicopters seen in the sky above the city. According to Reuters, gunfire and explosions could be heard in the capital, where jets have been heard flying overhead, while bridges heading into Istanbul have been currently shut down. 
According to AP, Turkish Prime Minister Binali Yildirim says a group within the military engaged in an attempted coup.
Flashing red Bloomberg headlines confirm as much.
TURKISH PRIME MINISTER SAYS UPRISING ERUPTS WITHIN ARMY RANKS
YILDIRIM: THERE IS AN UPRISING WITHIN ARMY RANKS
YILDIRIM: SOME TURKISH ARMY UNITS SIEGED SOME INSTITUTIONS
TURKISH POLICE ORDERED TO — USE ARMS IF NECESSARY: YILDIRIM
TURKISH STATE-RUN TRT TV SHUT DOWN
GUNSHOTS HEARD NEAR PRESIDENTIAL PALACE IN ANKARA
*EXPLOSION HEARD NEAR TURKISH POLICE ACADEMY IN ANKARA'S GOLBASI
Curiously, the PM refuses to call this coup attempt a coup. Meanwhile president Erdogan is on holiday in the resort town of Bodrum.
As is the norm in Turkey, all social networks Twitter Facebook and YouTube have been shut down, as has the state TV.
As Reuters reported moments ago, Istanbul's Bosphorus Bridge and Fatih Sultan Mehmet Bridge were both closed on Friday, local television channels reported, without giving a reason. Dogan News Agency footage showed cars and buses being diverted. CNN Turkey showed two military vehicles and a group of soldiers lined up at the entrance of one of the bridges in Turkey's biggest city. A Turkish official who did not want to be named said soldiers had been deployed in other cities in Turkey, but did not specify which ones. Dogan News Agency reported the national police directorate  summoned all police to duty in Ankara.
The signs were obvious earlier. Gabriel Turner, 23, a management consultant from north London, who was on holiday in Istanbul, described to the Telegraph how there had been heavy police and security presence throughout the day before the military coup got underway after sunset. 
"Earlier today there were police everywhere. I thought that was normal but the two Turkish girls I was with told me  it wasn't normal. We were walking around the centre of Istanbul, at the Grand Bazaar there were police at every entrance and exit with lots of guns. 
"A police helicopter was flying very low  at sunset, it was about 8pm. It looked like it was searching for something. Later on, at about 10.30 I was in Karakoy, a bar area in the city centre and everyone started looking at their phones. A man who owns the bar told us that the army are taking over everything. 
"Then we walked down towards the a quieter area by the sea. While we were walking, my friend said the army had closed brides across the Bosphorus. We could see army helicopters in the sky.
"We went inside a cafe and everyone was on their phones looking worried, texting. Lots of people were running to catch a ferry – because the bridges were shutting and people wanted to get home. Then policemen came out of the ferries on their walkie talkies, looking very alert."
* * *
More details:
* * *
The Lira has crashed to Brexit lows against the USD – down a stunning 14 handles!!
And The MSCI Turkey ETF is crashing 9% after hours…