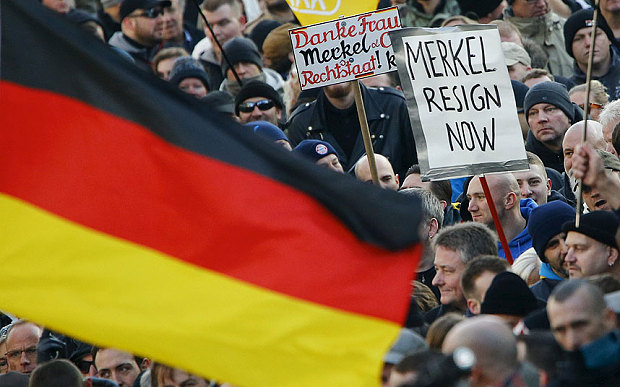 Thousands Of Germans Demand Merkel's Resignation; Protest "Open Door" Immigration Policy
ZeroHedge.com
With Germany having gone through a surge of seemingly daily killings in the past two weeks when 15 people have died, including four assailants, leaving dozens injured since July 18, the result of two terror attacks and a third killing carried out by men who entered the country as refugees, no one has seen their reputation impacted as much as Angela Merkel. And yet, despite admitting several weeks ago that "terrorists were smuggled in Europe's refugee flow", Merkel has been unrelenting on her immigration policy.
Seaking at an annual summer press conference in Berlin on July 28, a defiant Merkel ignored critics of her refugee policies and insisted there would be no change to her open-door migration stance. She also said she bears no responsibility for a recent spate of violent attacks in Germany. "We are doing everything humanly possible to ensure security in Germany," she recently said but added, "Anxiety and fear cannot guide our political decisions." Merkel said the goal of jihadists was to "divide our unity and undermine our way of life. They want to prevent our openness to welcoming people. They want to sow hate and fear between cultures and also among religions." The chancellor said she knows that Germans are worried about their personal safety: "We are doing everything humanly possible to ensure security in Germany," she noted, but added, "Anxiety and fear cannot guide our political decisions."
Merkel concluded by refusing to budge: "For me it is clear: we stick to our principles. We will give those who are politically persecuted refuge and protection under the Geneva Convention." She added: "I cannot promise you that we will never have to take in another mass wave of refugees."
The problem for Merkel is that increasingly less of her countrymen share her sentiment. A recent poll found that two-thirds of Germans oppose a fourth term for Merkel. Only 36% of respondents said they wanted Merkel and her CDU to lead the government after federal elections in 2017.
* * *
It got even much worse for Merkel yesterday when Bavaria's premier, a key coalition ally for Merkel's CDU, whose state bore the brunt of recent attacks in Germany, took aim at Chancellor Angela Merkel's open-door refugee policy on Saturday by rejecting her "we can do this" mantra, withdrawing his support over this key aspect of Merkel's domestic policy.
The comments from Seehofer, who said following the latest attacks that "all our predictions have been proven right", came after Merkel on Thursday defiantly repeated "we can do this" and vowed not to bend her refugee policy. The stark disasgeement by Seehofer, whose Christian Social Union is the Bavarian sister party of Merkel's conservatives, will exacerbate the chancellor's difficulty in standing by a policy that her critics have blamed for the attacks and which risks undermining her popularity before federal elections next year.
"'We can do this' – I cannot, with the best will, adopt this phrase as my own,"Seehofer told reporters after a meeting of his party. "The problem is too big for that and the attempts at a solution thus far too unsatisfactory," said Seehofer. "Restrictions on immigration are a condition for security in this country."

Bavarian state premier and leader of the Christian Social Union (CSU) Horst Seehofer
Five attacks in Germany since July 18 have left 15 people dead, including four assailants, and dozens injured. Two of the attackers had links to Islamist militancy, officials say. Germany is wrestling with how to respond.
Jens Spahn, deputy finance minister and a senior member of Merkel's conservatives, said that integrating the refugees was a Herculean task but the government needed to put more pressure on those new arrivals unwilling to make an effort to fit in. "A ban on the full body veil – that is the niqab and the burka – is overdue," he told daily Die Welt. "My impression is that we all underestimated a year ago what would come upon us with this big refugee and migration movement." Well, maybe not all.
Over a million migrants have entered Germany in the past year, many fleeing war in Afghanistan, Syria and Iraq. In an editorial, magazine Der Spiegel noted that the government of Helmut Schmidt, who served as chancellor from 1974 to 1982, toughened laws to combat the ultra-leftist Red Army Faction, which attacked the political and business elite, but added: "the terrorists nonetheless carried on bombing."
* * *
But worst of all, the anger has now openly spilled over from the top political ranks and the front pages of local newspapers to the streets, as more than 5,000 people protested in Berlin and thousands more throughout Germany over Merkel's 'open-door' policy that many have blamed for the four brutal terrorist attacks that left over a dozen dead.
Indeed, the local population appears to have finally had enough, after an axe rampage, a shooting spree, a knife attack and a suicide bombing in the span of a week stunned Germany.
'Merkel must go' has been trending on social media, with people posting powerful pictures including one claiming that she has blood on her hands after recent attacks. The picture shows her splattered with blood, while another depicts her wearing a Burka, the Daily Mail reports.
A new survey found that 83 per cent of Germans see immigration as their nation's biggest challenge – twice as many as a year ago.
And on Saturday, thousands of protesters calling for her to step down also met counter-protests from the anti-right-wing movement, in Germany – which is still in a state of high alert.
According to the Mail, more than 5,000 took to the streets in Berlin with thousands more protesting throughout Germany, demanding an end to the "open door" policy and seeking Merkel's resignation.

The Chancellor faced a fresh wave of fury after it emerged that two recent terror attacks and a third killing were carried out by men who entered the country as refugees, which further fuelled the right-wing movement.

Thousands gathered in the capital for the march today, which was called Wir fuer Berlin und Wir fuer Deutschland (We for Berlin and We for Germany)

'Merkel must go' (pictured on the placard today) has been trending on
social media, with people posting powerful pictures including one
claiming that she has blood on her hands after recent attacks

Despite the massive waves of criticism from right-wingers (pictured, Berlin, today, wearing a shirt that says The German Reich lives within us), Merkel defended her policy this week.

Several hundred people demonstrate with banner that reads 'Berlin! Better without Nazis' against a right-wing populist march in Berlin

Police manned the streets of Germany, which is still on high alert following the attacks, as right-wing protesters met thousands of counter-demonstrators (pictured, Berlin)

There was a heavy police presence (pictured) in Washington Square in Berlin as activists protested today.
* * *
Any more attacks by refugees, and with no change in immigration policy they are virtually assured, will result in even more political bickering, and even more popular protests until finally Merkel herself may be forced to admit defeat, which would be the most devastating blow for Europe yet. It would be ironic if the woman who has almost single-handedly kept Europe together over the past 6 years, surviving fears of Grexit, banking crises, a Brexit and so much more, is ultimately undone by a mistake she herself has made.
The last question: should the German chancellor be swept away, just who will have the stamina and the strength to keep a "united" Europe – Merkel's political legacy – together?
___
http://www.zerohedge.com/news/2016-07-31/thousands-germans-demand-merkels-resignation-protest-open-door-immigration-policy