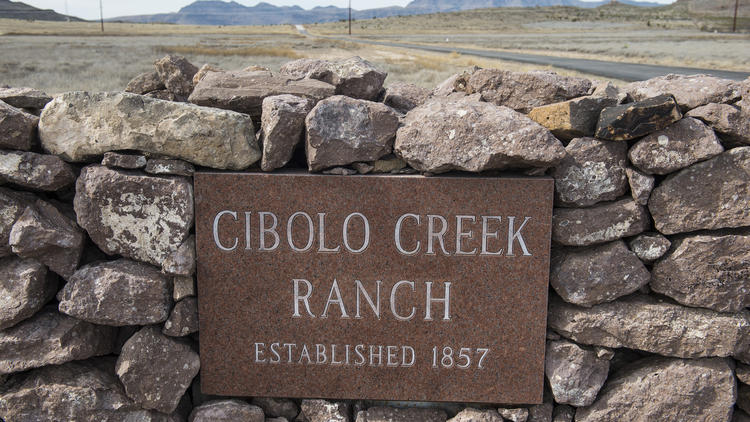 Scalia Death Timeline As Delineated Bt The LA Times — Holds Clues To The Real Cause Of Death
Scalia's last moments on a Texas ranch — quail hunting to being found in 'perfect repose'
By Molly Hennessy-Fiske
Los Angeles Times
When Texas millionaire John Poindexter invited Justice Antonin Scalia to his remote ranch near the Mexican border, it was for a private party with about 35 other guests, a weekend of hunting and sightseeing on his painstakingly restored and cultivated 30,000-acre spread.
But when Scalia, 79, failed to appear for a morning excursion at 8 a.m. Saturday, Poindexter became concerned and went to his room, which has its own outdoor fire pit and a wall of windows overlooking the 22-room adobe ranch hotel, a lake and surrounding peaks of the Chinati Mountains.
"I had not seen him, and everyone else was up. I knocked loudly," Poindexter said in an interview with the Los Angeles Times. But Scalia was in a large room, the "El Presidente" suite, and the owner figured that perhaps the justice couldn't hear him.
Poindexter had just met Scalia, and although he found him "congenial" and they got on well at dinner the night before, his first thought was: "He's a Supreme Court justice, and if he doesn't want to be bothered."
Eventually, Poindexter entered the silent room, apprehensive.
"I was worried I was going to find something very tragic," he said.
He spotted Scalia, still in his pajamas.
"He was in perfect repose in his bed as if he was taking a nap. His face wasn't contorted or anything," Poindexter said. "I went over and felt his hand and it was very cold, no pulse. You could see he was not alive."
It was Scalia's first visit to the storied ranch, and his death is already becoming part of the lore at Cibolo Creek, a site steeped in Southwest history and frequented by what Poindexter's consultant George Van Etten called "a lot of Hollywood people and captains of industry."
FULL COVERAGE: Supreme Court Justice Scalia dies at 79>>
The ranch, established in 1857, sits in the middle of remote desert, 15 miles north of the border and 150 miles southeast of El Paso, the last several miles on a dirt road.
On-site bird hunts include pheasant, chukar, white-winged dove and blue quail. The area is home to more than 500 species of birds, as well as 18 species of bats.
"Tread lightly and you're likely to see more than a few species of wildlife, including the American buffalo, Carmen mountains white-tailed deer, mule deer, elk, aoudad, coyotes, black bears, javelinas, mountain lions and bobcats/ringtail cats, along with domestic livestock grazing in our pastures," the ranch web site says. Cibolo is a Native American word for buffalo.
Several iconic films were shot here: "No Country for Old Men," "There Will Be Blood" and, 60 years ago in nearby Marfa, the Texas epic "Giant." Guests have included Mick Jagger, Julia Roberts and Tommy Lee Jones.
Poindexter recalled how, after Scalia — a Trenton, N.J., native who spent his career on the East Coast — arrived at about noon on Friday, he joined the other guests on a successful quail hunt.
"He did not hunt. He was out on the property, looking at it," Poindexter said. "It's a reasonably attractive place. He seemed to enjoy himself. He got off the truck once and seemed to enjoy himself."
See the most-read stories this hour >>
Most of the other guests had been to the ranch before and were friends or longtime acquaintances of Poindexter, who has a home on the ranch and has been hosting winter weekend gatherings for 20 years.
Poindexter said he had met Scalia once before, briefly in Washington, when he was there with a sports group and the justice agreed to meet them. He said he invited Scalia to the ranch on the suggestion of a mutual friend, a lawyer, who came with Scalia.
He declined to identify the lawyer or any of the other guests, except to say that they were "very substantial business people," but not big names in politics.
"There is no political angle here," he said. "It was strictly a group of friends sympathetic to the justice's views."
Scalia engendered criticism in the past over his choice of partners on hunting trips. In 2001, he went on a pheasant hunting trip with the dean of a Kansas law school who was the lead attorney in two cases that were about to come before the Supreme Court. And in 2004, he went duck hunting with then-Vice President Dick Cheney — flying with him on a plane that served as Air Force 2 — while the high court was considering a case that challenged the secrecy of an energy task force led by Cheney.
At the ranch, Poindexter said, Scalia "was very congenial. He spoke to anyone who would address him." He sat next to Scalia at a dinner of "typical ranch fare." He didn't recall what the justice ate, except that it wasn't steak.
"I spent quite a bit of time talking to him — about nothing official, just pleasantries: Texas scenery, outdoors, what life is like in Washington," Poindexter said. "He didn't come to have a long conversation about jurisprudence."
By dinner's end at about 9 p.m., Poindexter said, "he seemed in good spirits."
"He stood up and said he was tired, he had had a long week and he would see us in the morning," he said.
After Scalia's body was discovered, the ranch alerted the U.S. Marshals Service, which is responsible for protecting the justices when they travel outside Washington, although Van Etten had not noticed them around Scalia at the ranch.
"He was very unassuming. He didn't want his entourage of marshals to stay here with him," Van Etten said.
He said they also later alerted a Catholic priest, Father Mike Alcuino from nearby Presidio, who arrived Saturday afternoon to administer last rites to the justice, a devout Catholic.
The other guests, who had decided to stay but canceled their scheduled blue quail and box bird hunt, kept their distance.
"It was a sober mood, of course," Van Etten said as he headed to the presidential suite during a tour of the ranch Sunday. "We stayed away, directed the father over there. We lost a great jurist and a great American."
Poindexter had originally invited Scalia to bring his son, and when he couldn't come at the last minute, the justice brought the attorney friend instead, who alerted the family to his death, Van Etten said.
A gray hearse arrived Saturday — a decoy, Van Etten said, to distract the news media. It wasn't until about midnight that a van arrived to spirit the body away.
Scalia's body was taken by a caravan of 20 law enforcement officers three hours west to Sunset Funeral Home in El Paso, where, after the family opted against having an autopsy, it was being prepared to be flown back to Virginia, according to Chris Lujan, a funeral director manager.
"He passed away in his sleep of natural causes," Lujan said, adding that he was told an official went to the ranch to pronounce Scalia dead before the body could be removed.
Presidio County Judge Cinderela Guevara told WFAA Dallas that she pronounced Scalia dead due to a heart attack, but Lujan said he had not seen a death certificate reflecting that. Guevara did not immediately return calls Sunday.
Authorities were still investigating Sunday, but they released the scene and Van Etten allowed reporters to tour the ranch.
Although not allowed into the suite where Scalia stayed, reporters were allowed to peer inside through glass doors.
The bed still appeared slept in. No personal items were visible on the carved wooden tables.
A map appeared to be set under a bottle of water.
"When I went to straighten his room up after he was removed this morning, I noticed he had a map of the property next to his bed," Poindexter said. "He had obviously been looking at it before he went to bed."
Poindexter is founder of Houston-based J.B. Poindexter & Co. Inc, a privately held, diversified manufacturing company that makes machine parts and auto and truck bodies, among other things. He is a third-generation Texan, an Army veteran honored, along with the troops he commanded, by President Obama at the White House in 2009. The group received the Presidential Unit Citation for their service rescuing trapped soldiers in Vietnam.
He appears to be a modest political donor, with contributions to the Democratic Party, a Democratic political action committee and several Texas Democratic candidates for Senate and Congress, according to Federal Election Commission records.
In the interview, he called himself "a committed independent."
Van Etten described Poindexter as a stickler for details, especially when it comes to Cibolo Creek. When he bought the ranch in 1988, he set about restoring it to its original rustic splendor, ensuring the brown adobe was mixed from surrounding soil and the crumbled remains of the original forts, and filling the property with artifacts inside and out — Native American statues and indigenous masks, Mexican pottery, vintage shotguns and maps of Texas.
Reflecting on Scalia's passing, now inextricably linked with the frontier outpost he preserved, Poindexter said he was distraught, but also grateful.
"It was an honor to have had him," he said. "He was surrounded by 35-odd admirers. He was at a beautiful location, which he remarked upon several times as being very much to his taste. He was doing what he liked to do, which was being outdoors. He had no apparent pain or distress in his death. While an absolute tragedy, it could have happened at worse places and worse circumstances than it happened here."
___
http://www.latimes.com/nation/la-na-scalia-ranch-20160214-story.html