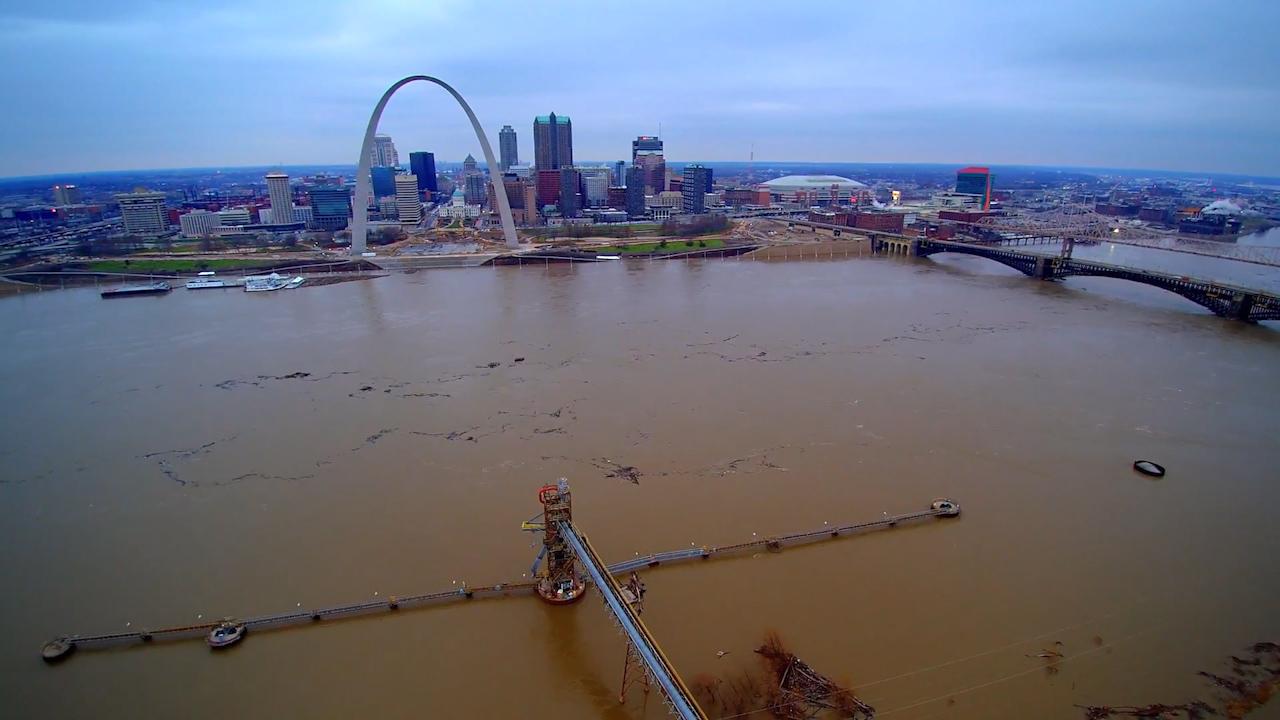 Stunning Drone Footage Of The Midwest Flooding Wreaking Havoc On US Oil
ZeroHedge.com
After the first deadly winter storm this season, now come the floods: the near-record water level across the U.S. Midwest has disrupted everything from oil to agriculture, forcing pipelines, terminals and grain elevators to close. This is the worst flood in the region since May 2011, when rising water on the Mississippi and its tributaries deluged cities, slowed barge traffic and threatened refinery and chemical operations and is just shy of the worst flood of breaking 30-year records.
According to Bloomberg, the floods have killed at least 20 people and shut hundreds of roads across Missouri and Illinois, according to AccuWeather Inc. Rain-swollen rivers will set records in the Mississippi River basin through much of January. Fifty miles (80 kilometers) of the Illinois River remain closed, according to the U.S. Coast Guard, as well as five miles of the Mississippi River.
Additionally, the Coast Guard issued a high-water safety advisory for 566 miles of Mississippi River between Caruthersville, Missouri, and Natchez, Mississippi. It also instituted high-water towing limitations near Morgan City, Louisiana, for vessels heading south that are 600 feet or shorter, it said in a statement.
And while water levels have started to recede in some areas, closures and restrictions remain in place for safety, said Jonathan Lally, a spokesman for the U.S. Coast Guard. "The high water is kind of moving in a big glob and it's on its way down," he said Friday in a telephone interview from New Orleans.
The impact of the flood has hit farmers, with hog producers in southern Illinois calling other farmers, hoping to find extra barn space to relocate pigs. Processors are sending additional trucks to retrieve market-ready pigs, she said. In one case, an overflowing creek took out electricity and made roads impassable, causing 2,000 pigs to drown.
But the flood's most adverse economic impact may be on oil,  which may see an even greater increase in stockpiles as a result, pushing the price of oil even lower.
As Bloomberg adds, so far the biggest oil shutdown involves Enbridge Inc.'s Ozark pipeline, which was booked to carry about 200,000 barrels a day this month to Wood River, Illinois, from Cushing, Oklahoma. The outage of the section under the Mississippi River may further add to stockpiles at Cushing that reached a record high last week.
 "The closure of the Ozark pipeline will just add to the stocks at Cushing," said Amrita Sen, chief oil economist at Energy Aspects Ltd. in London.
Also shuttered is Spectra Energy Corp.'s 145,000 barrel-a-day Platte oil pipeline between Guernsey, Wyoming, and Wood River which remains closed as a precaution because of the river's condition.
Aside from closed pipelines, energy companies have also shut down various terminals in the affected region. Kinder Morgan shut its Cahokia terminal in Sauget, Illinois, and its Cora terminal in Rockwood, Illinois. Cahokia handles chemicals, coal, cement and metals while Cora handles coal and petcoke, according to the company's website. Kinder Morgan declared a force majeure, which protects it from liability for contracts that go unfulfilled for reasons beyond its control.
"We plan to return to service as soon as possible after the water recedes," Wheatley said Friday in an e-mailed statement.
Exxon Mobil Corp. shut its fuel terminal on the Mississippi at Memphis and is taking precautions to secure the facility, spokesman Todd Spitler said Friday in an e-mail. Impacts to customers "will be minimized as alternative supply will be provided," he said.
The worst case scenario would be if the floodwaters reach Louisiana, which has 10 refineries in the Baton Rouge-New Orleans area with a combined capacity of about 2.5 million barrels, or 13 percent of the nation's capacity, said Andy Lipow, president of Lipow Oil Associates in Houston.
Refineries including Exxon's facility in Baton Rouge and Marathon Petroleum Corp.'s in Garyville, Louisiana, will probably try to get their crude and ship out their products if they can before the river levels rise, Lipow said.
In short, this Midwest flood will have a significant impact on US oil transportation and logistics, which in turn will make the already acute problem of oil storage even worse, and comes at the worst possible time, just as Cushing inventories are already at record high (with about 10mm barrels of capacity left) and seasonally rising fast, and when the price of oil is very sensitive to even the smallest (forget record) builds in inventory.
So without further ado, here is the stunning drone's eye footage of this near-record flood, courtesy of the WSJ.