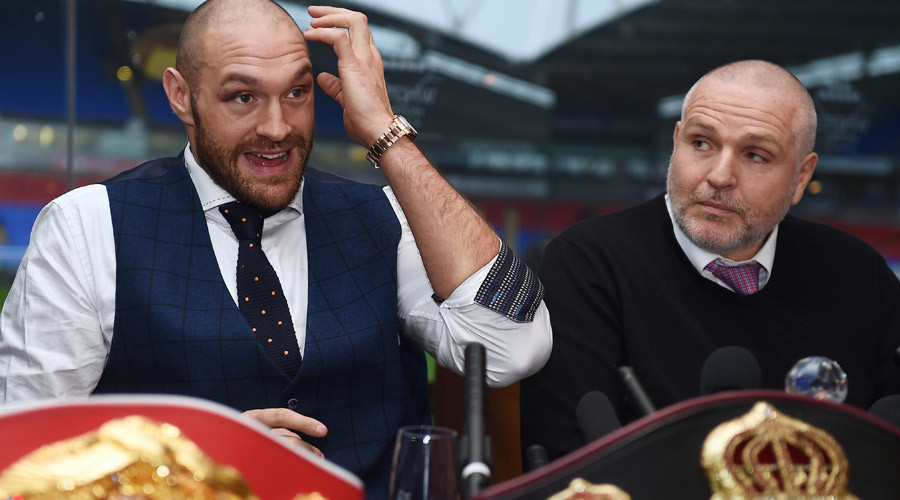 Tyson Fury stripped of IBF title, is also being investigated by police
RT.com
In farcical circumstances, Tyson Fury has been stripped of the IBF world heavyweight title he won less than two weeks ago by beating Wladimir Klitschko.
Fury's vow to honor his rematch clause with Klitschko, rather than face the IBF's mandatory challenger, has led to him being stripped of the crown.
Lindsey Tucker, IBF championships chairman, said: "It's true he's been stripped of his IBF belt. Our challenger was Vyacheslav Glazkov, but instead Fury's gone and signed a rematch clause with Wladimir Klitschko."
Fury had until December 11 to negotiate a deal with Glazkov, but the IBF decided to strip him of the title after he confirmed he will face Klitschko next year, possibly at Wembley Stadium.
The British fighter remains the WBA and WBO world champion, while American Deontay Wilder holds the WBC version and is a potential future opponent.
Controversy has engulfed Fury since he beat Klitschko, with his inclusion in the BBC's Sports Personality of the Year shortlist seeing over 100,000 people sign a petition to have him removed following reported sexist and homophobic comments.
Read more
Tyson Fury during the press conference © Andrew CouldridgeTyson Fury courts controversy with 'cheating' Klitschko camp comments
Fury's troubles continued with police launching a hate crime investigation after receiving complaints about the remarks.
A spokesperson for Greater Manchester Police said that they took "all allegations of hate crime extremely seriously" and will be visiting the victim's address to take a statement in due course.
The 27-year-old boxer defended comments made about the Olympic heptathlon champion, Jessica Ennis-Hill, who he said "looks good in a dress" and "slaps up good," adding that "a woman's best place is in the kitchen and on her back." He also appeared to compare homosexuality to pedophilia.
The BBC has no plans to remove him from the shortlist or make any special arrangements to avoid potential controversy at the ceremony in Belfast on December 20.
The corporation says the selection panel of industry experts examine each contender's sporting achievements and that the BBC does not endorse the nominees' personal beliefs.
One aspect of the judging criteria is listed as "taking into account 'impact' over and beyond the sport or sporting achievement in question."
The BBC was forced to apologize on Tuesday after its presenter Clive Myrie described Fury as a "d*ckhead" during a live TV newspaper review on Monday night.
Myrie looked at his watch, decided it was after the watershed and said: "You cannot be a d*ckhead and win the Sports Personality of the Year."
A BBC spokeswoman said: "We apologize to any viewers who were offended by the language Clive Myrie used during a discussion on the late-night paper review on the News channel."
—
http://www.rt.com/sport/325276-tyson-fury-police-investigation/