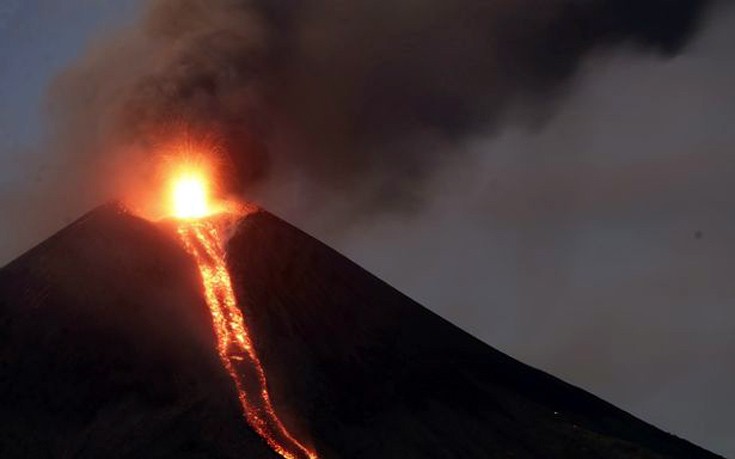 Nicaraguan Volcano Erupts For The First Time In 110 Years
Neither local nor foreign media have reported any injuries or deaths from the eruption.
Alexandra Ma
The Huffington Post
Nicaragua's Momotombo volcano erupted for the first time in 110 years on Tuesday, spewing lava and plumes of ash into the sky.
Residents in nearby communities reported hearing a loud explosion before seeing gas and ash spout from the volcano, according to Nicaraguan daily newspaper La Prensa.
The eruption closed over a dozen schools in the surrounding regions. There are currently no reports of any injuries or deaths.
The volcano is located 30 miles from Nicaragua's capital Managua, and is near Leon, which is the country's second largest city, according to the Associated Press. Around 3,500 people live in areas around the volcano.
Earlier this month, Guatemala's Fuego volcano erupted some 320 miles away, covering at least six villages with ash and forcing guests at a nearby hotel to evacuate.
Take a look at some powerful photos and videos of the Momotombo eruption below:
Esteban Felix/Associated Press

STR/AFP/Getty Images

STR/AFP/Getty Images

Esteban Felix/Associated Press
#Nicaragua: ¿Afectará la actividad en el #Momotombo los vuelos? https://t.co/Zt99Ybm2Yc pic.twitter.com/f3vLVq2dRG

— La Prensa Nicaragua (@laprensa) December 2, 2015
#Momotombo ruge, despierta y vuelve a su gloria pic.twitter.com/eNlsS5HHDX

— Canal 6 Nicaragua (@Canal6Nicaragua) December 2, 2015

http://twitter.com/Univ_Mundo/status/672071773794340864/photo/1?ref_src=twsrc%5Etfw
http://www.huffingtonpost.com/entry/syrian-refugees-internally-displaced_565c94e1e4b079b2818b14d8