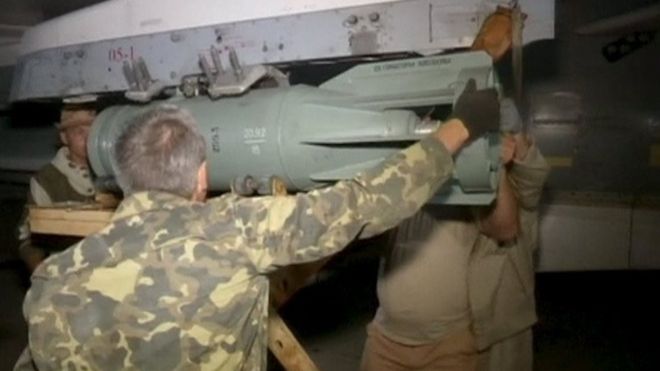 Russia Sends The USA A HUGE Message From The Caspian Sea
TMR Editor's Note:
This story just keeps getting bigger by the day as the Syrian battleground morphs and contorts, contracts and expands by the hour.  You have to give it to the Russian military tacticians and war strategists; they have outfoxed their American counterparts at every turn.
That Russia would feel so confident in their latest generation of cruise missiles to fire them from 900 plus miles away reveals that the USA lacks the necessary technology to neutralize them.  Which means that Russia can continue to prosecute the war against the USA-coordinated terror groups in Syria from their Motherland.
This battlefield-shattering tactic also demonstrates President Putin's resolve to liberate Syria from the Zio-Anglo-American controlled ISIS … even if it must be done from a thousand miles away.
~~~~~~~~~~~~~~~~~~~~~~~~~~~~~~~~~~~~~~~~~~~~~~~~~~~~~~~~~~~~~~~~~~~~
4 Russian warships launch 26 missiles against ISIS from Caspian Sea
RT.com
Four Russian Navy warships have fired a total of 26 missiles at the position of the terrorist group Islamic State in Syria, Russia's Defense Minister Sergey Shoigu announced. The missiles were fired from the Caspian Sea.
"Four missile ships launched 26 cruise missiles at 11 targets. According to objective control data, all the targets were destroyed. No civilian objects sustained damage," Shoigu said.
READ MORE: Russian warships attack ISIS positions in Syria from Caspian Sea (VIDEO)

The missiles flew some 1,500 km before reaching their targets, probing their efficiency.
READ MORE: Russian jets hit 12 ISIS targets in Syria, 'cause panic among extremists'

The missile attacks came from Russia's fleet in the Caspian Sea, which borders Russia, Iran and three other littoral countries. The precision weapons hit all intended targets. The attacks required cooperation from Iran and Iraq, as the missiles had to travel through their airspace to reach Syria.
The Russian Defense Ministry said it had worked with its partners to plan the flight path so that the missiles traveled only over desolate areas and didn't pose any danger to civilians.
Four warships of the Caspian fleet were involved in the missile attacks, the Gepard-class frigate Dagestan and the Buyan-M-class corvettes Grad Sviyazhsk, Uglich and Veliky Ustyug. They fired cruise missiles from the Kalibr NK (Klub) VLS launchers. The missiles used are capable of hitting a target within 3 meters at a range of up to 2,500 km.
Earlier, Russian warships played a key part in deploying the Russian warplanes to Syria, delivering equipment and supplies to an air base near Latakia and the Navy's old base in Tartus.
READ MORE: 'We are seeking bigger role for Russia than Americans' – Iraq defense committee chairman

© Russian Defence Ministry / YouTube
Russia has spent a week delivering airstrikes at terrorist forces in Syria, conducting over 120 combat sorties. Now the Navy is joining Russia's Air Force in the operation.
http://www.rt.com/news/317864-russian-warships-missiles-launch/
~~~~~~~~~~~~~~~~~~~~~~~~~~~~~~~~~~~~~~~~~~~~~~~~~~~~~~~~~~~~~~~~~~~~
Russian missiles 'hit IS in Syria from Caspian'
BBC
Russia has launched rocket strikes on Islamic State targets in Syria from its warships in the Caspian Sea, 1,500km (932 miles) away, Russian Defence Minister Sergei Shoigu says.
He said four warships launched 26 sea-based cruise missiles on 11 targets, destroying them.
Meanwhile, Syrian ground troops have launched an offensive under Russian air cover, Syrian officials say.
Russia denies claims that its week-long strikes mainly hit non-IS targets.
The Syrian Observatory for Human Rights reported "the most intense fighting in months" in Hama and Idlib provinces.
The clashes followed a wave of Russian air strikes in the same areas, it said.
It appears to be the first co-ordinated offensive since the air campaign by Russia – a staunch ally of Syrian President Bashar al-Assad – began on 30 September.
Russia says it is targeting "all terrorists", but at least some of its air strikes have reportedly hit civilians and Western-backed rebels.