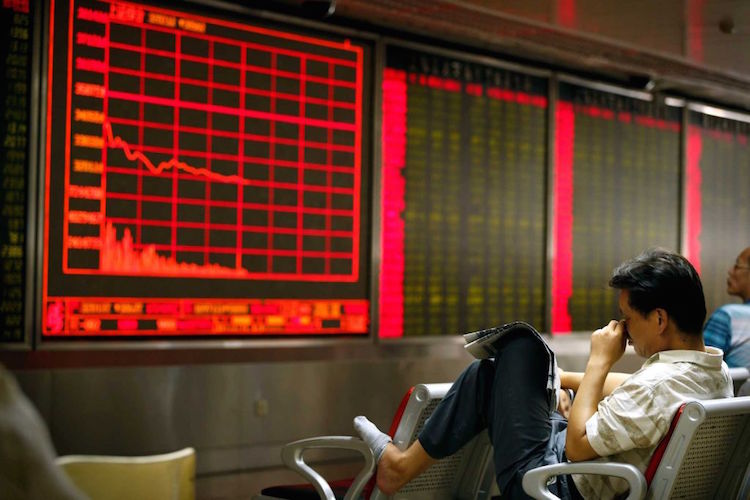 Global markets plunge as Chinese stocks suffer biggest one-day fall since 2007
USA Today Money
Global shares plunged Monday with China's Shanghai composite index suffering its biggest one-day fall since 2007 to close 8.5% lower as investors shaken by last week's sell-off on Wall Street and fears over China's slowing economy unloaded shares.
The benchmark closed at 3,209.91, its biggest one-day loss since an 8.8% drop on Feb. 27, 2007. Hong Kong's Hang Seng index fell 5.2% to 21,251.57 and Japan's Nikkei 225 index dropped 4.6% to 18,540.68.
Australia's S&P ASX/200 slid 4.1% to 5,001.30, while South Korea's Kospi lost 2.5% to 1,829.81.  European shares were lower, with Germany's DAX index down 4.5%, France's CAC 40 4.7% lower, and Britain's FTSE 100 index losing 4.2%.
By early afternoon Monday, the Shanghai composite index slid 8.8% to 3,200.85, as analysts and investors watched for signs that Chinese regulators or the central bank might intervene.
Regulators said they would allow the State Pension Fund to invest up to 30% of its total net assets in stocks and other equities, but that move was an approval of a policy announced earlier and had no discernable impact on investor sentiment.
The Chinese benchmark has lost all of the gains of its meteoric rise earlier in the year, but is still up 43% from a year ago.
U.S. stock futures were lower Monday, with the Nasdaq 4.5% lower, the Dow down 3.2% and the S&P 500 2.9% lower.
The Russian ruble plunged 2.3% on Monday to hit a seven-month low amid a further drop in oil prices, the country's key export.
On Friday, U.S. stocks dropped for a fourth straight day with the Dow plunging more than 500 points and dropping into correction territory and oil setting a new 6 1/2-year low as it dipped below $40 a barrel.
Contributing: Associated Press