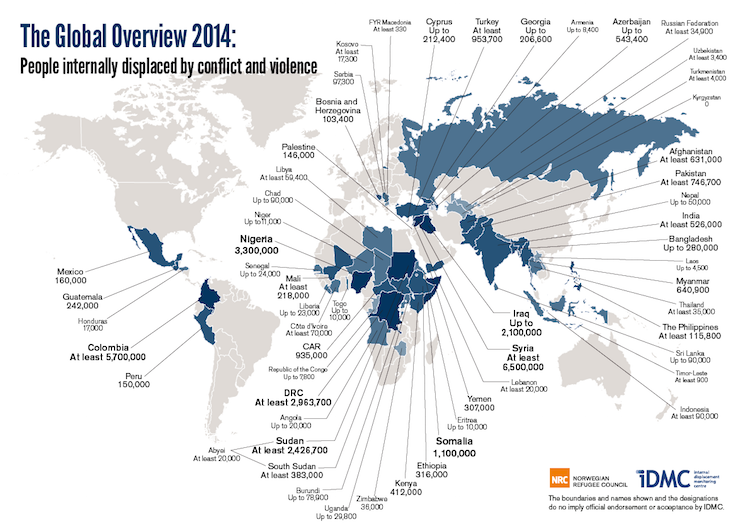 UN Study: Displacement Worst Ever Recorded
Joe DeCapua
Voice of America
The U.N. refugee agency says worldwide displacement from wars, conflict and persecution is at the highest level ever recorded. And it's getting worse. The UNHCR has released its annual Global Trends report, which says nearly 60 million people were forcibly displaced at the end of 2014.
The UNHCR describes the level of displacement as a "dangerous new era" that "dwarfs anything seen before."
Spokesman Babar Baloch said, "It's really a sad reality of the world that we are living in today. I mean last year, in 2014, there were 59.5 million people that were forced out of their homes, either as internally displaced people, or they were forced to leave their countries and cross an international border, or they needed to seek asylum somewhere."
The figure is 8.3 million higher than at the end of 2013.
"This is a staggering escalation in terms of people being uprooted every year. What we are talking about right now is 42,000 people are being forced out of homes every day," he said.
The Global Trends report, "World at War," said that "in region after region, the number of refugees and internally displaced people is on the rise." It said, "In the past five years, at least 15 conflicts have erupted or reignited." Eight of them are in Africa; three in the Middle East; one in Europe and three in Asia.
Baloch said one country has been the main driver of the upward trend since 2011.
"The highest numbers that we are seeing in terms of people that are displaced is the Syrian Arab Republic. So with that we have 15 million people that are affected in Syria and Iraq with that. And Syria today is the highest refugee-producing country, with a conflict now entering its fifth year almost."
Some 7.6 million Syrians are displaced within the country, while about 3.9 million are refugees in neighboring countries and elsewhere.
Afghanistan, which has suffered over three decades of conflict, is the number two producer of refugees with nearly 2.6 million. Hundreds of thousands are displaced within the country. Afghanistan is followed by Somalia, producing more than one million refugees.
"Adding to that you have new conflicts. Ukraine was there last year. That started. We now have Yemen as a new conflict. Things are heating up in Iraq again. South Sudan, Central African Republic, and Burundi is a new one. So there seems to be no end to the conflicts that the world is dealing with," said Baloch.
He said that donor aid is not keeping pace with the rising number of conflicts.
"The resources that we humanitarians have are getting limited and limited. How are we going to deal with the millions when the resources are just not there? Last year, UNHCR asked for over $6 billion to deal with the refugee crises around the world and we got half of that."
Aid, he said, should also be given to countries shouldering the refugee burden as hosts, such as Turkey, Iran, Pakistan, Ethiopia and others.
The UNHCR spokesman highlighted problems contributing to displacement.
"There needs to be political will to find solutions for these conflicts. Number two is we humanitarians have reached a point where we just are not able to clear up the mess that the global politics is creating today. So, if we are supposed to take care of these poor people – women and children – that have suffered too much, we need to have resources. Number three, countries need to keep their borders open for these people."
He said that half of the world's displaced are under age 18. Many are minors separated from their families.
Gang violence and persecution in Central America are causing many people to flee. The United States saw nearly 37,000 more asylum claims last year than it did in 2013. That's a 44 percent increase.
Baloch said, "As a humanitarian organization, we are asking countries to do the right thing that we as human beings have signed up to. Human beings are in need of protection and they're desperate. And they need to save their lives. They should be given protection."
U.N. High Commissioner for Refugees António Guterres said, "We are witnessing a paradigm change, an unchecked slide into an era in which the scale of global forced displacement, as well as the response required, is dwarfing anything seen before." He added that "it is terrifying…that there is more and more impunity for those starting conflicts," and a "seeming utter inability of the international community to work together to stop wars and build and preserve peace."
In related news, the Institute for Economics and Peace reported 180,000 people died in conflict last year, while deaths from terrorism numbered 20,000. It said war, homicides, violent and sexual crimes cost the global economy over $14 trillion in the past year.