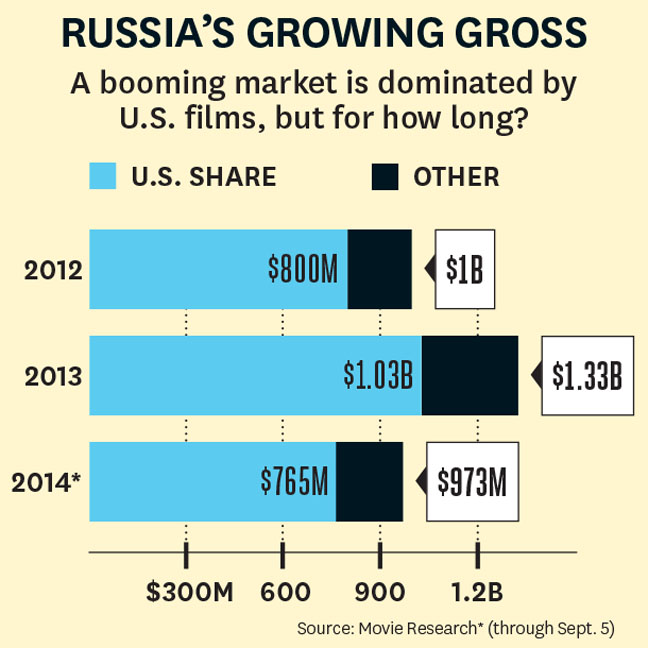 Russia Mulls Boycott of Hollywood Movies Amid U.S. Sanctions, Negative Portrayals
by Vladmir Kozlov, Nick Holdsworth
www.hollywoodreporter.com
A new cold war could be brewing after a string of recent movies featuring Russian villains, from Kenneth Branagh's diabolical oligarch in 'Jack Ryan: Shadow Recruit' to a sadistic former KGB agent in 'Avengers'
A version of this story first appeared in the Oct. 3 issue of The Hollywood Reporter magazine.
Is a new cold war brewing between Hollywood and Russia?
After a string of recent movies including The Avengers, Jack Ryan: Shadow Recruit and A Good Day to Die Hard featured Russian villains, a member of the country's parliament has suggested outlawing foreign movies that "demonize Russia and Russians." And on Sept. 17, top Russian director Yuri Kara called for a ban on U.S. films until it lifts sanctions imposed against Russia for annexing Crimea from Ukraine. "Hollywood would exert pressure on Obama, and he would lift the sanctions," said Kara.
Another director, Stanislav Govorukhin, who was Russian president Vladimir Putin's campaign chief in the election two years ago, also has spoken out in favor of restrictions on Hollywood fare. "I believe that it would be good to limit the presence of Hollywood movies on Russian screens," he said Sept. 18 at a congress of All-Russian People's Front, a pro-Kremlin organization, which he co-chairs.
Any limit on access to the Russian market would hurt Hollywood like never before. In 2013, Russia's box office grew to $1.3 billion, becoming the world's sixth-largest movie market. U.S. fare accounted for more than 75 percent of the total gross.
Read more Soviet-Era Actor Who Inspired Vladimir Putin Dies at 90
Curtailing U.S. movies might play well with Putin, but many in the Russian entertainment community aren't fans of possible retaliation. "Hollywood movies create steady audience flow to theaters here, leading to more screens being opened in the country, which eventually helps Russian productions," saysAlexander Akopov, head of Moscow's AMedia.
Russia's public chamber has said it will consider the introduction of a 40 percent quota for Russian releases. Govorukhin believes Russian releases wouldn't be able to fully replace Hollywood films as the local film industry only produces 60 features a year, so more films made "in countries with rich film cultures," such as Turkey, Korea, Iran and Japan, should be released in Russia, as well as more European films, he says.
In addition to the U.S. sanctions against Russia, several high-profile portrayals have rankled nationalist pride.
In 2008, Indiana Jones and the Kingdom of the Crystal Skull was attacked by communists in St Petersburg for a "distorted depiction of the Soviet Union's foreign policy in the 1950s" and "satirized and negative portrayal of Soviet soldiers."
British actor Kenneth Branagh is among the latest in Hollywood's long list of Russian screen villains, playing diabolical oligarch Viktor Cherevin hell bent on destroying America in the winter release Jack Ryan: Shadow Recruit. Other recent portrayals: A sadistic former KGB agent in The Avengers; bent Russian officials in A Good Day to Die Hard; a Russian-American loan shark in Limitless and even Russian missile space debris that destroys the US space station in Gravity.
Read more Homophobic Election Video Stirs Controversy in Russia
"In some films, anti-social and sometimes anti-Russian rhetoric is present, confusing the younger generation," the chamber's first deputy secretary Vladislav Grib was quoted as saying on Sept. 24 by the Russian news agency ITAR-TASS. "At the same time, Russian pictures have a hard time reaching the screens and sometimes they are unable to do that at all," he added.
Akopov believes a compromise is in order. "We understand that there is no way for Hollywood to stop portraying us as the bad guys," he says. "We just advise that Hollywood add some balance and introduce some good Russian characters into their stories too. Apart from being fair and politically correct, this approach will also help keep screens open for Hollywood in the world's sixth largest theatrical market."