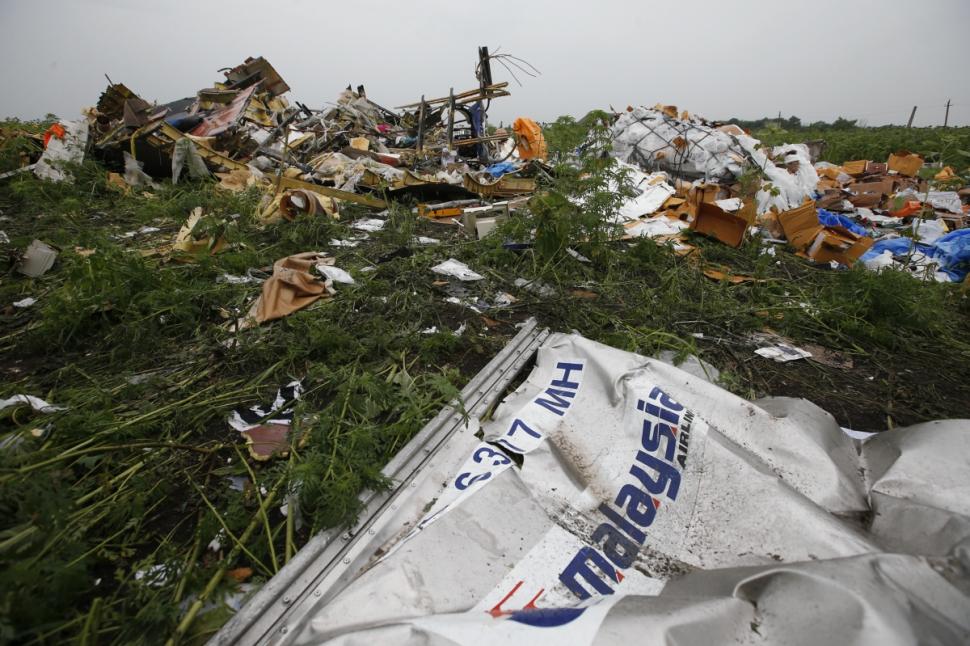 MH17 HOAX: Crash Scene Evidence Reveals No Boeing-777 Engine
by Harold Saive
Veterans Today
It's now established that US and international troops were deployed to the Ukraine under Exercise Rapid Trident – a 12-Nation joint military exercise in the Ukraine coinciding with the alleged crash of MH-17.
WHAT IS RAPID TRIDENT?
Rapid Trident supports interoperability among Ukraine, the United States, NATO and Partnership for Peace member nations. The exercise helps prepare participants to operate successfully in a joint, multinational, integrated environment with host-nation support from civil and governmental agencies.

Rapid Trident is a part of U.S. European Command's Joint Training and Exercise Program, designed to enhance joint combined interoperability with allied and partner nations.

The exercise also supports Ukraine's Annual National Program to achieve interoperability with NATO and commitments made in the annual NATO-Ukraine work plan.
How many times have government and military exercises turned into false flag events like 9/11, Sandy Hook, Boston Marathon Bombing and now – the sensationalized downing of  a Malaysian Airliner, MH-17, as another in a long line of False Flags. VIDEO: DAHBOO7 Opinion about Rapid Trident
Interview Reveals US Army Facilitated actions in Eastern Ukraine.  Did the Army hire Ukraine sub-contractors to haul imported crash debris ror camera fodder?
Rapid Trident II – NATO Military Exercise Taking Place In Ukraine At The Time Of MH17 Shoot Down
Army watching Eastern Europe closely
WASHINGTON (Army News Service, March 27, 2014) — The Army and NATO are watching "very carefully" the troop deployments and the exercises they're doing in Russia, said Army Chief of Staff Gen. Ray Odierno.
While any decision to execute comes from the commander in chief, the Army must be prepared for any contingency, Odierno emphasized.
"Our NATO allies are concerned about what they're seeing here, especially those in Eastern Europe," he said.
Asked if the Army could move up some of its training exercises with Eastern European leaders, Odierno responded:
The Army has a "robust exercise program" that goes on throughout Europe that could be utilized to do many things.   He added, "I think we're taking a very hard look at that as we look at the exercises we have planned."… Only last year (2013) the Army participated in Exercise Rapid Trident in Ukraine. During that exercise, armies from 17 nations participated.
ROLLS-ROYCE SIGNS TOTALCARE? SERVICES AGREEMENT WITH MALAYSIA AIRLINES
Energy Press Releases Thursday March 11, 2010 15:23

Rolls-Royce, the global power systems company, has signed a long term TotalCare® service agreement to support engines that power Malaysia Airlines' fleet of 17 Boeing 777 aircraft.
The agreement, which covers Trent 800 engines, is the first time that Malaysia Airlines operations will be supported by TotalCare®
Even while the evidence of hoax are not diminished, it must be updated that the Rolls Royce, TRENT-800  engines were installed on all Malaysia B-777 fleet including MH-17.
The TRENT engine rotates clockwise (CW) as opposed to the counter-clockwise (CCW) rotation of the GE90.  An archive photo of Malaysia 9M-MRD  from June, 2011 clearly shows the CW rotation of the Trent engine as indicated on the unique nose cone spiral.
Malaysia Airlines with TRENT-800 engine takeoff roll in 2011 (9M-MRB)
Trent-800 engine more economical:
A Trent-powered Boeing 777 weighs up to 3.6 tonnes less than General Electric and Pratt & Whitney-powered versions.
Ukraine will play host, but the US military will call the shots, in an upcoming military exercise calledRapid Trident that will bring together some 1,300 international forces in Ukraine for a long-planned exercise.

Although the United States canceled Atlas Vision 2014, which was scheduled to take place in July in the northeastern Russian city of Chelyabinsk, the Pentagon says it will go ahead with plans for a multinational military exercise this summer in Ukraine.
Atlas Vision is a bi-lateral U.S-Russian Ground Forces exercise. The exercise will consist of a battalion-level command post exercise/Computer Assisted exercise and a platoon-level field training exercise.
Interesting how the media has erased the fact that Russia knows all about Rapid Trident including MH-17 evidence "irregularities".
More interesting is that  Russia had planned to participate in one of these US-led events – Atlas Vision – on their own soil.  Meanwhile, investigators and bloggers  continue to get blind-sided  by disinfo couched as insider "leaks" from allegedly trusted sources.
No doubt that every player forecasting the "new Cold War" are completely informed about the MH-17 hoax as integrated into a war games exercise.
When will investigators learn to look first, for the planned exercise as the pretext to a hoax/False Flag as was the case in 9/11, Sandy Hook and Boston Marathon Bombing.?
HOAX:  Bogus Engine Debris at Alleged MH-17 Crash Site

The huge, wide-body Boeing-777-200 is powered by one of the most advanced turbofan engines in the world.
Rolls Royce Trent 800 Turbofan engine has diameter of 9.2 feet.
Engine parts and other debris mostly appear to originate from aircraft other than a B-777-200.  More importantly, the impact of a giant B-777 falling from over 30,000 ft. altitude would  be expected to leave a large impact crater, yet the debris  appears to be dumped on the ground as if hauled in by truck.
At first sight the alleged engine debris appears to match the Trent 800 engine profile in the combustion stage aft of the large fan.  But on closer inspection no reasonable observer would expect this  heavy metal section to survive a fall from 30,000 feet without being disintegrated as it creates a large crater in the ground.  Instead, the the section looks more like it was hauled onto the scene and dropped from on the ground from the back of a truck
"Michael Holmes of CNN shared an image on Twitter via his account @holmescnn of a section of what appears to be a Malaysia Airlines jetliner on a grassy field. The Malaysian flag is clearly depicted and the red and blue livery colours used by MAS are also shown."

The source of the images, a man identifying himself as a tourist guide / traveller / photographer / former soldier from Slovenia, @MatevzNovak, has since posted more photos – taken by a Nadezhda Chernetskaya – of what he claims to be the crash site of Flight MH17 in Grabovo, Ukraine. (TRNS)

No evidence of Boeing-777 engines at crash site could conclude that neither MH-17 nor MH-370 were struck by a missile!
Horizontal and vertical stabilizer at alleged crash site fail to match Boeing-777 profile specific to 9M-MRD alias flight MH-17
Source photo – Airliners.net
A widely circulated video alleging shoot-down of MH-17 cannot be supported. Evidence supports catastrophic failure of the starboard engine that was eventually brought under control.  On close inspection, the dark under-side paint job (livery) suggests the aircraft is from the fleet of British Airways (Airbus) and not from the Malaysia airlines fleet of Boeing 777-200 servicing flight MH-17.
Suspicion that a counterfeit "MRD" section was conspicuously planted at the scene is further confirmed.
__________