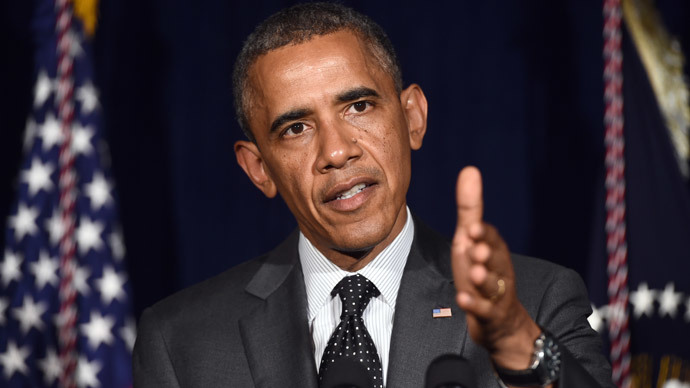 Journalism groups blast Obama admin for 'politically driven suppression of news'
RT.com
In a letter to President Obama, 38 journalism groups criticized his administration for severely limiting access to federal agencies and a general politically-motivated suppression of information despite the president's pledge of historic transparency.
Led by the Society of Professional Journalists (SPJ), the groups said that efforts by government officials to curb free-flow of news and information to the public has reached a peak during the Obama administration following a similarly stifling culture during prior president George W. Bush's tenure in the White House.
"Over the past two decades, public agencies have increasingly prohibited staff from communicating with journalists unless they go through public affairs offices or through political appointees," wrote SPJ president David Cuillier. "This trend has been especially pronounced in the federal government. We consider these restrictions a form of censorship — an attempt to control what the public is allowed to see and hear."
Cuillier added that while agency personnel are kept mostly off limits to journalists, they are "free [to] speak to others — lobbyists, special-interest representatives, people with money — without these controls and without public oversight."
The groups said that Obama's recent lamentations of a growing cynicism of government were peculiar given his administration's broad efforts to shroud official action and policy maneuvers in secrecy, all of which "undermines public understanding of, and trust in, government," the letter reads.
"You need look no further than your own administration for a major source of that frustration – politically driven suppression of news and information about federal agencies. We call on you to take a stand to stop the spin and let the sunshine in," wrote Cuillier.
The administration has previously dismissed similar sentiment from other journalism and watchdog groups, including the White House Correspondents' Association.
The letter cites examples of alleged information censorship, including officials repeatedly blocking reporters' requests to talk with specific agency staff, long delays in answering questions that disregard reporters' deadlines, officials' proclivity for offering information anonymously or "on background," and federal agencies completely blackballing of certain journalists who write critically of them.
"In many cases, this is clearly being done to control what information journalists — and the audience they serve — have access to. A survey found 40 percent of public affairs officers admitted they blocked certain reporters because they did not like what they wrote," the letter stated.
The groups recommended that the president should encourage all federal agencies and their public employees to speak freely with reporters. In addition, they called for an ombudsman to keep track of any suppression efforts.
"Create an ombudsman to monitor and enforce your stated goal of restoring transparency to government and giving the public the unvarnished truth about its workings," the letter said. "That will go a long way toward dispelling Americans' frustration and cynicism before it further poisons our democracy."
In March, journalists at the Associated Press reported that their research indicated that the US government has withheld more information from ever under the authority of President Obama. Their findings were based mainly on how difficult it is to successfully request documents from the White House through the US Freedom of Information Act.
In addition, the Obama administration has been criticized for using the punitive, World War I-era Espionage Act to punish whistleblowers who leak classified government information to journalists, in effect chilling press freedoms.