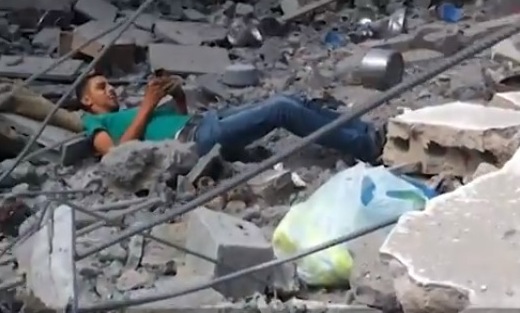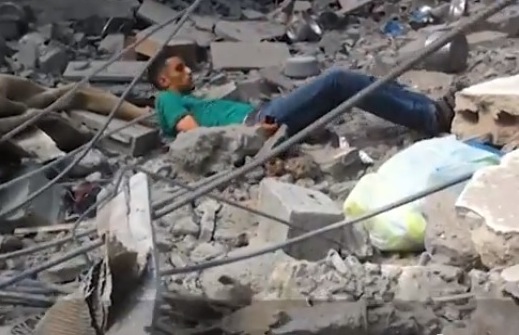 Cellphone Video Documents Israeli Sniper Executing Wounded Civilian In Gaza … As Well As The Utter Devastation Of Gaza
[youtube_sc url= http://www.youtube.com/watch?v=sBakqLUBWP0&w=560&h=315]
CounterCurrentnews.com
In the video, plain for all to see, there is a man who is wearing a green shirt and black pants. He is clearly a civilian who has been injured during the offensive against Gaza by the IDF. While he trying to cross an alleyway in between two buildings, the man was shot by an IDF sniper, a marksman, a sharpshooter. No one was near him. There was no other target, only this man, a civilian.
While on the ground, wounded, the man is shot again, this time by two additional rounds while he is already writhing in pain on the ground.
The activist organization International Solidarity Movement recorded and uploaded the video online. They described it in a statement as follows:
The Israeli military just shot a Gazan man trying to reach his family, during an announced ceasefire. He was with a group of municipality workers and international human rights defenders who were attempting to retrieve injured people in the Shujaiya neighborhood…. They shot him, and then continued to fire as he was on the ground. We had no choice but to retreat. We couldn't reach him due to the artillery fire and then he stopped moving.
The civilian death toll in Gaza continues to rise, as the world grows more and more frustrated with the indifference of Israeli hawks towards Gazan civilians. This frustration reached a new level last week after four civilian Gazan children were bombed while playing soccer on the beach, with an NBC reporter.
Doctors Without Borders release a statement yesterday, saying: "Since the beginning of Operation Protective Edge in the Gaza strip, the majority of the dead and wounded in Gaza are civilians, and medical workers are also coming under fire."
They also claim to have witnessed multiple instances of the Israeli military shelling or shooting at paramedics and ambulances. If you believe this information needs to get out to people, then help us get the word out.