Great Britain's Embarrassing Secretary of Defence Exposes Remarkably Juvenile Government
'Straight off the playground': UK defence secretary ridiculed for 'childish' Russia remarks
RT.com
UK Defence Secretary Gavin Williamson has been widely criticized for suggesting on Thursday that "Russia should go away and shut up" over Britain's response to the poisoning of former double agent Sergei Skripal.
Tory minister Williamson made the comments while speaking at an event in Bristol. "Frankly, Russia should go away and shut up. But if they do respond to the action we have taken we'll consider it carefully and we'll look at our options. But it would be wrong to pre-judge their response," Williamson said.
He was widely ridiculed by political commentators and journalists on social media within minutes, with many branding his comments 'childish.'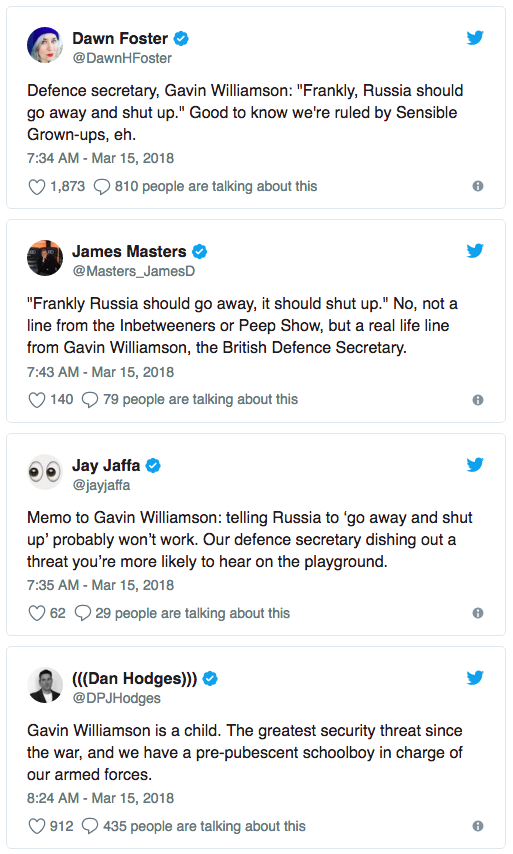 Others wondered whether Williamson was even fit for the job and criticized his diplomacy skills. Some questioned how on Earth he was even picked for the role.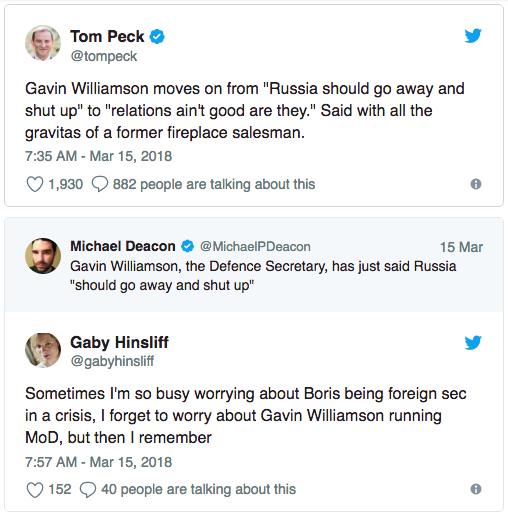 Williamson made the remarks during his first keynote speech since being appointed last year. During his address, the minister announced that the UK is to construct a £48 million (US$66.8 million) chemical weapons defense center to tackle what he claims is a growing threat from Russia and North Korea.
___
http://www.rt.com/uk/421401-williamson-russia-shut-up-twitter/