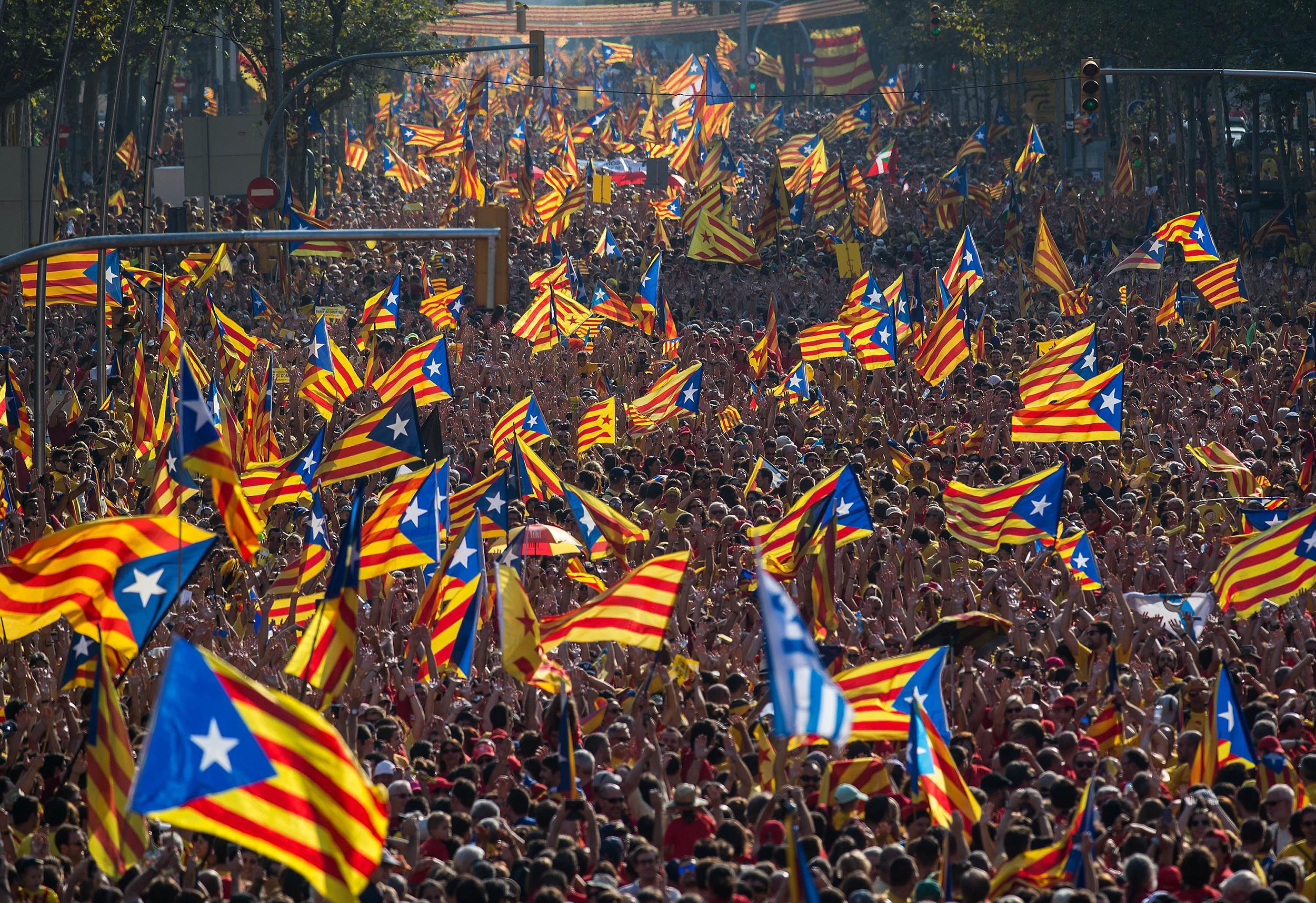 Spain Reacts Tyrannically To Chaos In Catalonia
Catalonia referendum: Spain steps up raids to halt vote
BBC
Spain's Guardia Civil police have detained a dozen senior Catalan officials and raided regional government ministries involved in organising a banned independence vote.
Tensions were already high when Josep Maria Jové, number two in the Catalan vice presidency, and others were held.
Catalan leaders are defying a court order to halt the vote, condemned by the Madrid government as illegal.
Spanish Prime Minister Mariano Rajoy said the state had been forced to act.
One Catalan leader called for peaceful resistance to protect the buildings.
"The time has come – let's resist peacefully; let's come out and defend our institutions," the president of the Catalan National Assembly, Jordi Sánchez, tweeted.
Catalan Vice-President Oriol Junqueras accused Spanish police of attacking the region's institutions and therefore its citizens too. "We will not allow it," he said.
In Madrid, Catalan separatist MP Gabriel Rufián told the prime minister in parliament he should take his "dirty hands" off Catalonia's institutions, Efe news agency reported.
Hundreds of protesters rallied outside the economy ministry as the operation took place, chanting "We will vote" and surrounding the Guardia Civil cars stationed outside.
How Spanish authorities are cracking down
Several ministries in Barcelona were raided on Wednesday, including the economy, foreign affairs, telecoms, social affairs and presidency buildings, 11 days before the planned referendum. The operation was a dramatic intensification of Spain's attempt to stop the vote taking place.
Police were searching for computer equipment and any documentation linked to the planned 1 October vote. The day before, they seized some 45,000 envelopes with the Catalan government's logo from a private delivery company in Terrassa, north-west of Barcelona.
Mr Rajoy said the regional government had been warned that they were destroying Spain's national sovereignty. "There's no democratic state in the world that would accept what these people are planning," he said. He urged Catalan President Carles Puigdemont to comply with the law and put his secessionist challenge into "reverse gear".
Spain's government backed up by police and courts
The Madrid government has been backed up by Spain's Constitutional Court, which suspended the referendum law passed by the Catalan parliament.
Spain's national police has co-ordinated the raids. However, on Tuesday it has also had support from the regional Mossos d'Esquadra police force, which quelled a protest outside the Unipost delivery firm in Terrassa. Scuffles took place involving Catalan officers and pro-secession protesters.
GETTY IMAGES – 

Chanting "We will vote", protesters blocked the Gran Via in Barcelona outside the Catalan economy ministry
Some 7.5 million people live in Spain's well-off north-eastern region. A majority of Catalans are thought to be in favour of having a vote. However, one surveycommissioned by the Catalan government in July suggested that 41% of voters backed independence while 49% were opposed.
The Spanish government has also moved to take control of Catalonia's finances, in an attempt to stop public money being spent on the vote.
A deadline for the Catalan leadership to abandon the vote has run out, with Spain preparing to take over funding of most public services, including the payment of workers' salaries.
Stacks of boxes of envelopes found
One of the most important aims for the national authorities is to stop voting cards being sent out in the first place.
Among the documents seized in Terrassa were boxes suspected of containing voting cards. In earlier raids, only posters and other promotional election literature had been found.
A local judge in Terrassa authorised police to seize the envelopes and open one to assess whether a company official may have been involved in "misappropriating public money" for the 1 October vote.
AFP – 

Some 200 people prevented a judicial secretary from getting through in Terrassa on Tuesday
REUTERS – 

Scuffles broke out but the protesters were finally removed
The mayors of three small Catalan towns appeared in court on Tuesday on suspicion of helping the vote take place.
Spanish prosecutors have opened an investigation into more than 700 local mayors who have backed the referendum. If voting does go ahead, it will take place in Catalonia's schools and municipal buildings.
A deadline for the Catalan leadership to abandon the vote has run out, with Spain preparing to take over funding of most public services, including the payment of workers' salaries.
However, the vice-president of the Catalan government, Oriol Junqueras, went to the Supreme Court on Tuesday to appeal against the decision. Accusing the national government of irresponsible behaviour, he said he was confident the appeal would in effect suspend Madrid's move.
The Catalan administration had all the resources it needed to meet its obligations, he said.
___
http://www.bbc.com/news/world-europe-41331152