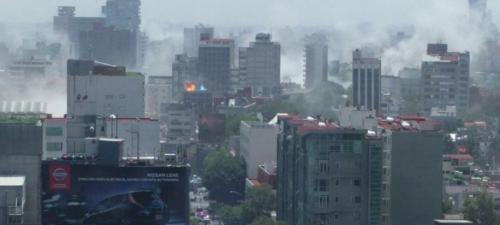 At Least 119 Dead, 60 Pulled Alive From Rubble After Powerful Earthquake Rocks Central Mexico
ZeroHedge.com
Update 8 (7:15 pm ET): Death toll from Mexico earthquake now at 119, according to state and city officials.
That makes it the deadliest to hit the country since the 1985 quake that, in an incredible coincidence, occurred exactly 32 years ago today, surpassing the death toll from another earthquake the shook the region less than two weeks ago.
* * *
Update 7 (6:50 pm ET): Mexico City government says 30 dead in capital, bringing nationwide total to 94, according to AP.
Mexico City Mayor Miguel Angel Mancera said that the number of buildings that collapsed has risen to 44, and that between 50 and 60 people have been pulled alive from rubble.
Horrifying videos of buildings crumbling into piles of rubble continue to emerge on Twitter.
Journalists in Mexico City are sharing reports of ordinary citizens rushing to pull people from the rubble. Here's more from the AP.
Carlos Mendoza was standing just blocks away when an apartment building collapsed in Mexico City's trendy Roma neighborhood.

The 30-year-old joined the rescue efforts and said he has been able to pull two people alive from the rubble in three hours of work.

"When we saw this we came to help. This is ugly, very ugly," he said, covered in dust.

Also in Roma, Alma Gonzalez was in her fourth floor apartment when the quake collapsed the ground floor of her building, leaving her no way out.

She was terrified until the people living in the neighboring house mounted a ladder on their roof and helped her slide out a side window.

"They helped us leave with a ladder," Gonzalez said. "I think my father the Lord who has us here for some reason."
…and more from the NYT
Buildings also collapsed across the neighborhoods of Condesa, another fashionable district in the city constructed atop soft soil and extremely vulnerable to earthquakes. Outside, thousands and thousands stood in the streets, avenues and sidewalks, filling the popular neighborhoods with a sense of dread.

On Laredo Street, an entire eight-story apartment building had fallen into the road, leaving an enormous heap of concrete and rubble pouring into the street. At least 100 people stood atop the pile clearing it by hand, piece by piece, passing boulders and twisted steel pipes along a human chain that radiated from the heap like spokes.
Update 6 (6:30 pm ET): More than 3.8 million Mexicans are without power after today's quake, while the death toll climbs to 79, according to the AP.
Here's a particularly harrowing video of what looks like an old warehouse collapsing like a house of cards during the earthqake.
In another video, viewers can hear alarms ringing out across the city as smoke billows out of buildings.
Continue reading here:
http://www.zerohedge.com/news/2017-09-19/mexico-city-shaken-second-major-earthquake-2-weeks