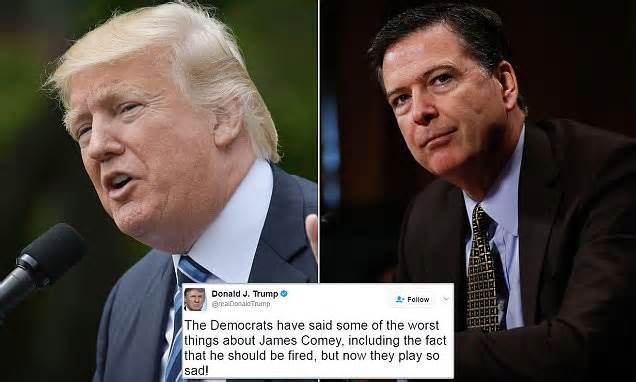 Explosive war of words on Comey
White House claims he threw 'dynamite' into justice system and committed 'atrocities' – as lawmakers seek to call axed FBI boss to Capitol for his side of the story
The White House says James Comey threw a 'stick of dynamite' into Justice Department during press conference he used to clear Hillary Clinton
Spokeswoman claimed Comey had committed 'atrocities' as Trump's administration stepped up war of wards against ex-FBI chief
The president, at a meeting in the Oval Office with Henry Kissinger, said he had fired Comey because 'he was not doing a good job, very simply'
He also met Putin's foreign minister and his ambassador to the U.S. – a man accused of being the top spy for the Kremlin 
Democrats are stepping up calls for a special prosecutor to take over probe into claims of collusion between Trump campaign and Russia in election
Comey is being invited to testify to Congress on Tursday  but still unknown whether he will; he is currently at home in McLean, Virginia
Sources revealed he asked deputy attorney general for more cash and agents for his Russian probe last week
Rod Rosenstein, the deputy AG, wrote memo which Trump used as reason for sacking Comey – and Dems want to question him on who asked for the report 
The White House tossed more incendiary rhetoric at James Comey by accusing him of circumventing the chain of the command at the Justice Department, as President Trump's aides sought to justify the president's extraordinary axing of the FBI boss.
Comey had 'essentially taken a stick of dynamite and thrown it into the Department of Justice' by holding his infamous press conference about the FBI's decision not to recommend charges against Hillary Clinton, Deputy White House press secretary Sarah Huckabee Sanders said Wednesday.
Sanders unloaded on Comey just hours after Trump fired him while releasing a letter from Deputy Attorney General Rod Rosenstein laying out the case against Comey.
Absent from her rationale was any mention of the Russia investigation that Comey was overseeing as head of the FBI, an inquiry that includes alleged interactions between Trump campaign officials an Russia.
Sanders – filling in for press secretary Sean Spicer, who is on Naval reserve duty – also accused Comey of committing 'atrocities' in his conduct, a word usually reserved for the worst actors on the world stage.
President Donald Trump defended his firing of FBI Director James Comey after a meeting with former Secretary of State Henry Kissinger in the Oval Office
He's back: James Comey was at home and apparently smiling as he was seen at his home in McLean, Virginia. He is being invited to testify to Congress on Tuesday
'Having a letter like the one that he received and having that conversation that outlined the basic atrocities in circumventing the chain of command at the department of justice,' Sanders said, required the president to act.
Sanders said Comey's conduct amounted to going 'around the chain of command' and 'is simply not allowed.'
She said Trump made the final decision to sack Comey on Tuesday, but had 'been considering letting Director Comey go pretty much from the day he took office.'
The White House has said repeatedly that the initiative came from the Justice Department, although Sen. Dianne Feinstein, the top Judiciary Committee Democrat who got a head's up from Trump Tuesday night, says President Trump told her he had ordered a review that led to the decision.
"When I talked to the president last night, he said: 'The department's a mess, I asked Rosenstein and [Attorney General Jeff] Sessions to look into it. Rosenstein sent me a memo. I accepted the recommendation to fire him,'" Feinstein recalled, ABC News reported.
On Tuesday evening, Spicer told reporters about the firing: 'That was a DOJ decision.'
ALL SMILES: Russia's Foreign Minister Sergei Lavrov, US President Donald Trump, and Russian Ambassador to the United States Sergei Kislyak (L-R) talking during a meeting in the Oval Office at the White House. Alexander Shcherbak/TASS
In Sanders' timeline, she said Trump met with Rosenstein on Monday. She used language indicating it was at Rosenstein's request. 'He did have a conversation with the deputy attorney general on Monday where they had come to him to express their concerns,' she said.
Sanders refused to divulge information about the three times President Trump claims Comey told him he was 'not under investigation,' or reveal whether the president had specifically asked whether he was under investigation.
'I'm not going to get into the specifics of their conversation, but I can tell you that Director Comey relayed that information to the president,' she said.
Asked about appointment of a special prosecutor – something critics say is required to assure an independent investigation, Sanders said: 'We don't think that's necessary. You've got a House committee, a Senate committee, and the Department of Justice all working on this. I don't think that there's a necessary need at this point to add that.'
Continue reading at: http://www.dailymail.co.uk/news/article-4491822/Trump-says-Comey-lost-confidence-everyone.html