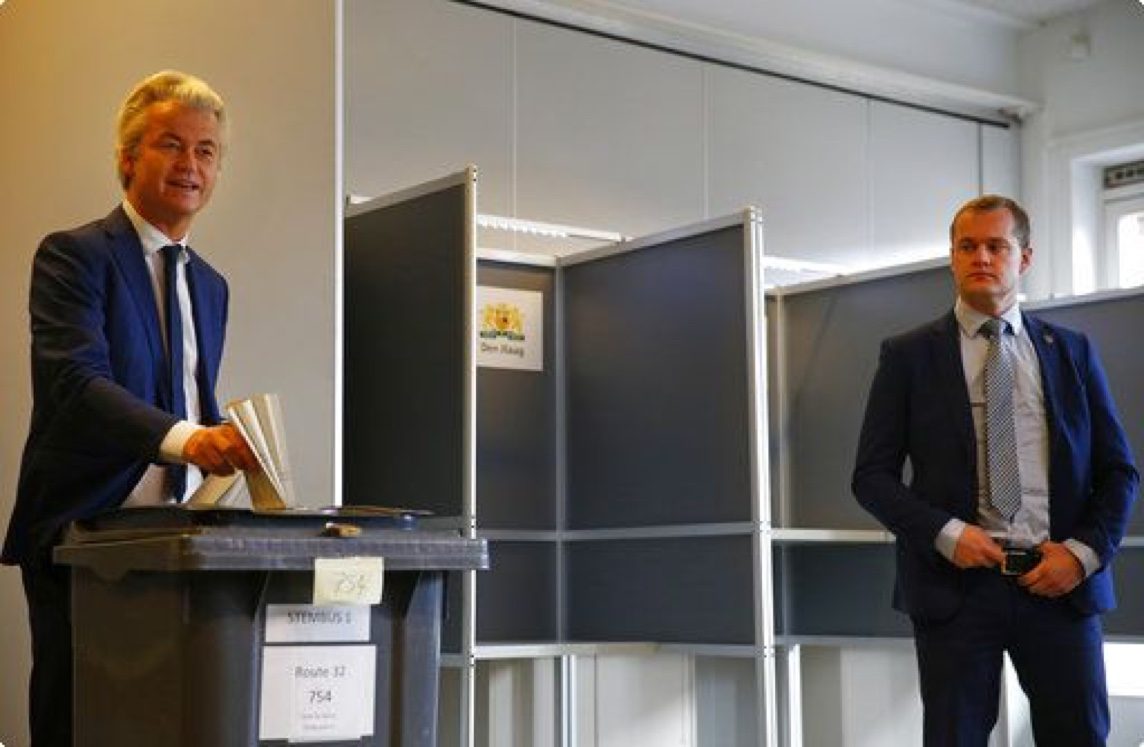 Dutch Election rigged? Live poll updates!
investmentwatchblog.com
I'm hearing that Geert Wilders' support has dropped rapidly in the last few days and he's not in the lead now – in fact he's third.
This seems mighty strange considering all the muslim hostility in the Netherlands lately from the Turks. I'd have thought this would increase his support..
The polls aren't right I think. The MSM media is trying to influence the elections with polls that show a false reflection of reality.
or they're trying to justify him 'losing' by saying his vote was sliding.
Police in the UK yesterday continued to investigate the Tory plant they put in when Farage 'lost' the election. No mention of why his votes went missing for hours. The Swamp always wins.
#THANET RIGGED?
POLICE MULL PROSECUTION OF MP WHO BEAT FARAGE AFTER ELECTION SPENDING PROBE
http://www.breitbart.com/london/2017/03/14/thanetrigged-police-interview-mp-beat-farage-election-spending-investigation/
Dutch election: PM Mark Rutte 'boosted by spat with Turkey' as voting begins
https://www.theguardian.com/world/2017/mar/15/dutch-pm-mark-rutte-boosted-by-spat-with-turkey-as-election-nears
"Rutte was able to show he could actually expel Turks, and to tell Wilders, 'You're just sitting there, tweeting' … This has won Rutte the election." – Well of course Rutte can deal with it and all Wilders can do is tweet – Rutte's the pm and Wilders has no power to do anything!
"Experts said the increasingly acrimonious spat with Ankara – over the Dutch refusal to allow Turkish ministers to campaign in the Netherlands for a referendum on plans to grant Turkey's president, Recep Tayyip Erdoğan, sweeping new powers – had benefited Rutte.
In a campaign dominated by Wilders' core themes of immigration and integration, the row "allowed Rutte to show himself as a statesman – and to send a Turkish minister packing", said André Krouwel, a political scientist at Amsterdam's Free University.
"What better publicity could a politician want a few days before an election?" Klouwer said. "Rutte was able to show he could actually expel Turks, and to tell Wilders, 'You're just sitting there, tweeting' … This has won Rutte the election."
A survey by the Dutch pollster Maurice de Hond said 86% of voters backed the way the 50-year-old, two-term Dutch prime minister had handled the situation"
https://www.theguardian.com/world/2017/mar/15/dutch-pm-mark-rutte-boosted-by-spat-with-turkey-as-election-nears
Dutch election polls LIVE: Updates as Geert Wilders takes on Mark Rutte in Netherlands –
http://www.express.co.uk/news/politics/778648/Dutch-election-polls-live-updates-latest-news-Geert-Wilders-Mark-Rutte-Netherlands-poll
Tess
___
https://investmentwatchblog.com/dutch-election-rigged-live-poll-updates/