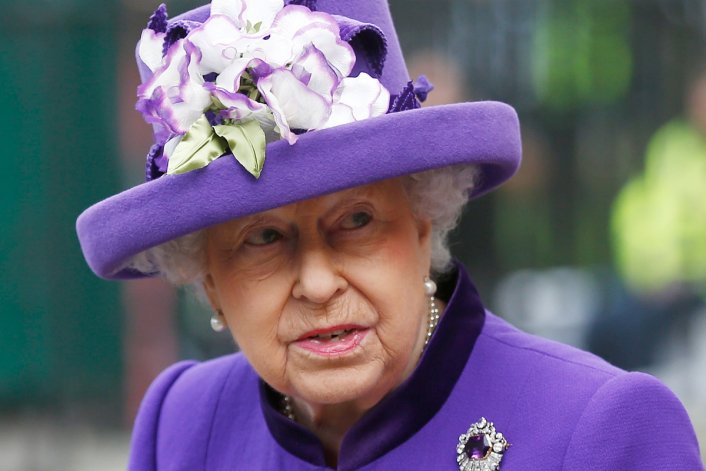 Queen Elizabeth Cancels Christmas Travel Plans
EXPRESS
The 90-year-old monarch was due to take the train from London to King's Lynn this morning at the start of what was supposed to be her traditional Christmas break at Sandringham.

But about half-an-hour before she was due to leave, officials suddenly told assembled photographers: "It's not happening now."

A palace spokesman said: "The Queen and The Duke of Edinburgh have heavy colds, and so have decided not to travel to Sandringham today."

The Royal Standard is still flying over Buckingham Palace and Her Majesty is still inside the building.

For many years The Queen has taken a scheduled service in a roped-off First Class carriage from King's Cross to Norfolk, paying a standard First Class return fare.

The sight of her arriving at King's Lynn heralds the start of Christmas for millions.

Police and station staff were out in force this morning at King's Cross and King's Lynn, waiting for the arrival of the royal party.

An earlier theory was that the trip had been cancelled amid heightened security in London in the wake of this week's Islamic State attack on a Berlin Christmas market which killed 12 and injured 48.

It was thought likely that the Queen and Prince Philip might have flown by helicopter to Sandringham instead.

But it has now been confirmed Her Majesty and her husband will not be travelling as they are both unwell.
GETTY
The Queen and Prince Philip have both been taken suddenly ill
GETTY
The Queen, pictured here earlier this month, was taken ill
One police source said The Queen had been taken ill but there was no confirmation from Buckingham Palace
The decision to cancel the Queen's Christmas travel plans came a day after Buckingham Palace announced she was stepping down from being patron of 25 national organisations to lighten her workload.

Her patronages will be handed over to other members of the Royal Family with Kate getting the plum role of patron of Wimbledon – although the Duke of Kent, as president of the All England club, will continue to present trophies at the Championships.

The change in plans also came a day after Scotland Yard announced plans to close roads around Buckingham Palace for Changing the Guard and create a wall of steel around the event, London's top tourist attraction. Some 50 per cent of visitors to London go to see Changing the Guard.

The Queen has taken the same 10.44 train to King's Lynn on the day after her pre-Christmas party for her extended family at Buckingham Palace for as long as royal observers can remember.

Stopping at intermediate stations, and arriving at 12.21, it always presents a security challenge for the police.

They normally cordon off a section of the First Class carriage for the monarch and a small number of staff including Scotland Yard protection officers. Often Prince Philip travels up at the same time.
Queen Elizabeth II in pictures
Wed, December 21, 2016
Queen Elizabeth II making her Royal visits in her many colourful and elegant outfits.
The Queen and Duke, 95, were surrounded by their family on Tuesday when they hosted their annual Christmas lunch for dozens of relatives at Buckingham Palace.

Despite their advancing years, the couple appear to remain in good health and have missed few official engagements in recent years due to illness.

The Queen was treated for the symptoms of gastroenteritis in 2013 and stayed overnight in a private hospital being assessed by doctors, and cancelled an official trip to Rome.

And in June last year Buckingham Palace took the unusual step of confirming the Queen's visit to a private hospital for a routine medical check-up following speculation on social media about the state of her health.

Philip joked about his good health last month during a visit with the Queen to London's Francis Crick Institute – a major biomedical research centre – where he asked a flu expert: "Why haven't I had flu for the last 40 years?"

___
http://www.express.co.uk/news/royal/746035/Queen-ill-health-fears